Have you ever wondered how celebrities get the perfect glow, and why their faces always look perfect? Well, here's a little secret you should know: most are not born that way, and you can get the same effect without photoshop! Here's a quick guide on how to contour your face for the perfect wedding day glow.
What You'll Need
Gather your regular make-up, but make sure you have a shadow or bronzer a few shades darker than your natural skin color, and a shimmering white highlight shadow. These will be your contouring shades.
Start with Foundation
Put your foundation on the way you normally do, making sure it's blended well. Before using your powder, you'll contour your face.
Step 1: Make a fishy face – you'll notice where your cheekbones stick up and where the "hollows" of your cheeks should be. Using the bronzer or shadow, shade in the hollows by placing a line down the base of your cheekbones and then blending down.
Step 2: Use the bronzer to shade down the sides of your nose, using a straight line and then blending down. You can also use the bronzer on the bottom parts of the sides of your face.
Step 3: Now, you'll want to use the highlighter. Create a line with it on the top of your nose, between the areas you shaded. You'll also want to highlight the cheek bones, and the center of your forehead. Blend everything well. Highlight your brow bone, under your eyebrows as well.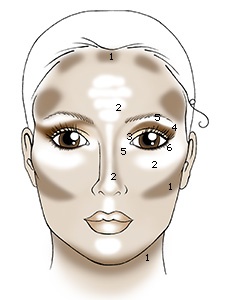 Continue Putting on Your Makeup
Finish putting on your makeup the way you normally do. You may want to practice this method a few times until you get it right! The end result is a fresh glow that is beautiful – and all without photoshop!