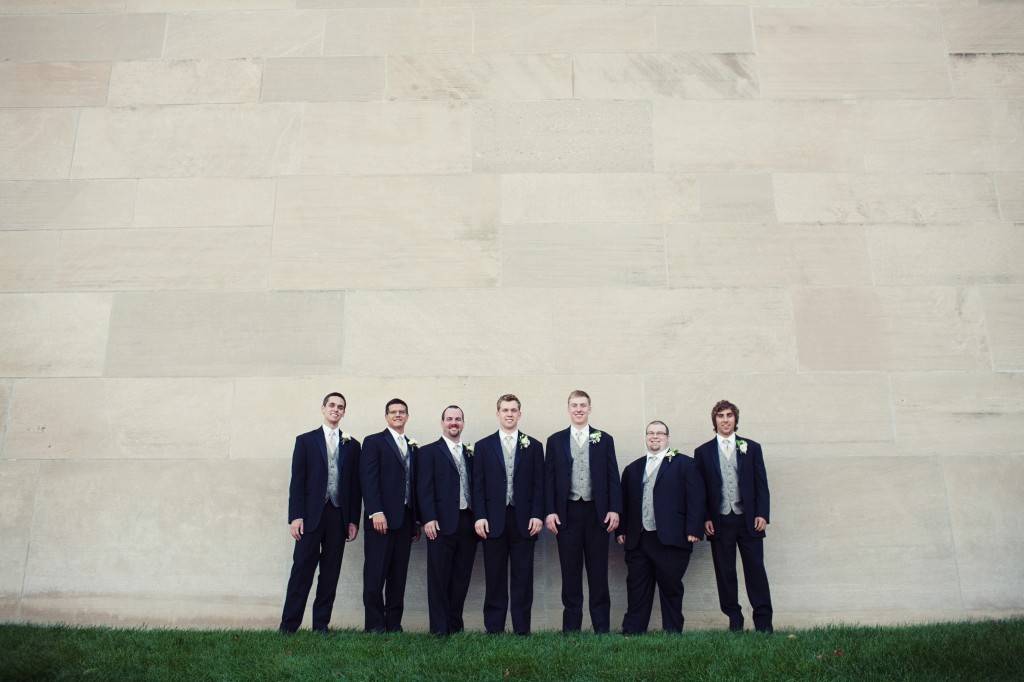 Let's face it, weddings pretty much revolve around the ladies. For the most part, I think the fellas are OK with that, BUT, sometimes they want in on the fun too.
So, how do you get your guy involved with things that he'll actually enjoy? Here are a few ways grooms of the past have liked to do when it comes to wedding planning.
1. His ring. Every couple is different when it comes to picking out their rings. For us, we both picked out the rings we wanted to wear – this way we knew the rings on our fingers were exactly what we wanted to be wearing! I knew exactly what I wanted before we stepped into a jewelry store. Brandon on the other hand spent some serious time searching for the perfect style on numerous wedding ring websites. He looked at all sorts of metals, from platinum to titanium and eventually settled on a tungsten after a few trips to the jewelers.
2. The music. Whether or not your guy likes to cut a rug, chances are he'll still enjoy picking out music, form the special dance songs to the tunes that will make your guests party until the A.M.
If he needs some help finding the perfect songs, have him check a few of the numerous wedding websites that exist on the fabulous world wide web. Many of them have lists and lists and lists of tried and true wedding music than any guest is sure to love.
3. The bachelor party. Ooooh where to begin. Some guys go all out when it comes to their bachelor parties….and by all out I do NOT mean exotic dancers, excessive drinking, and illegal substances. B, for instance, took a trip to Vegas with the guys and while I wasn't there, I trust that they behaved themselves. 😉 I know he had a great time though, and it's something he'll remember forever. And even if your guy and his dudes are more chill and just what to spend a night out, or at a game, or…doing whatever they love to do the most, let him have his fun!
4. The food. Who DOESN'T love to eat?! Picking out reception food has to be one of the most fun wedding planning tasks, ever, and it's one that the guys can easily get into. It doesn't matter if you're having drinks and appetizers or a four course meal, getting to taste test every option you have will give you and your groom happy taste buds and tummies.
Make sure you give him a chance to voice his opinions, and if you disagree, hear him out. In the end, you might find you like what he likes, too.
5. The reception venue. While you might think the reception is all about the centerpieces and favors, it's so much more! It's a space that will add to (or take away from) the overall ambiance of the reception and can leave a lasting impression on your guests.
You might be looking for specific things at each venue (like where you'll make your grand entrance and where the dance floor will be), but your man might have other things he's looking out for, like where a second bar will go and how easily people will be able to make it to the buffet line. Don't dismiss what he says!
6. The transportation. Wedding days are crazy ones. Unless you're having the ceremony, reception, and photo sessions in one location, you'll be spending some quality time one vehicle or another. And, while you may be a little OCD about who rides with who and who needs to be where, when, he might be a little more into the "sweet ride" said people are riding in, be it limo, stretch hummer, or vintage luxury car.
Give him some of the need-to-know info (like how many people need to be shuttled around and how many hours transportation is needed), then let him go wild.
**Photo above from the always fab Jeremy Arnold! 🙂