This is one fine wedding, I must say. Photos taken inside and outdoors both looked so elegant and not in a standoffish kind of way but in a warm and welcoming manner. I specially loved the couple's after ceremony shoot in what looked like a garden – they looked like monarchs having a beautiful walk around their vast estate. Then, their reception was another kind of elegance and everything in it looked so radiant and lovely. Exactly just like our couple. Congratulations Irina & Jacob!

Photographer
It took a production team of two photographers and two videographers to capture Jacob and Irina's Jewish wedding, and the results are breathtaking! Irina and Jacob's "big day" truly was a big day!
Our three- part photography and film crew were welcomed into Jacob's home by his mother, Zara, to find Jacob and his groomsmen decked out in matching "team groom 2014" t-shirts. They changed into their wedding attire, and Noble Films recorded Jacob saying some lovely words about his soon to be bride, Irina. It quickly became clear just how very much he adores Irina, as he told us just how excited he was to spend the rest of his life with her.
We filmed and photographed Jacob opening a surprise pre-wedding gift of Chanel cologne given to him by his bride-to-be, Irina.
We departed from Jacob's house with handfuls of home made cookies generously given to us by Zara (and they were delicious!). It is clear that both Irina and Jacob are very close to their families, and relatives from both sides were incredibly kind and accommodating to us.
Irina's day began at around 5am, when she was greeted by her hair and makeup artists to start preparing for the wedding day. When we arrived, she was a little sleepy from the early rise, but that was far outweighed by her excitement for the day ahead. As our Noble Films videographer filmed her bridal details, I photographed her gorgeous wedding dress that weighed a whopping 15kgs! The gown was intricately detailed with jewels and layers of delicate material, with a train that reached the floor, even when it was hung up over the door.
After filming and photographing Irina, her mum Dina, and her four bridesmaids, it was time for Irina to get changed into her bridal gown. It was then that the nerves began to set in. These were soon turned to excitement as soon as I mentioned Jacob's name, and in no time she was smiling and giggling every time myself and Noble Films' videographer mentioned his name.
The beautiful bride Irina couldn't wait to marry the love of her life, Jacob
After some more photos and filming, we left the girls to finish getting ready (once again with handfuls of delicious homemade snacks), to head to the Royal Botanical Gardens Melbourne, where the traditional Jewish Wedding was to be held. We were joined here by a second videographer for Noble Films, completing our four part photography and videography team to capture every moment.
It was a beautiful, sunny spring day with not a cloud in the sky, and a Chuppah was set up for ceremony. A violinist played traditional Russian Jewish music, as friends and family gathered onto the green lawn of the gardens. As the stretch limousine came down the Botanical Garden path, Jacob smiled in anticipation for his soon to be bride to step out. I snapped a few shots of Irina and her mother Dina inside the limo, before she emerged with a huge smile on her face. Their hundreds of guests were all standing, smiling and snapping photos of Irina, but she only had eyes for Jacob. As Irina walked down the aisle, Jacob was beaming from ear to ear, and guests took their seats as the couple joined hands beneath the Chuppah to begin their marriage ceremony.
With four photographers and videographers, we didn't miss a moment of Jacob and Irina's Jewish Ceremony"
The ceremony was beautiful, complete with traditional Jewish customs including the Rabbi and family members reading seven blessings to the couple in Hebrew. Jacob completed the ceremony by breaking the glass, which was followed by calls of "Mazel Tov!" by family and guests.
Friends and family congratulated Irina and Jacob, and after signing the marriage contract, a group photo and some family time, we left to take some location photos around Melbourne. We didn't have to travel far as across the road was Victoria Barracks, a perfect location for some romantic photos of the newlyweds.
Irina's amazing veil was perfect for this flying veil shot in front of the green vines at Victoria Barracks. Our next location was the Langham hotel in the heart of Southbank, Melbourne. I used flash to create a striking composition of Irina and Jacob on the grand staircase, whilst Noble Films captured the couple embracing on film. A few photographs later, we headed to Leonda by the Yarra, a beautiful location where Irina and Jacob were to have their wedding reception. The couple were very impressed with the beautifully decorated room, with lots of flowers and an amazing rose garden centrepiece hanging from the ceiling above the dancefloor. Our videographers filmed the couple practicing their first dance, as I photographed the floral details that were perfectly complemented by the vast windows looking out over the tree-lined Melbourne Yarra River, matching the garden wedding theme.
We then walked outside and utilised the golden light of the setting sun to create some romantic compositions of Irina and Jacob, the luscious green foliage of the gum trees and Australian natives that lined the Yarra River. The newlyweds needed no posing or direction, as they embraced arm in arm, gazing into each others eyes.
Leonda by the Yarra was a stunning location for Irina and Jacob's Wedding Reception
The wedding reception was a joyous and fun filled occasion, which was kicked off by the bridal party entering the room, soon joined by every single guest on the dancefloor. As part of Jewish wedding tradition, the couple were hoisted on chairs into the air by their guests; a moment which was captured both photographically and on film.
The newlyweds' first dance was followed by spirited dancing from all of the guests that continued throughout the entire reception. This included exchanging of costumes, hula hoops and even a skipping rope; all elements of a traditional Jewish wedding. To continue the fun, the bridal party had put together a surprise performance for the couple, in which they re-enacted Irina and Jacob's love story. They dressed up and acted their first encounter, whilst some of the bridesmaids sang a dedication to the newlyweds.
Considering it was such a long day (our photography and video coverage was 18 hours alone!), before we knew it it was midnight, and time for the newlywed couple to farewell their guests and begin their new journey together. They left in style, heading down the steps of Leonda Reception to a boat awaiting them on the Yarra river. Irina and Jacob's wedding was an enormous day filled with Jewish tradition, friends, family, a lot of fun, and so much love. I am truly grateful to have been able to capture such an amazing wedding event, and I wish both Jacob and Irina all the best for their future together.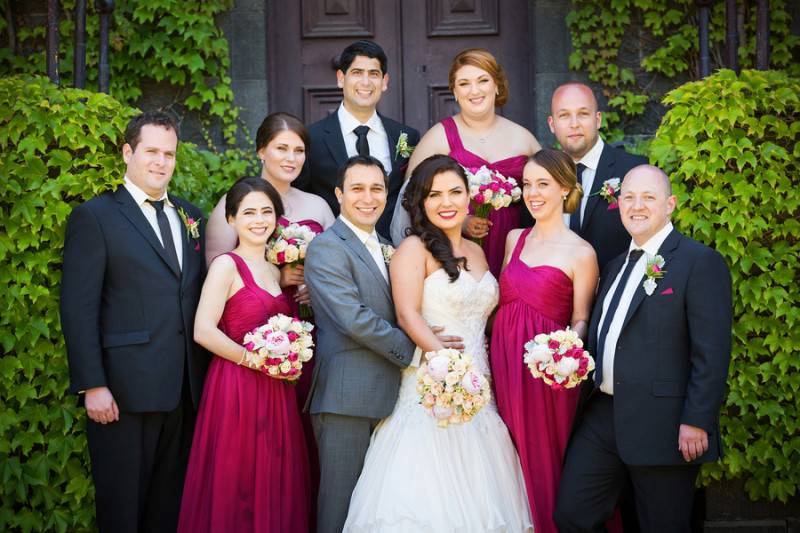 Vendors
Photographer:  Noble Photography
Reception Venue:Leonda by the Yarra
Cinema and Video: Noble Films