If you're in the middle of wedding planning, you're probably trying to figure out the best possible seating arrangements. You probably have a binder where you're keeping track of all the planning. This genius seating arrangement planning chart will allow you to change things up numerous times until you get the final arrangements set.
Here's what you'll need:
Small Poster Board (8.5 x 11 – one glossy side)
4 Colors of Post-It Notes
Scissors
Markers
How to Do It
Start by designating colors to each "type" of wedding guest. For instance, pink can be for the bride's family while green is for the groom's family. You can then choose a color for your friends and a color for co-workers. This will help you keep track of everything more easily. Next, cut your post-it notes into small strips and write the names of the wedding guests on the appropriate colors.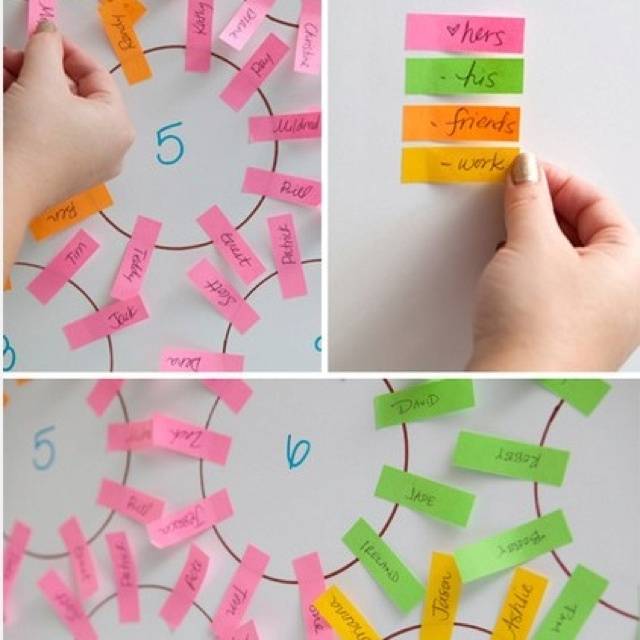 Using your markers, draw the number of tables you will have on your poster board. Number the tables. Now you can start planning the seating arrangements by sticking the post-it note strips to the drawn tables and arranging and re-arranging until you've found the perfect grouping! Remember a few important tips as you seat your guests: older individuals may need to be further away from speakers and closer to the restrooms. Handicapped individuals will need to be accommodated and to ensure proper mingling, seat a variety of guests at one table (his family, her family, friends and co-workers)!