Another story that would inspire the fun side of every couple is what we have for all of you today! Chris Withers Photography certainly made a timeless masterpiece out of Nan and Robbie's garden wedding in Long Bridge Golf Course, Illinois. The twist, however, was the dinosaur theme. Filled with beautiful and fun elements, everything in this wedding was unconventional and turned our thinking of "wedding" to "garden party with a short wedding ceremony". The results were amazing! I'd love for you to see the rest of this cool set, and be as charmed as I am! Go on and enjoy!
We're All About the Details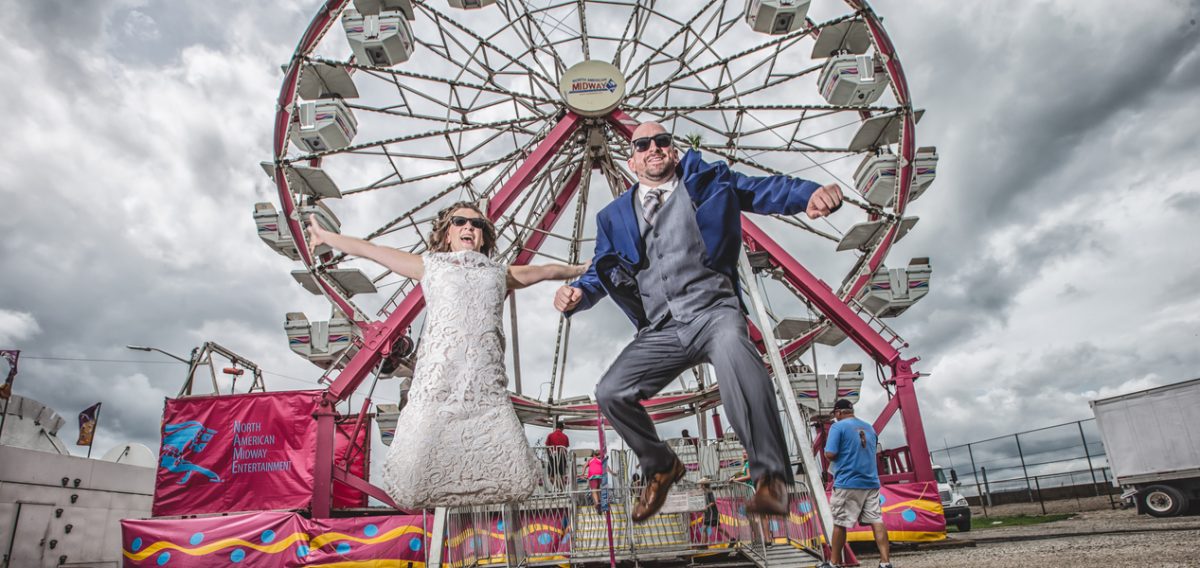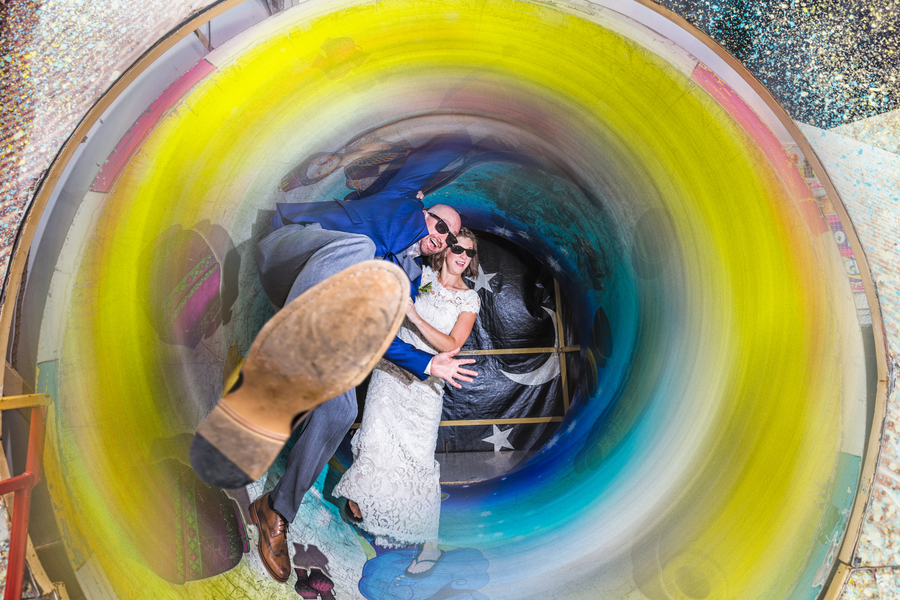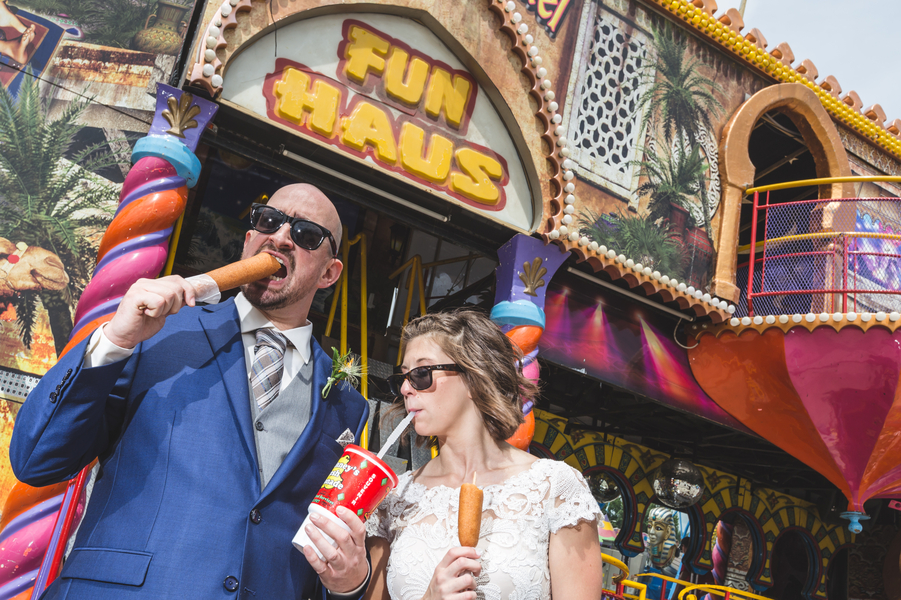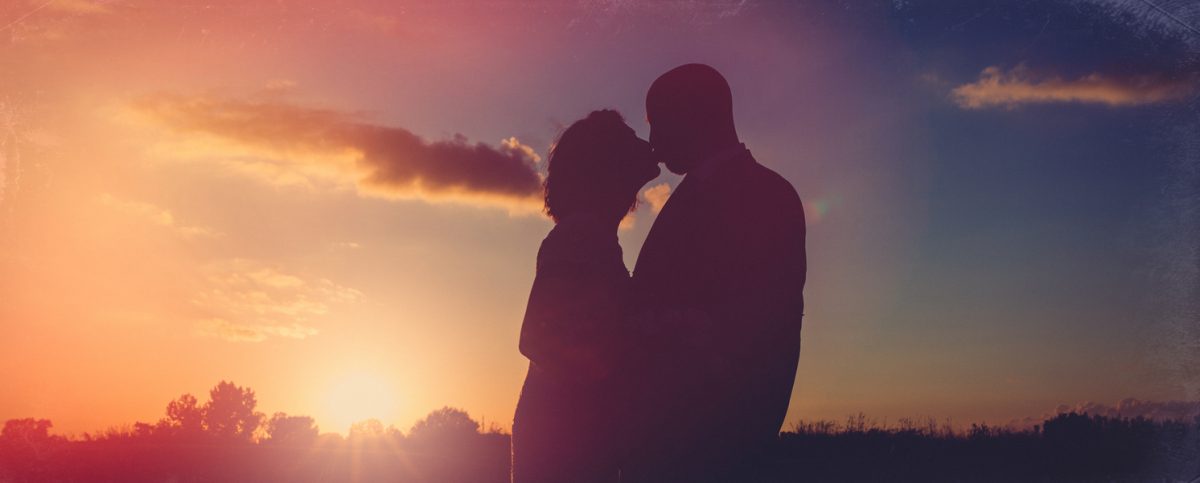 The Ceremony
They wanted their special day to be fun for all of their guests from start to finish and Nan didn't want to cry her makeup off during the wedding ceremony, so she asked their stand-up comedian friend (Brandon Judd) to officiate. The only instructions they gave him were to keep it short, sweet and funny. He nailed it! Ultimately, Nan did end up crying, but only because she was laughing so hard.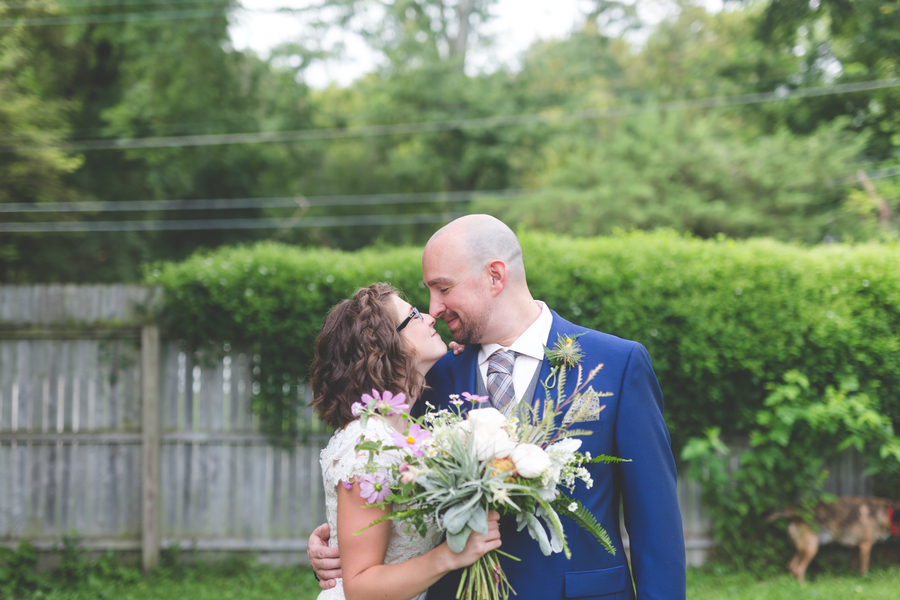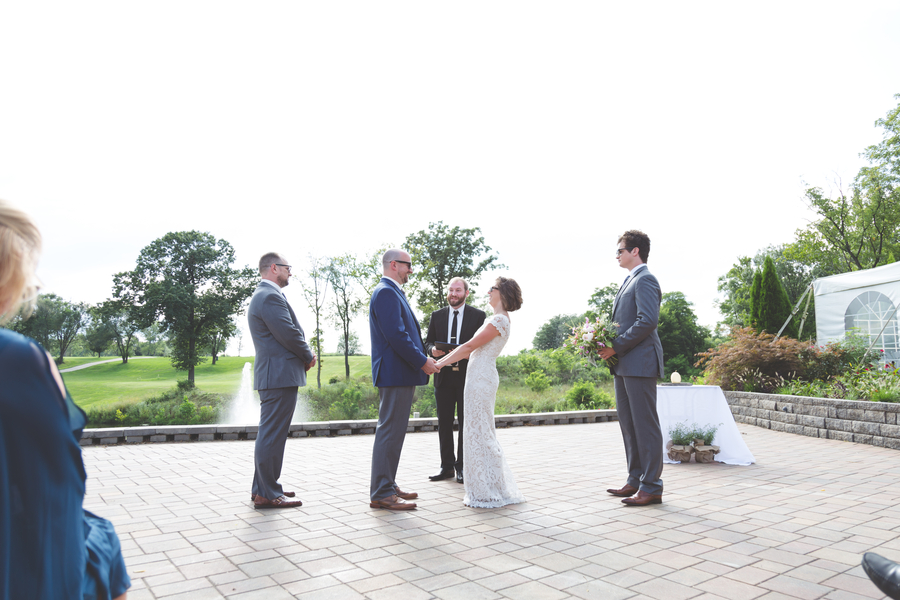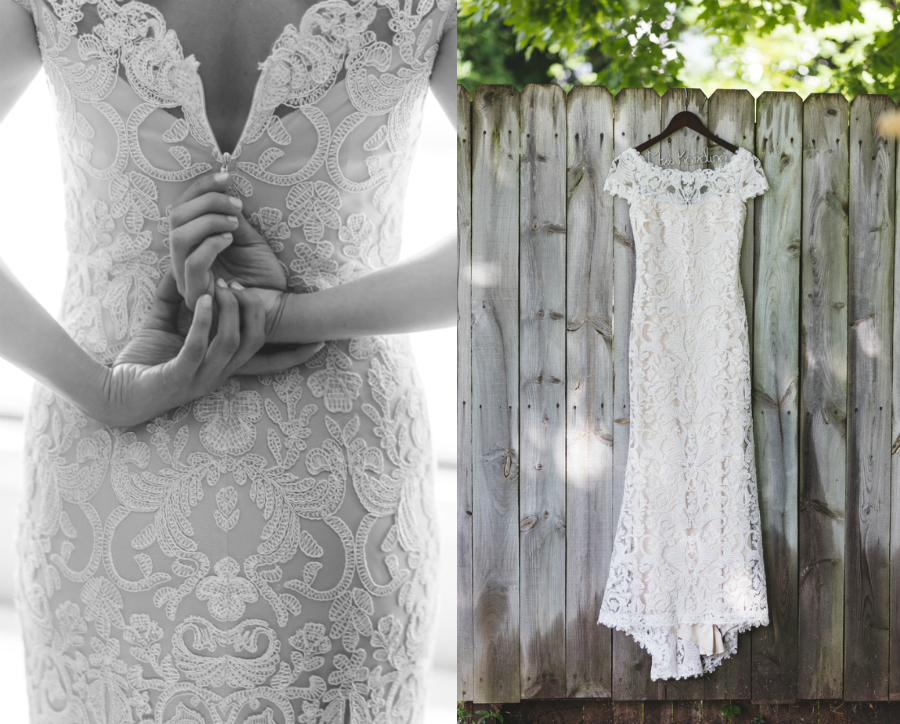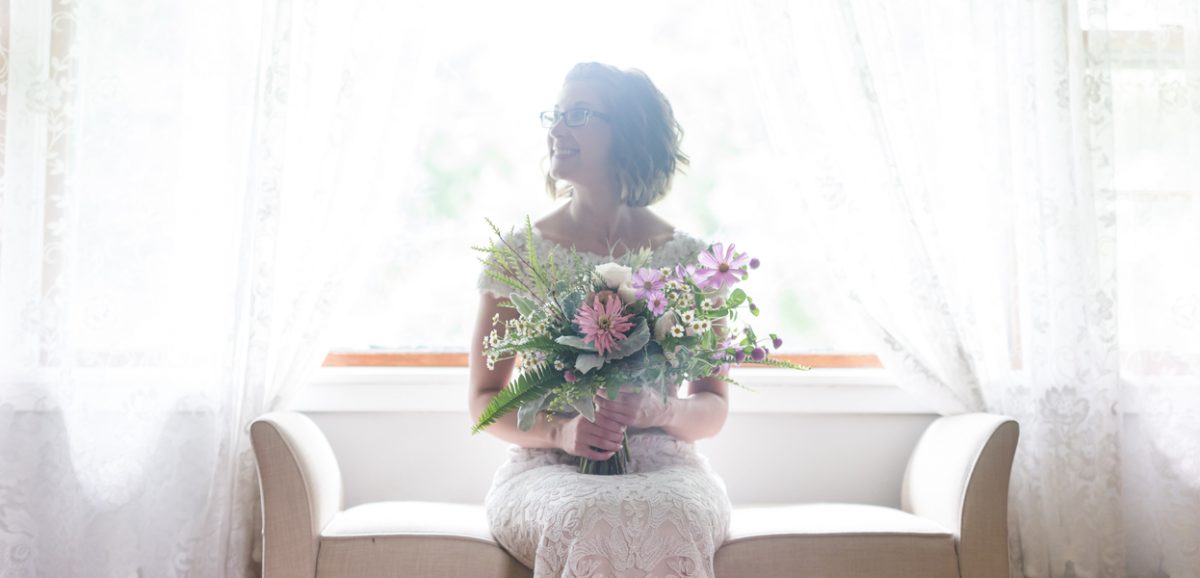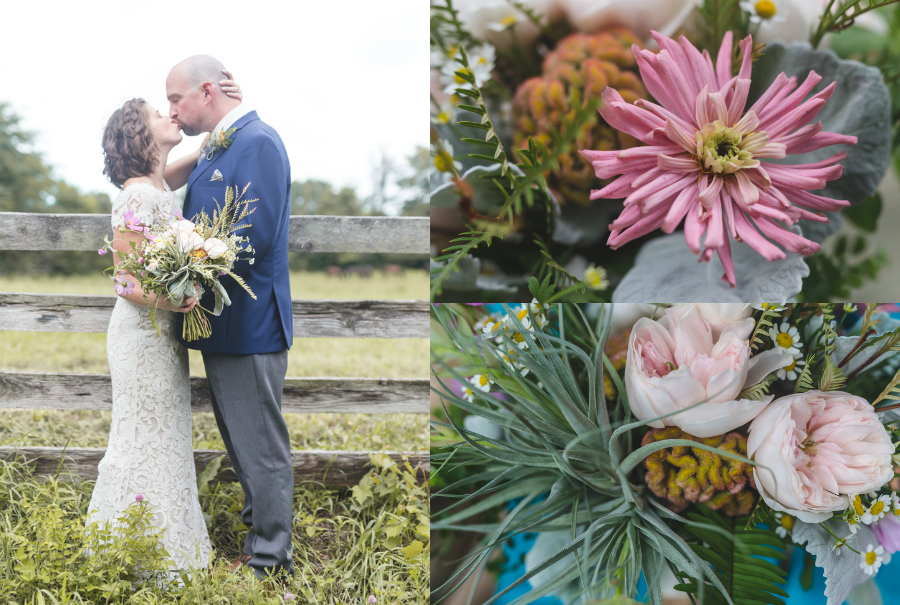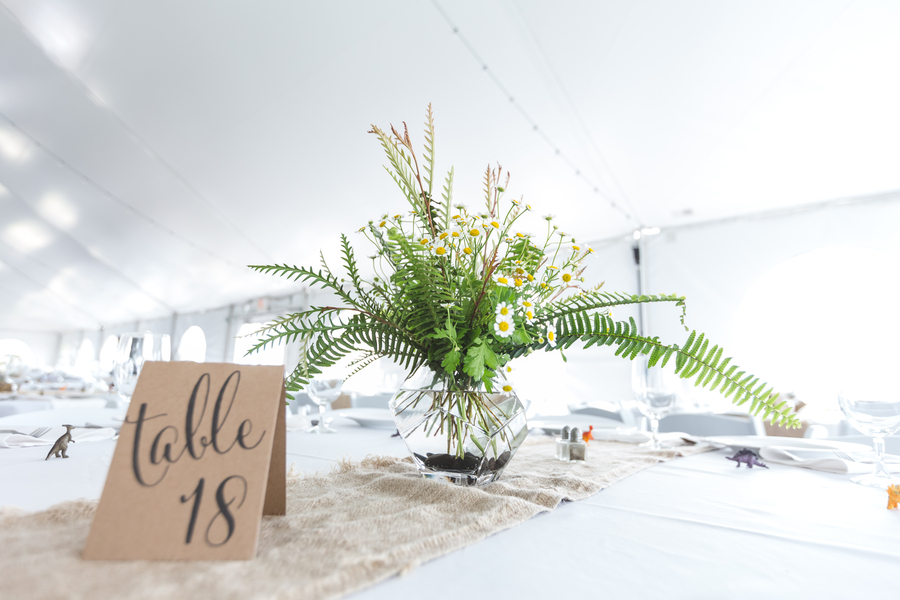 The Wedding Rings
Obviously, they both really love dinosaurs. Second, Robbie once dated a girl who denied the existence of dinosaurs, and over the years it's become a recurring joke within their relationship. As soon as they found a jeweler who makes wedding rings containing dinosaur bone, they knew they hit the jackpot.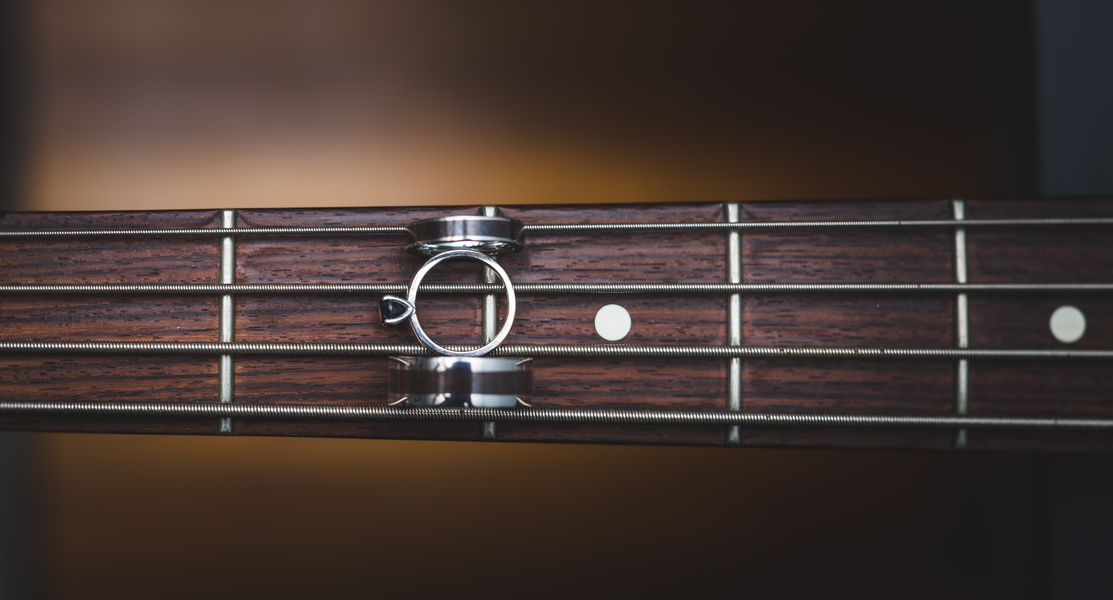 The Wardrobe
Robbie wore a classic suit and tie while Nan wore a gorgeous white wedding gown. A modern style while keeping it fun and exciting!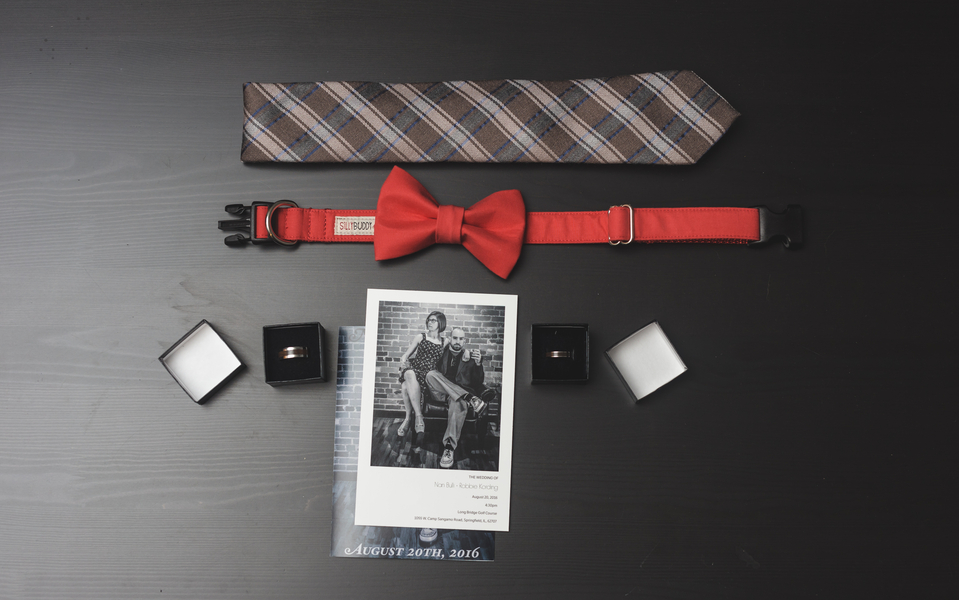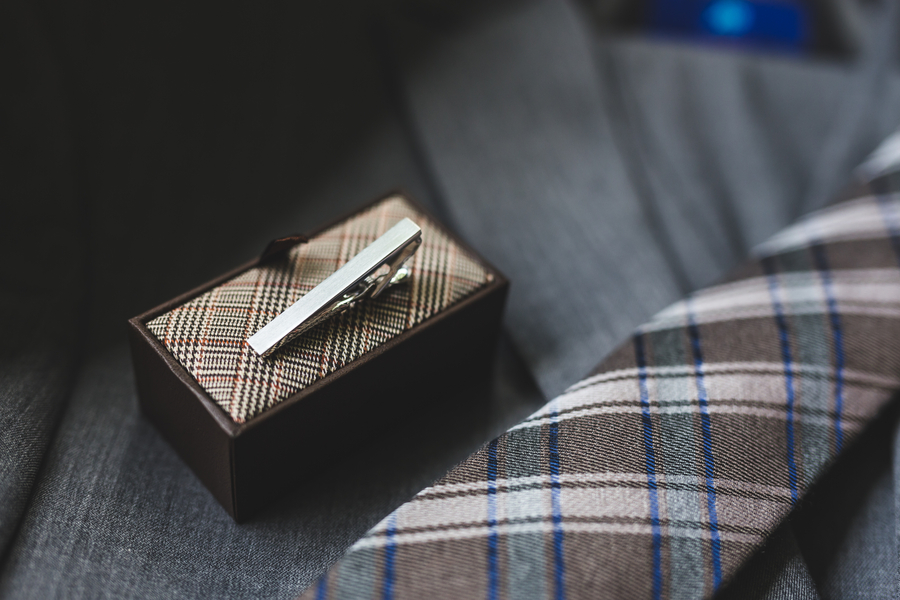 The Ring Dog, Science
Their dog is their best friend and knew they wanted to include him in their special day as much as possible. While venue rules prohibited Science (the ring dog)  from attending the reception, he was able to participate in their ceremony as ring-dog. They secured the wedding rings to the D-ring on his collar with fishing line, and he donned a bow tie for the occasion. He was adorable!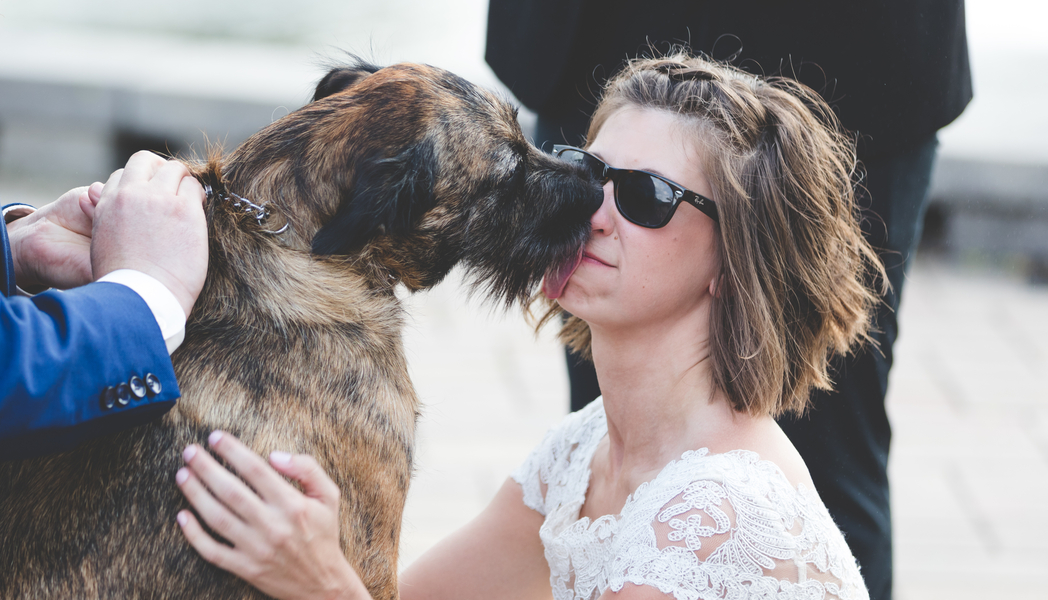 The Dancing T-Rex
A dinosaur-themed wedding was the perfect excuse to order an inflatable Tyrannosaurus Rex costume. Robbie's sister, Jill, donned the suit during the reception, and danced on the patio for hours. It took the party to the next level, was a hit among their guests (most of whom had never seen a T-Rex dancing to Hall and Oates before) and the photos were hilarious!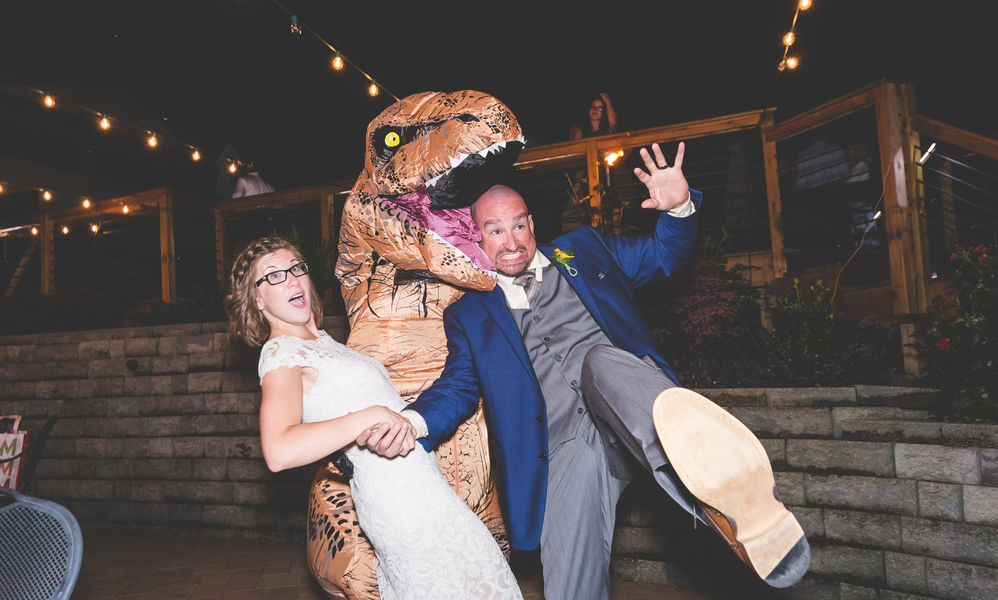 The Unity Candle
They ordered a hatching dinosaur candle from firebox.com to light as a unity candle during the ceremony. As the candle burns, a raptor is revealed. They moved the candle inside during the reception, and they enjoyed watching the dinosaur "hatch" over the course of the evening. They still have plenty of candle left to burn, so they're saving it for anniversaries and other special occasions.
The Desserts
Neither Nan nor Robbie are big cake eaters, but they are both self-proclaimed cookie monsters. So Nan's mom suggested that they ask a local bakery (Incredible Delicious Cakes) to create dinosaur-shaped sugar cookies for their guests. The cookie display looked amazing, and tasted even better!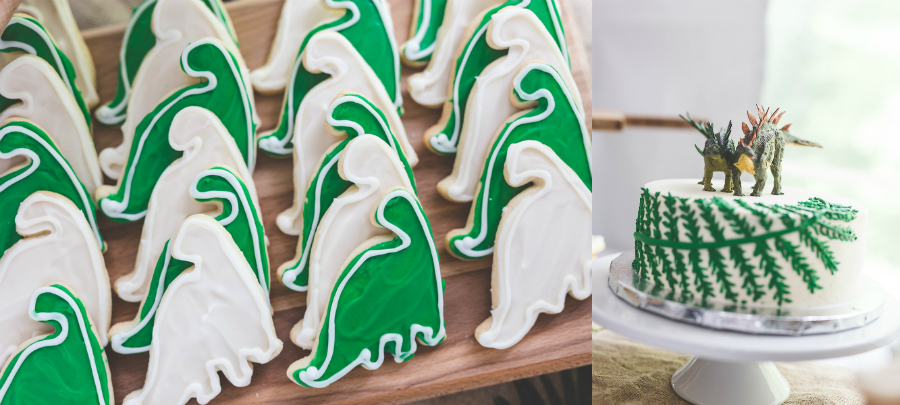 What the Bride Says
Compromise is key. If something isn't important to you but it is important to your spouse or someone else closely involved with the wedding, consider letting them have their way. Pick your battles and save your energy. For example, neither my dad nor I felt strongly about walking down the aisle together, but it was symbolic and important to my father-in-law. Since my dad and I didn't have a strong opinion either way, we decided to do it. Everyone was happy, and walking in to the ceremony with my dad actually ended up being one of my favorite moments of the day. Set a do-or-die deadline for all wedding projects. When you hit a certain point, it won't matter if a task isn't completed. You'll have a much more enjoyable wedding experience if you accept it, let go, and move on. You may notice it's absence, but your guests won't. I set my completion deadline as the Thursday before my Saturday wedding. Aside from the (planned) venue set up on Friday morning, it was so nice to have the two days pre-wedding to spend with family and friends! Aside from picking your spouse, vendor selection is the most important decision you'll make surrounding your wedding. You will absolutely get what you pay for. Do your research, ask ALL of your questions (even if you think they are stupid), and go with your gut. When I met our florist, Hannah, all I had to do was utter the words "dinosaur garden party" and her eyes lit up. She completely understood and was inspired by my vision, and her additional ideas for my bouquet and some of our centerpieces elevated our day to the next level. Additionally, our venue was amazing from start to finish. Neither myself, my husband nor anyone in our families had to lift a finger during our ceremony and reception. A good vendor will be very attentive to details; in fact, our venue's day-of coordinator went above and beyond by monitoring my champagne glass all night to make sure it was filled at all times; that alone was worth the venue's price tag! ~Nan Kordin
What the Photographer Says
Enjoy the thought that anything can and does happen. Don't be stressed if something does not go how you planned. These natural occurrences are all part of the story that makes your day unique and perfectly you. When making a decision use your heart not your head. Figure out what means the most and give it your full attention and focus. Your day will be much better off because of it. ~Chris Withers
About the Photographer
Chris Withers | Owner/lead photographer I have been using Photoshop since version one. I love discovering what makes a couple unique and bringing it to their portfolio. Contact | chris@chriswithersphotography.com My studio is located: 2160 South 6th, Suite G Springfield,IL 62703 | PRICING Between 3,000 and 7,000.
Money Matters
$10,000 – $20,000
Vendors
Photographer: Chris Withers Photography
Reception Venue: Long Bridge Golf Course