Many brides look for things to put on their reception tables that will keep their guests occupied and provide entertainment for "down times" during the reception. Today, we're bringing you a fantastic idea that will not only entertain your guests but provide them with a little more information about the bride and groom!
Bride and Groom Info Cards
The idea is to have a card on the table that has information about the bride and groom – his information printed on one side and hers on the other. The cards can then be placed in a photo holder or place card holder and put on the table for guests to enjoy. These can be created quite easily with some cardstock and a bit of time on the computer.
Writing the Information
All you need is between 100 and 200 words all about you and your groom! You can include information like where you were born, what kind of child you were, where you went to school or what your passion is, how many children you want and more. Include anything you feel defines you as a person and that you think your guests would want to know!
Adding Images
You can add simple clipart or images that will make your card festive and pretty for your wedding day. We love the font and simple images added to these bride and groom cards, created by an Etsy artist: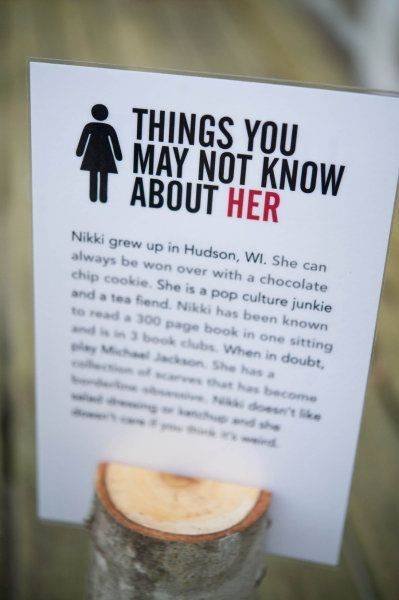 This is the perfect idea for couples who haven't yet met all of their future spouse's family, or couples who have family coming in from out of town or out of state. It's a simple and very affordable project, as well!