The love of purple rained down on this July day as Stefanie and Steven took vows for their happily ever after. Together with their children, both walked down the aisle showered with purple rose petals and the ceiling complemented with white draperies. Yet, the purplest of all purples is their dessert buffet that will definitely wake the sweet tooth in you. Take some time to see what's up on this sweet day by scrolling below!
The Extra Special Wedding Details
The DIY Pieces: We did a lot of DIY projects such as invitations, centerpieces, reception table decor, cupcake and cake stands, handwritten signs at candy buffet.
The Sand Ceremony: Our 2 sons ( age 2 and 12) were the only ones in our wedding we did a sand ceremony with us saying a vow to them as well.
The Puzzle Pieces: We had a cigar bar and candy table and asked our guests to sign a puzzle piece which put together is a picture of 2 hands holding.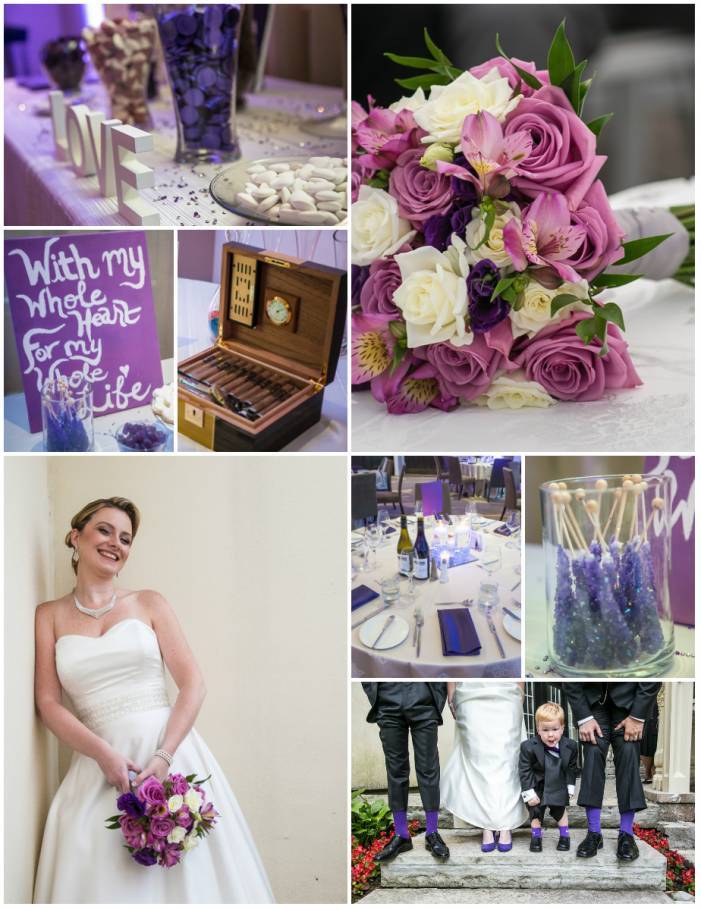 Tips From The Bride
♥ Have a planner if able to as it made our day stress-free and everything went perfectly.
♥ Pick a venue that has good reviews about the staff – our venue (Hockley Valley) had great staff and helped make sure everything was on time and perfect.
♥ Make a list of all the shots you want and give to photographer and don't let other people try to interrupt and get pictures they want – it's the bride and grooms day and the pictures should only be about what they want and not pleasing everyone else.
The Wedding Budget
$20,000 – $45,000
❤❤❤
VENDORS
Photographer: Phat Dog Visuals
Tuxedo and Mens Attire: Andrew's Formals
DJ: Bb Blanc
Event Venue: Hockley Valley Resort
Photo Booth Equipment: Phat Dog Visuals
Apparel: She's So Beautiful…Consignment &Bridal
Event Planner: The Wedding Planners