Every woman wants to open that little box after the proposal and see her dream ring, but most times guys have no idea what that "dream ring" should look like. So, how is he supposed to propose if he doesn't know her perfect ring?
Brace yourselves, guys: propose without a ring. That's right – if your woman is picky and you want to allow her to choose her own engagement ring, here's how you can do it!
The I Thou Ring from Cool Hunting
This ring is super neat. It features a small rectangle that is just large enough for you to insert a note, poem or whatever else you'd like to place inside.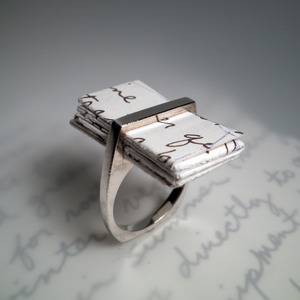 For a proposal, simply write that you want your fiancé to choose the engagement ring of her dreams and that the ring she is currently holding is a place-holder ring. It's the perfect way to keep the proposal a surprise and ensure that your future wife gets the ring of her dreams.
Fingerprint Jewelry from Brent & Jess
Another great alternative is to choose the beautiful fingerprint jewelry from Brent & Jess on Etsy. This beautiful ring even has the words "marry me?" engraved inside the band.
Plus, it features your fingerprints on top, so it's even more special. This is the perfect ring for your future wife to wear until she receives her dream engagement ring. She will be able to keep it after for a wonderful little memento.
Voila! There is a solution for proposing without having the perfect engagement ring. Plus, trust us, she will appreciate the fact that you want her to pick out the ring that is most special to her. Good luck, gentlemen!