If you've been following us for bridal ideas, then you already know that we are fans of great designs and helping couples achieve their dream wedding is our top priority. While we've already talked about heart-stopping garden venues, lovely beach themes, indoor wedding options, and do-it-yourself concepts, today, we wanted to show you something fancy from a couple of quirky ideas that would make your wedding extra special. A hidden gem within the hills of Orange County, the Richard Nixon Library and Museum is not just a showcase of extraordinary art but also offers an incredible avenue for a creative wedding style. Three16 Photography and JenEvents created a vision for this styled shoot that is definitely worth your while. Everything you'll need to know is right down below!
We're All About the Details!

The Flower Boat
Recently, while Three16 Photography was shooting a wedding, Jerrick, the owner came up with the crazy idea of wanting to do a shoot with a boat in the pool which is a replica of the Reflecting Pool in Washington D.C. With President Nixon being in the Navy and the fact that there has never been a boat in the pool, it was a perfect opportunity!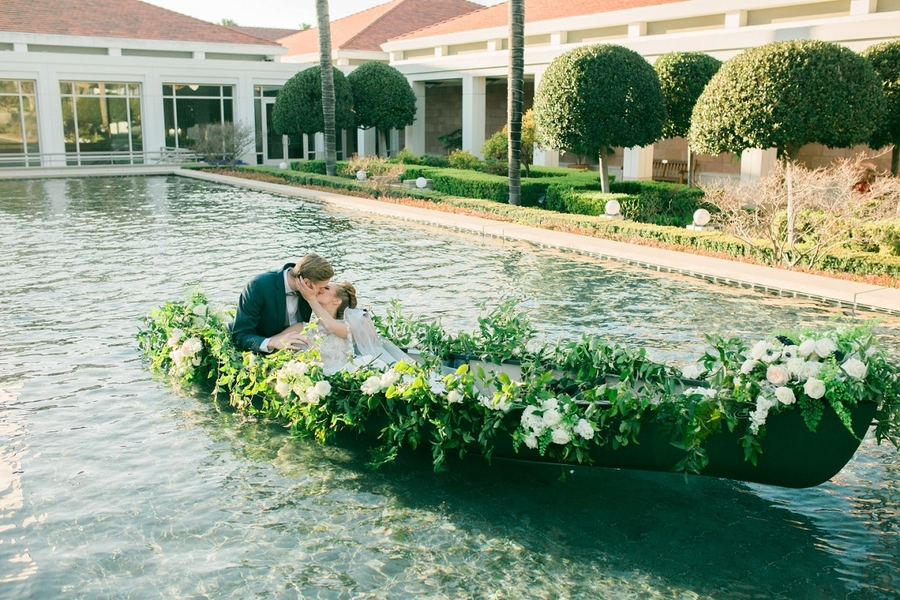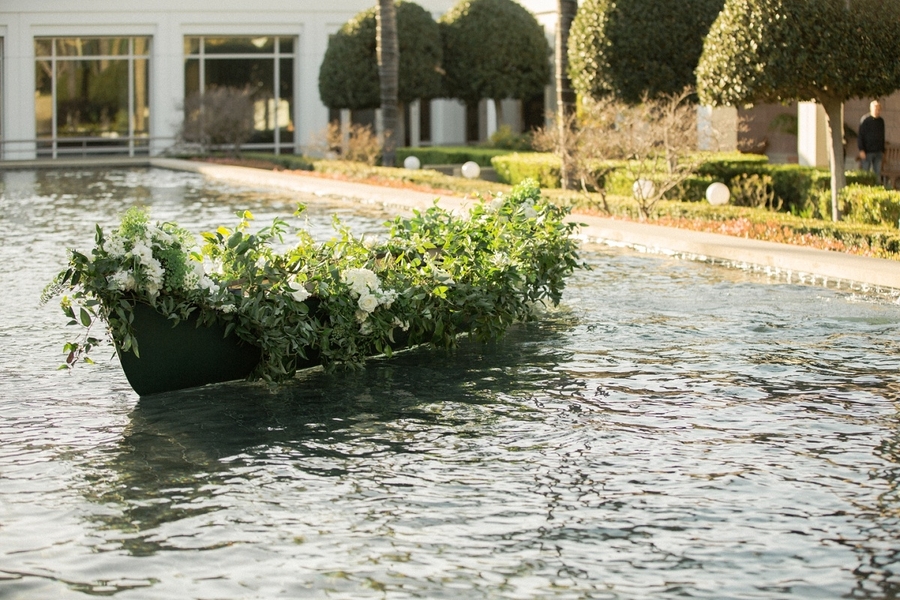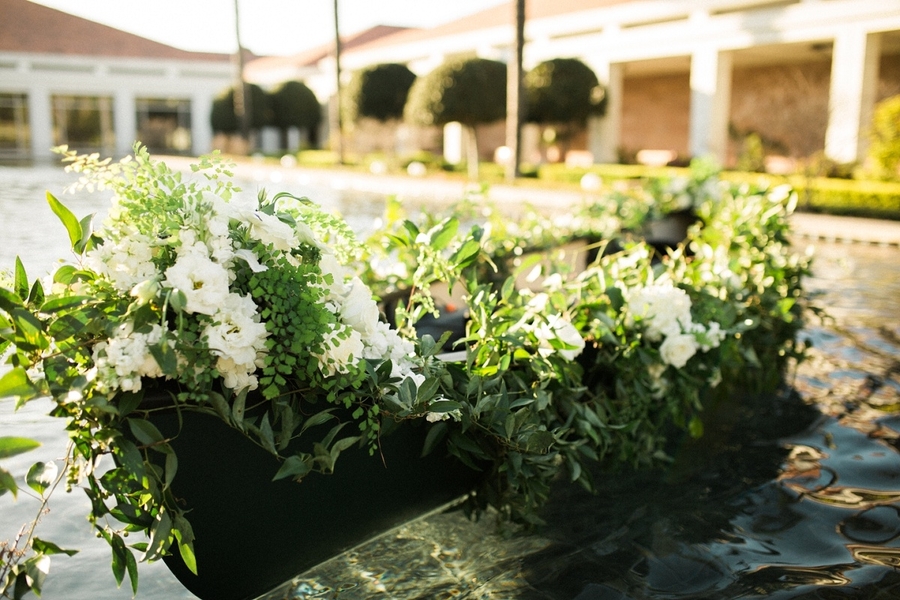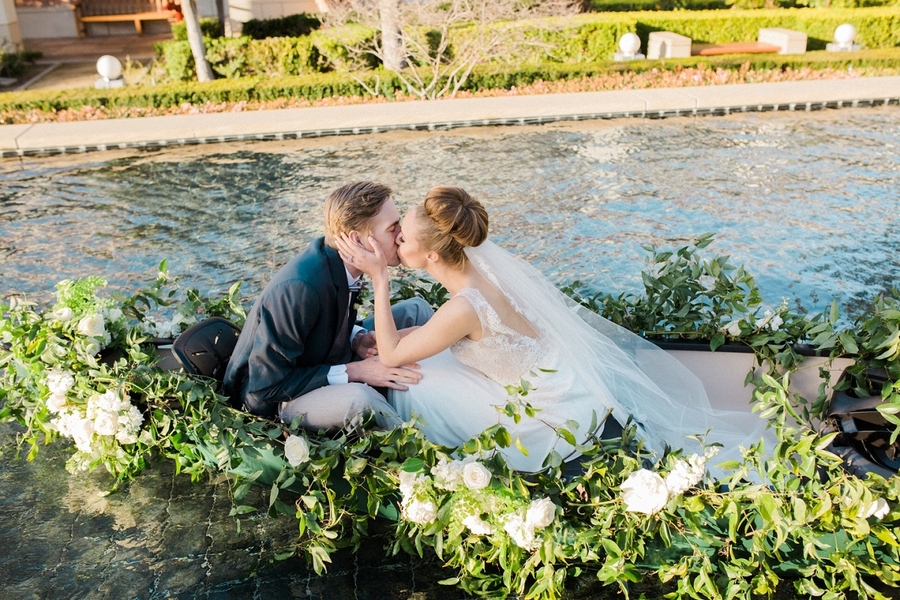 Pantone's Color of the Year, Greenery
They wanted to keep within the President Nixon's Navy theme and incorporate the blues of the ocean as well as bring in this year's Pantone's Color of the Year, greenery. Their friends at Flower Allie designed a classic but modern centerpiece for our tablescape. They created an ultra lush fireplace display that looks like it was always meant for the mantles. Then they truly brought our canoe to life even more greenery and beautiful white roses.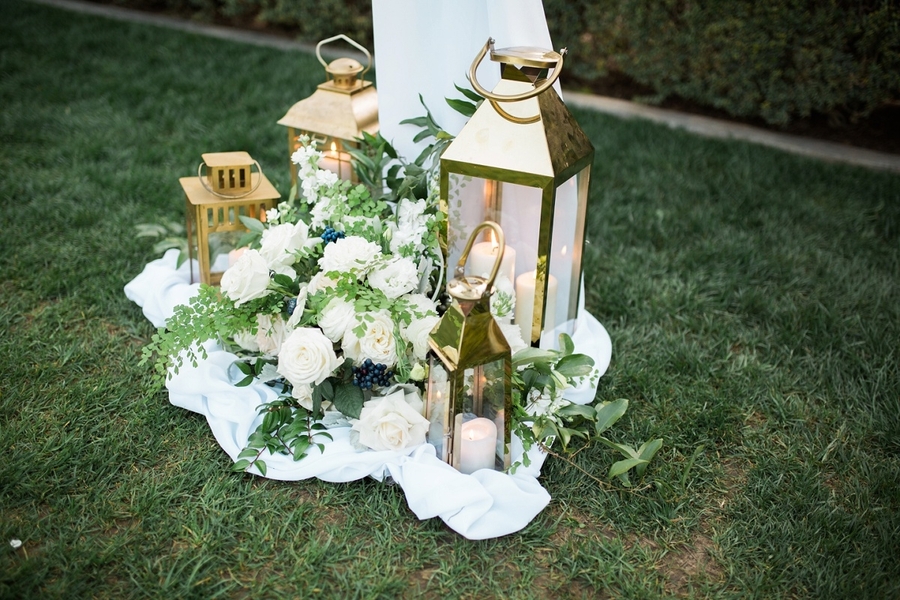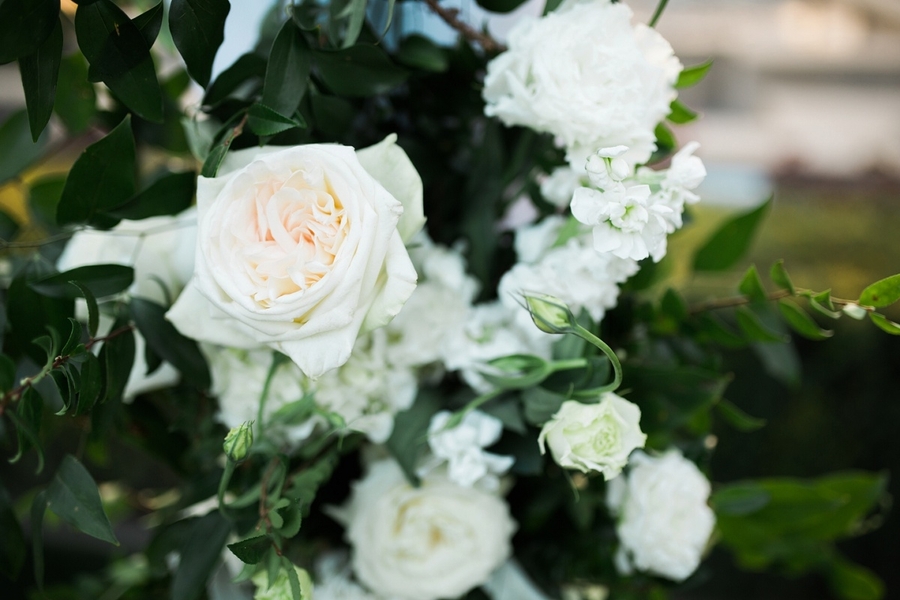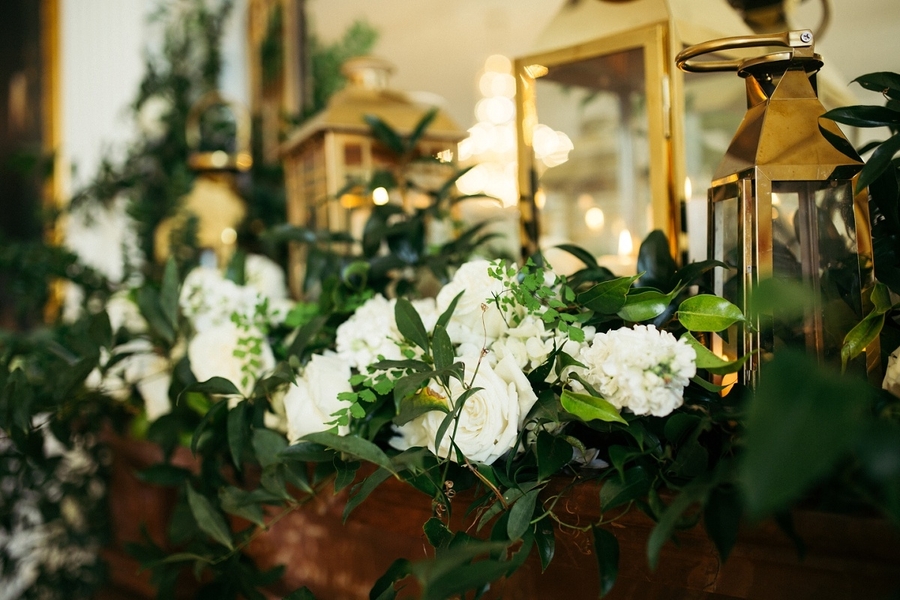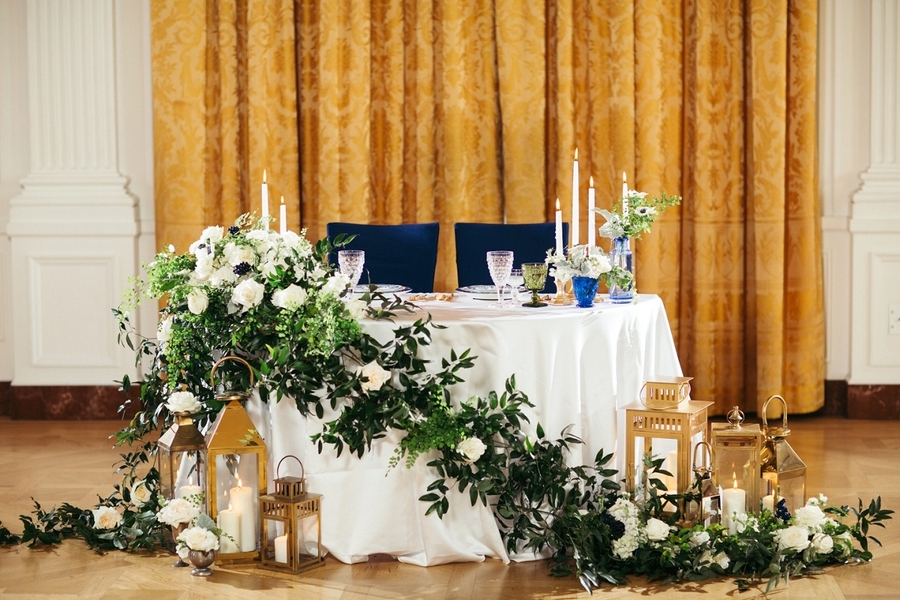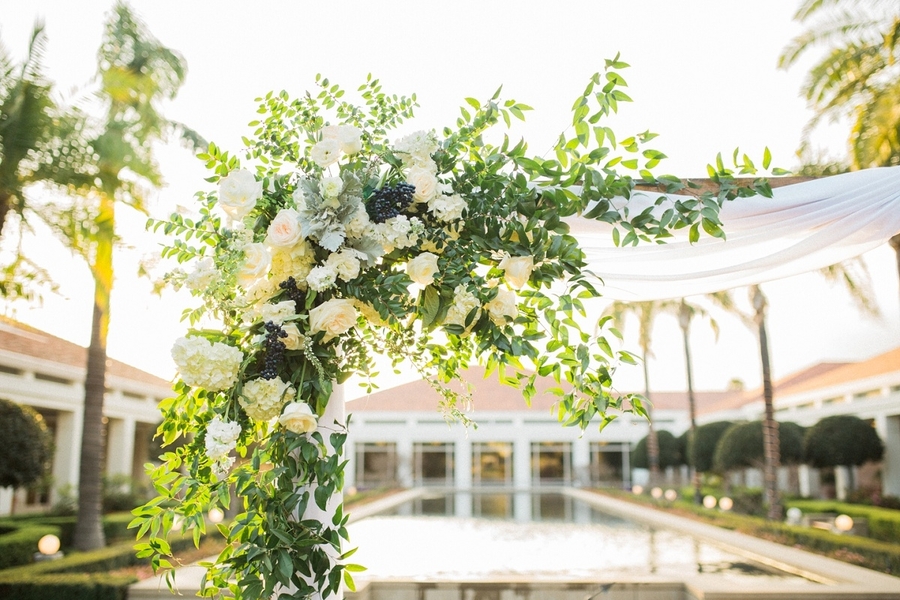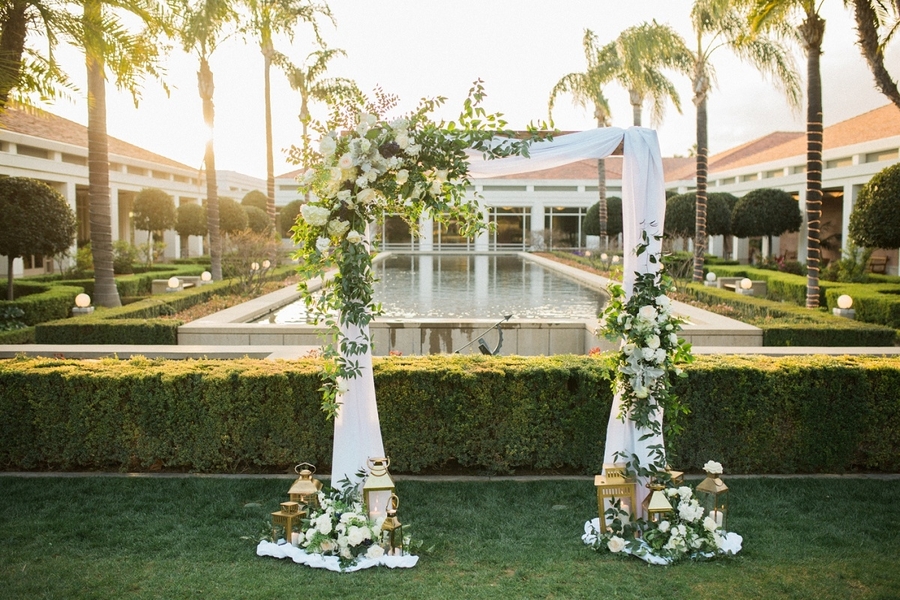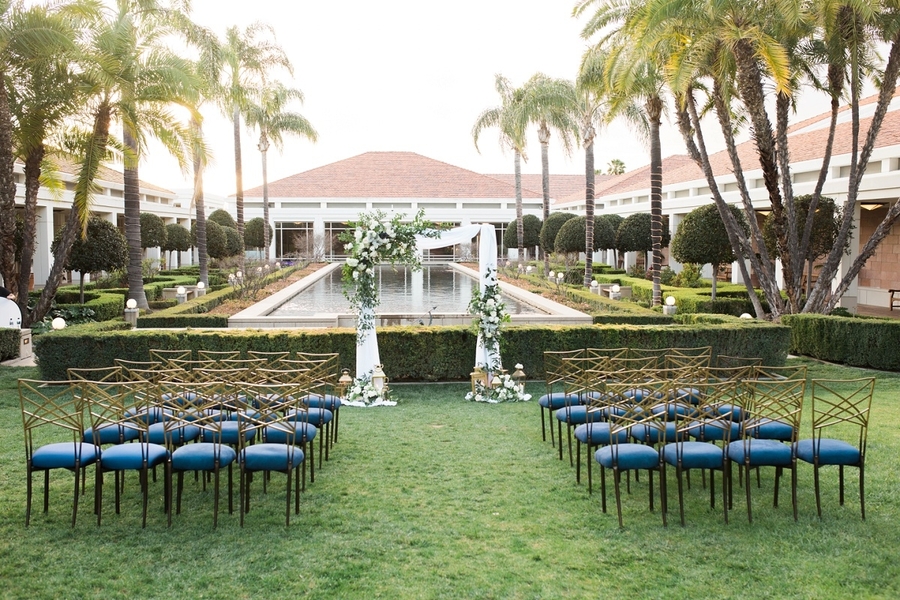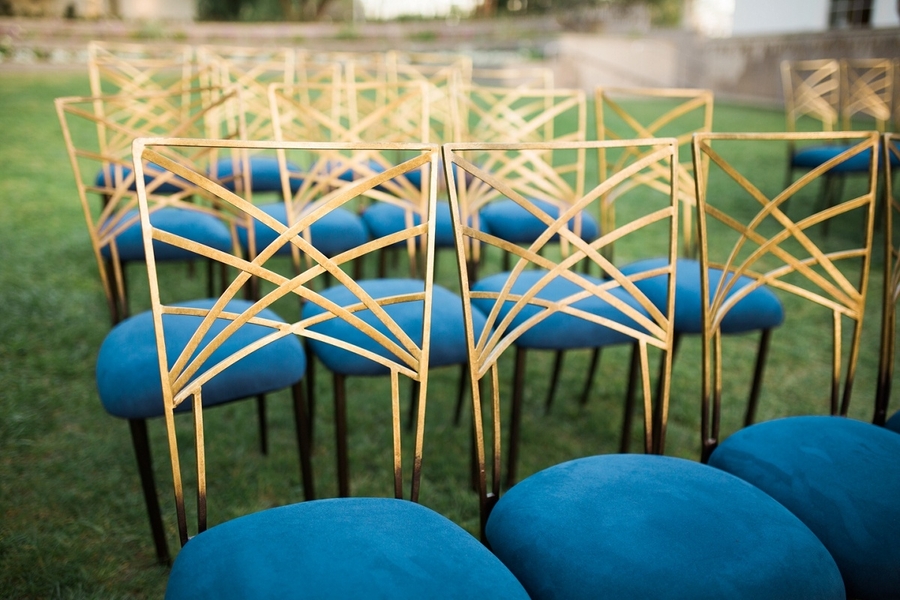 The Flatware and Tablescapes
Cherished Rentals provided the shoot with some amazing plates off of their Al Fresco and Luna Collection. The plates were all complimented by the Mid-Century Gold Flatware and Emerald Pressed Glassware from their Gemstone Glassware Collection.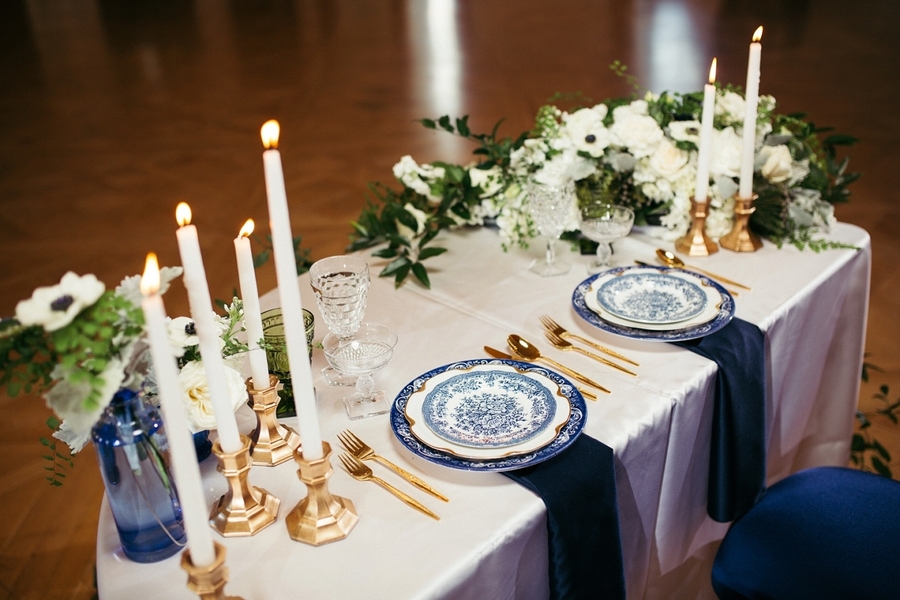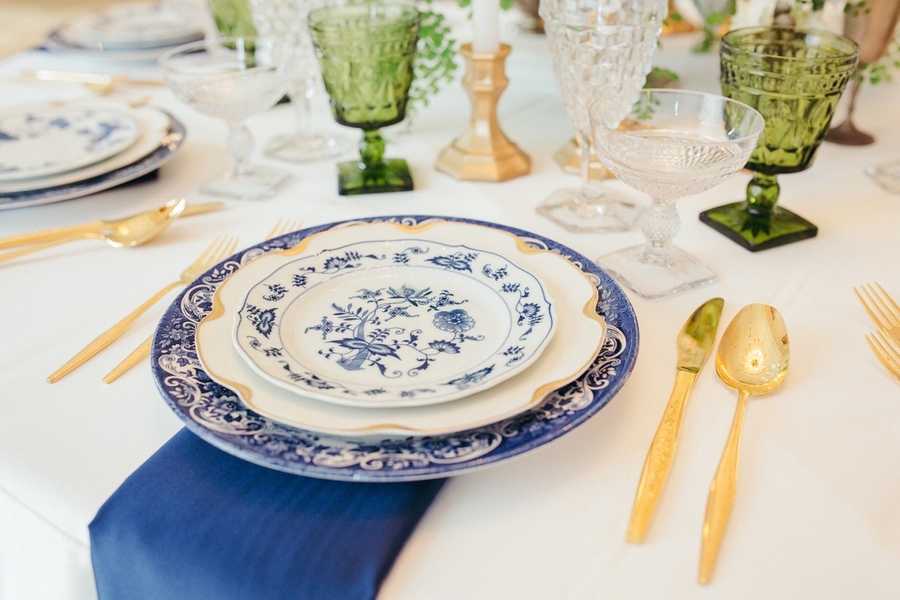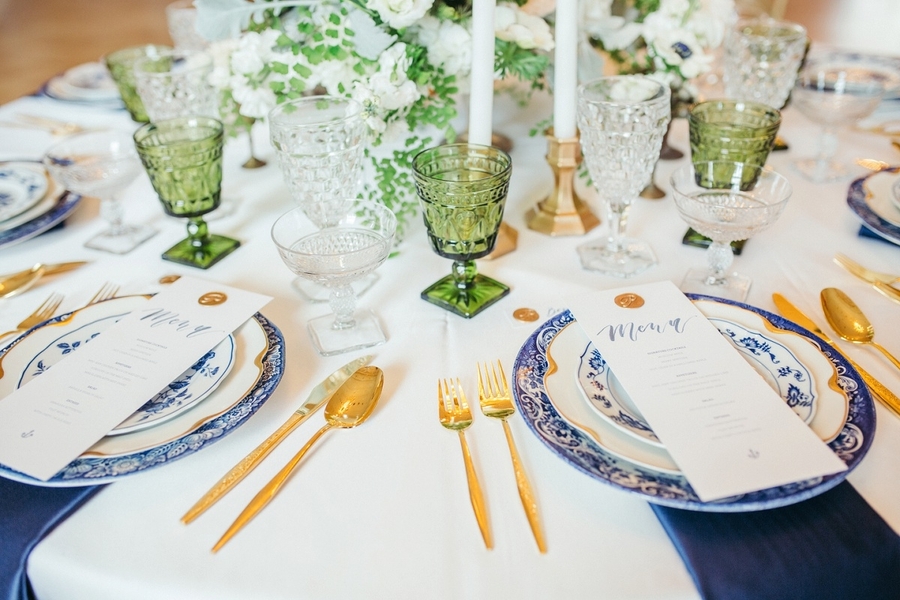 Classic Party Rentals provided the shoot with their Two Tone Gold Fanfare Chairs with suede blue cushions which matched perfectly with the room. They also provided the linen and napkins from their Lamour collection to complete the tablescape. Chasing Linen created a beautiful invitation suite and escort cards that embraced the colors of the ocean.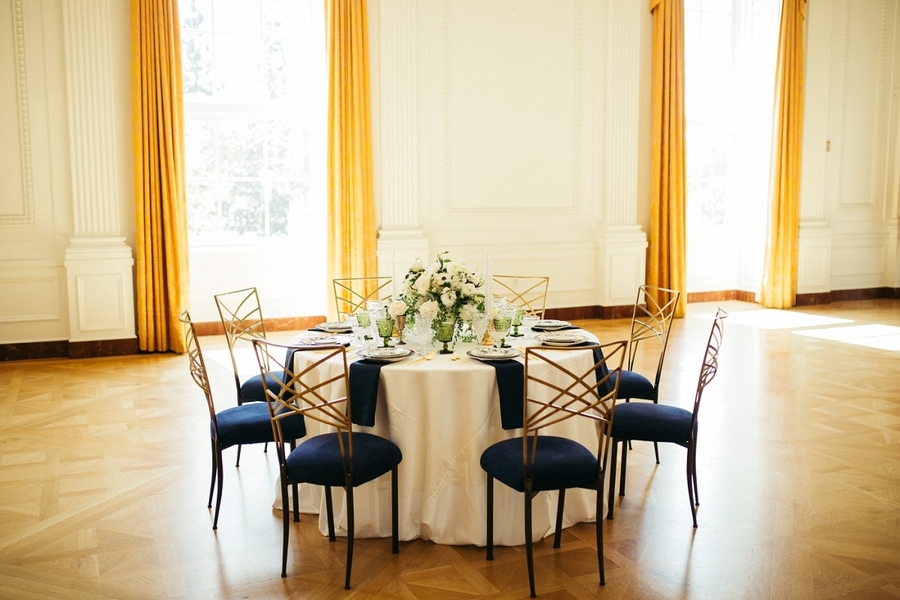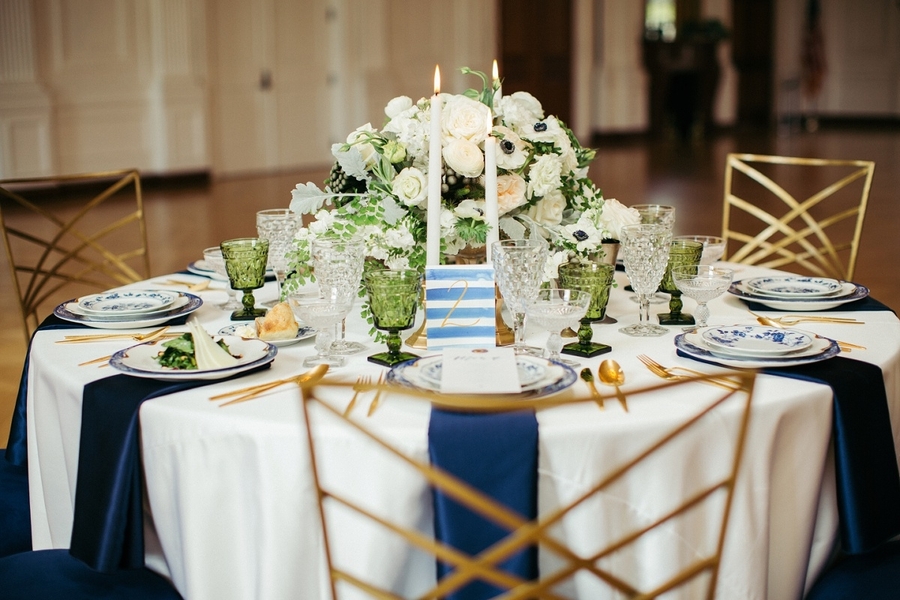 The Modern Invites
With the playful but classic feel of the watercolor wash, the papergoods were perfect for the theme. Their modern calligraphy is nothing less than perfect. The wax seal was a beautiful final detail to pull it all together.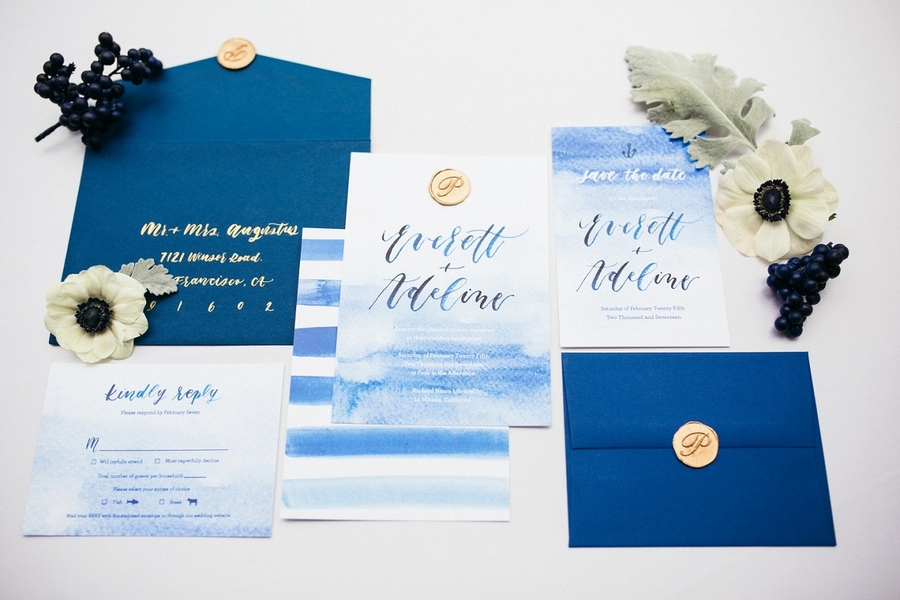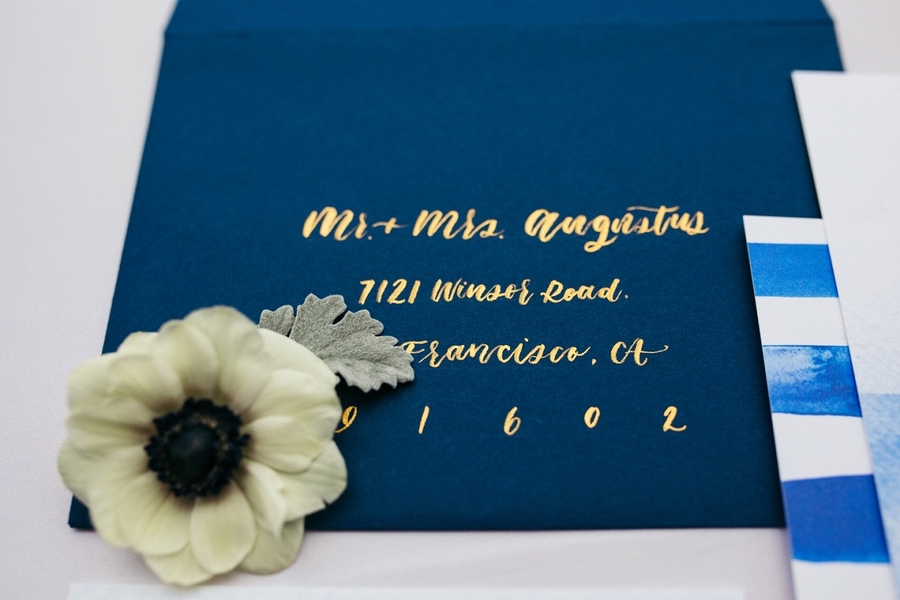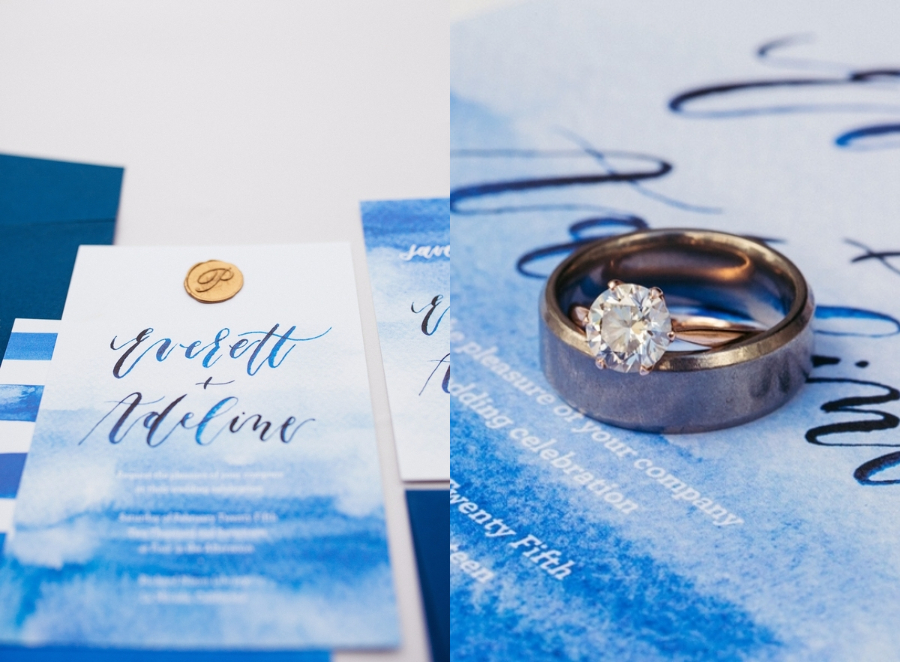 The Food and Dessert
Elise Cakes designed a gorgeous three tiered cake that included a watercolor effect, perfectly wrapped rope, and a sailor's knot to top it off. Jason's Catered Events puts together the most creative and beautifully displayed food. From mini burgers and mini tacos to a crisp salad to a filet mignon entree; they created a meal that was fit for royalty.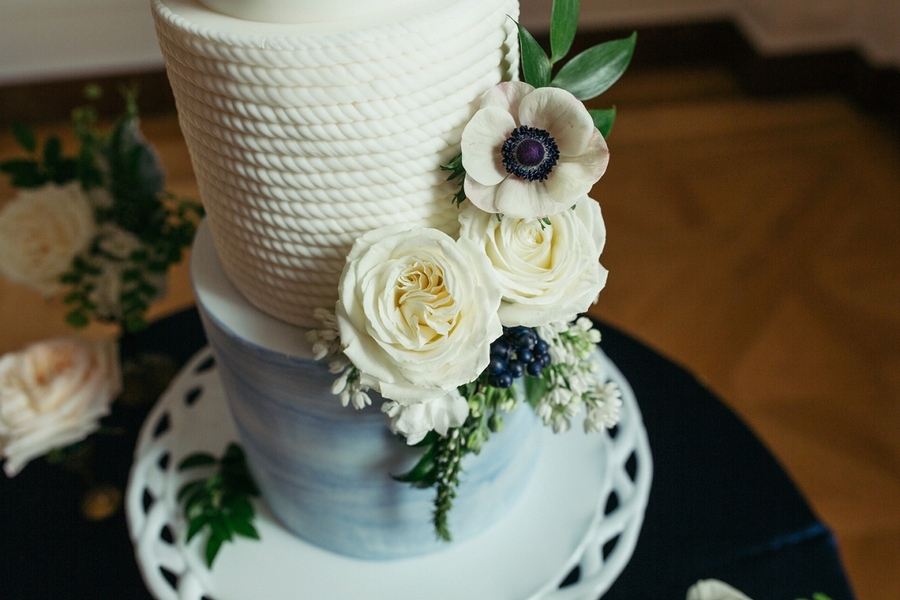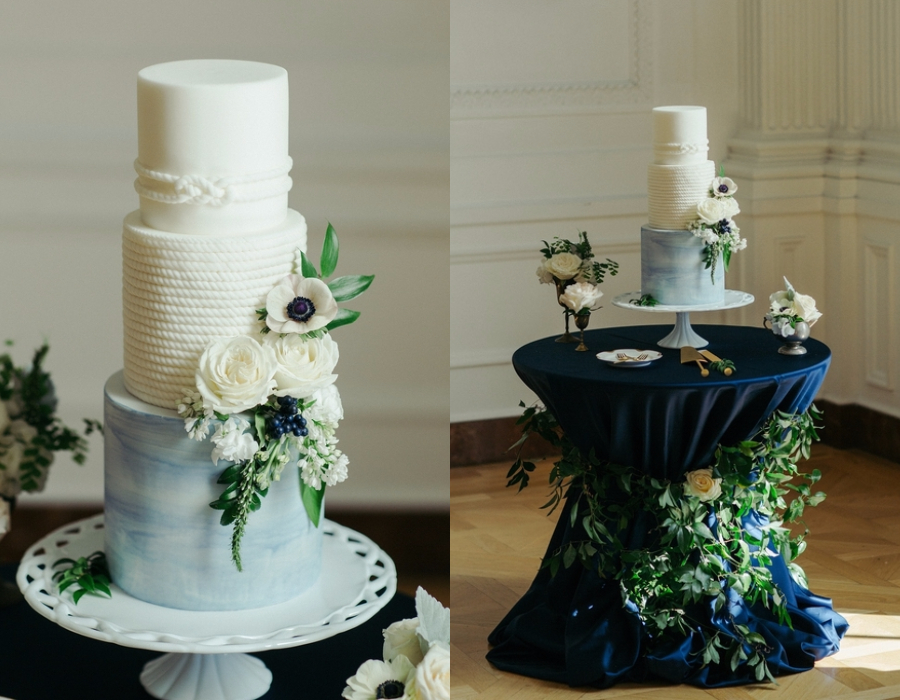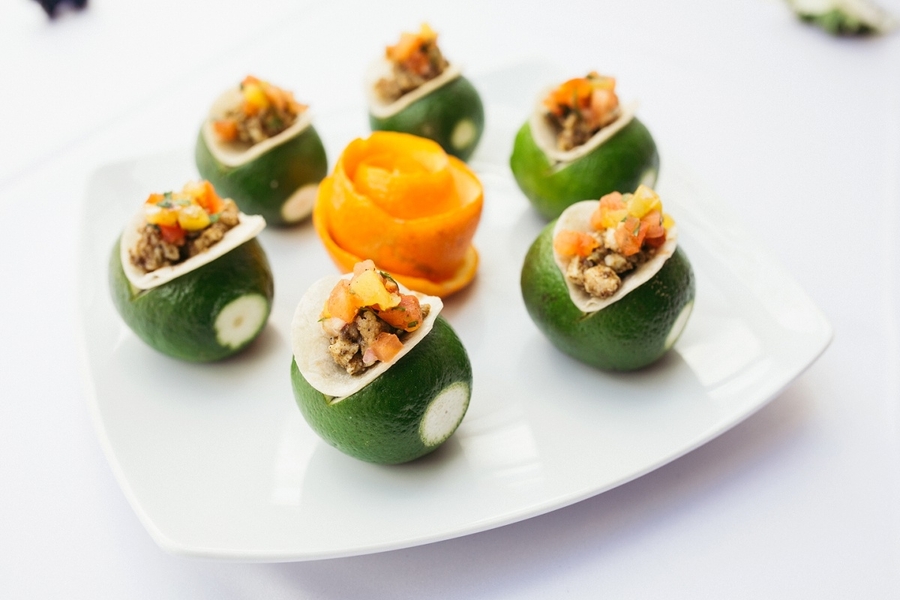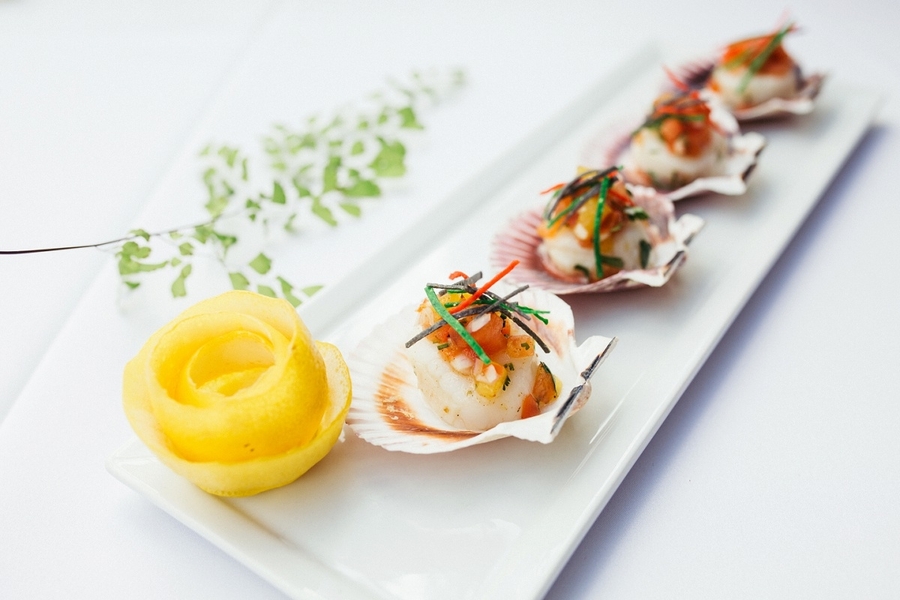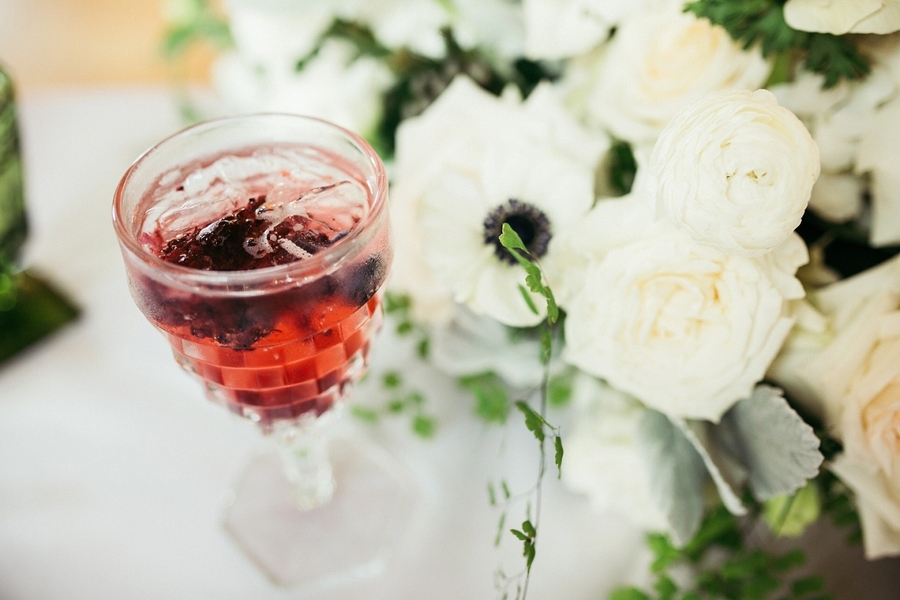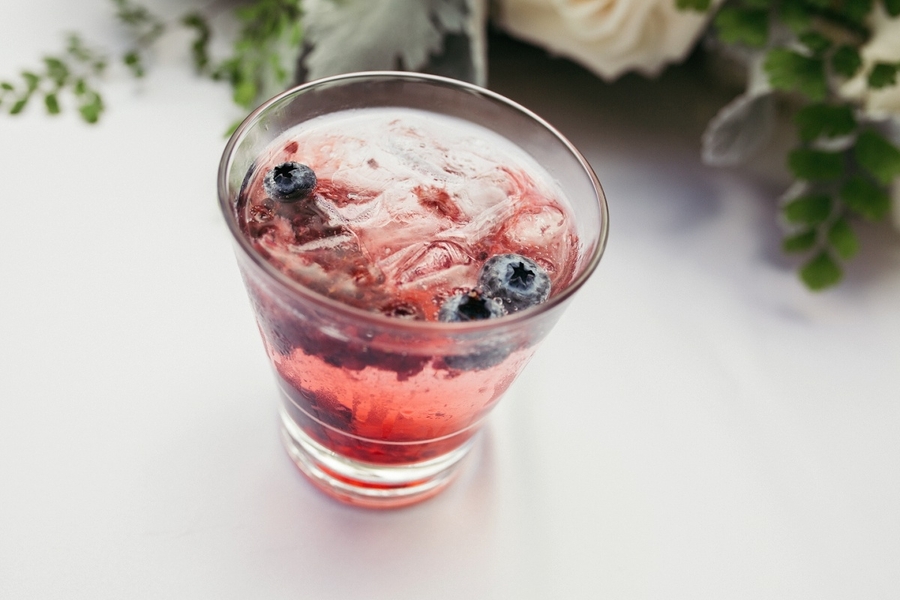 The Couple
The shoot could not have been complete without our beautiful couple. Fuse Hair had their team do Maddy's makeup with a classic look accentuating her natural beauty. Her top bun gave her that modern look we were were going for as well. Her bridal gown was a Pronovias Tais provided by Mon Amie Bridal.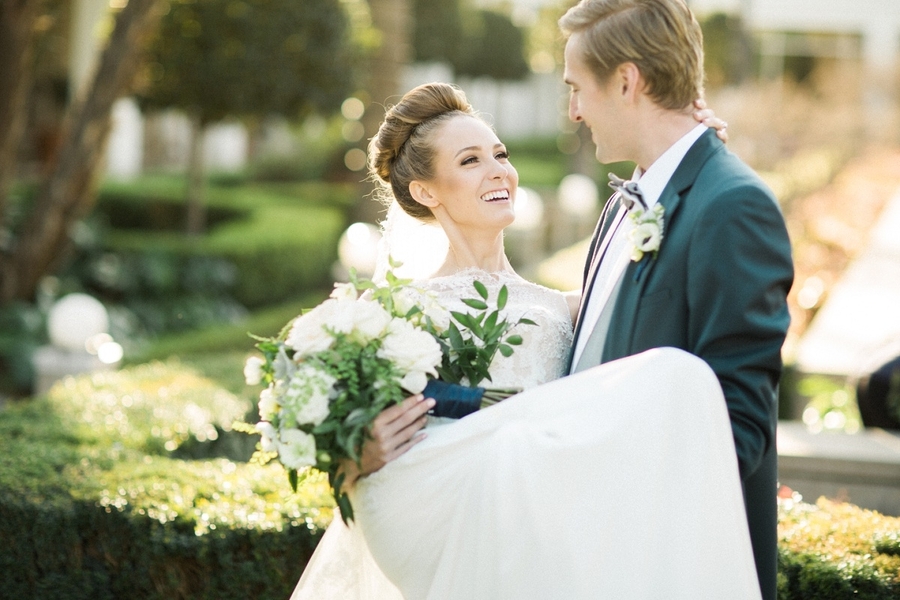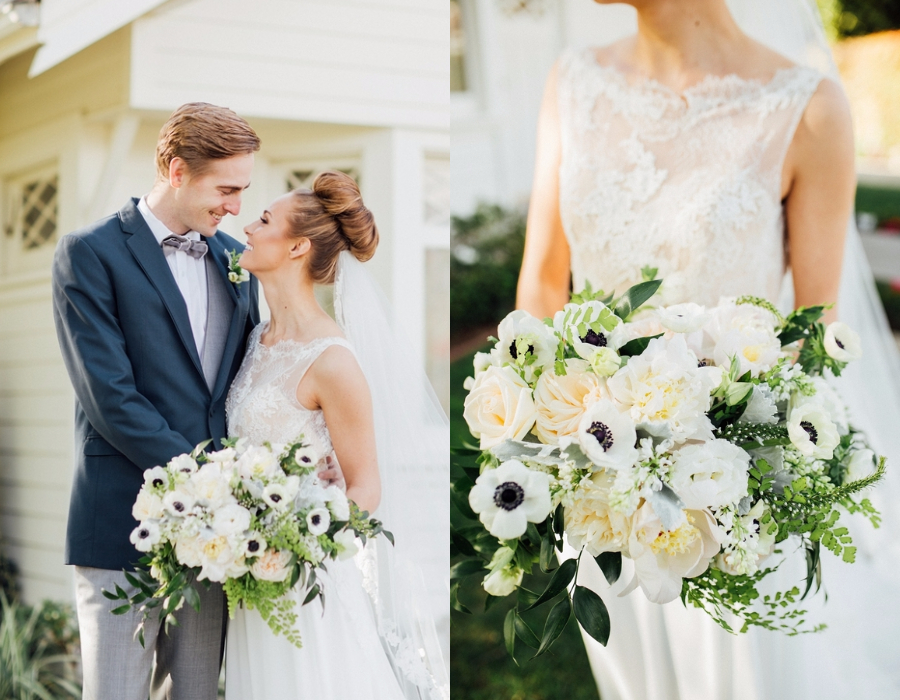 The groom, Hunter, was dressed by Friar Tux in their slate blue coat with heather grey pants and vest. Hunter's look was completed with a grey and white pipe edge bow tie and cognac shoes.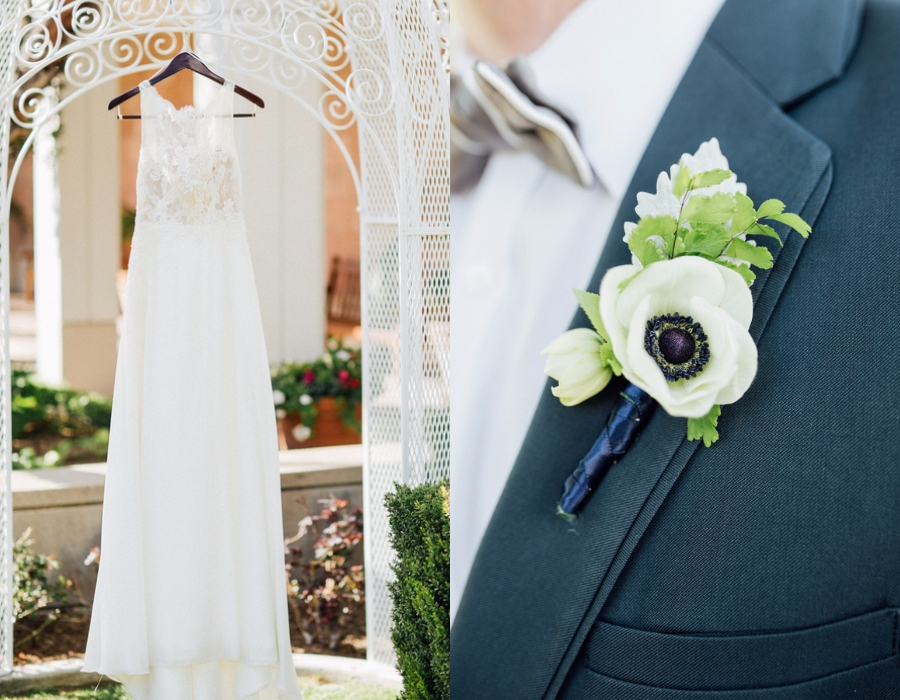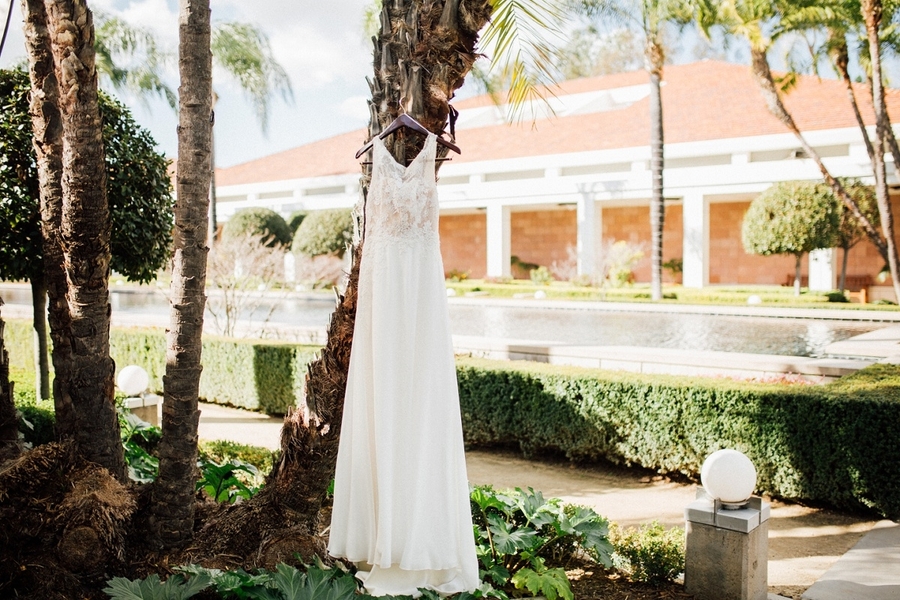 About the Photographer
Three16 Photography is your premier wedding photography team in Orange County, Los Angeles and all of Southern California. With a focus on natural light, lifestyle and a photo journalistic approach to your wedding day. We strive to not only meet your expectations but to far exceed them as we capture the genuine, fun, emotional and romantic moments of your special day. Let's be honest this is not about a few photographs but it's about having an amazing experience on your wedding day. Whether you're getting married at the finest wedding venue Orange County has to offer or a rooftop in downtown Los Angeles or in the vineyards of Italy we strive to offer you incredible photographs you can truly cherish for a lifetime.
Take this Advice
Decide what are the 5 most important things for your wedding day and book those services first. Try to book all your vendors within the first few months of planning your wedding. Booking vendors last minute can add unneeded stress. Remember to have fun and enjoy the wedding planning process. ~Jerrick O'Connor/Photographer
Vendors
Photographer: Three16 Photography
Invitation Designer: Chasing Linen
Equipment Rentals: Cherished Rentals
Equipment Rentals: Classic Party Rentals
Cake Designer: Elise Cakes
Floral Designer: Flower Allie
Tuxedo and Mens Attire: Friar Tux Shop
Hair Stylist: FUSE Hair & Beauty
Caterer: Jason's Catered Events
Event Planner: JenEvents
Dress Store: Mon Amie Bridal Salon
Museum: Richard Nixon Library
Cinema and Video: Three16 Photography