Fabric flowers are all the rage these days! I admit that I adore them, being someone who loves fabric and who also loves flowers. The best thing about these beauties is that many of them are simple to DIY which in my opinion, makes them a PERFECT wedding addition!
Below are some fabulous flowers from the always wonderful Martha Stewart Weddings. (I must stay, it would be pretty much AMAZING to spend a day with the MSW staff.) What's even better is that each of these specific flowers are ones that you can make yourself, in any color, in a variety of fabrics, and they don't have to be chilled prior to your wedding day.
I love this dahlia! It looks great on a hair clip or headband, but I also think it would make a wonderful addition to a simple clutch, handbag, or tote. Find the how to here.
This collection of roses and peonies really adds something to this simple dress. Apply the same concept to your own. If you're looking to save a few pennies, especially in the garment area, consider purchasing a super simple gown (or a white, cream, or ivory dress that isn't technically a "wedding dress" at all) and add your own fabric flowers. Find the how to here.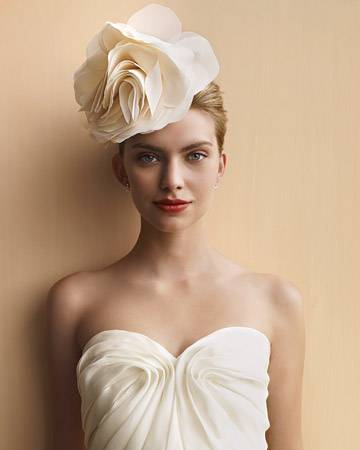 This over-sized peony screams "mod" to me. I don't think I could pull off this large of a bloom on top of my head, but girl, if it works for you, go for it! I can't decide if I'd like it better with a long gown or a tea length dress (or something shorter). Thoughts?
Using the same patterns from above, you can create little gifts for your bridesmaids (flower girls, moms, or even favors for bridal shower guests) in the form of hair clips. Or, attach them to a headband or pin to be worn in a bit different way.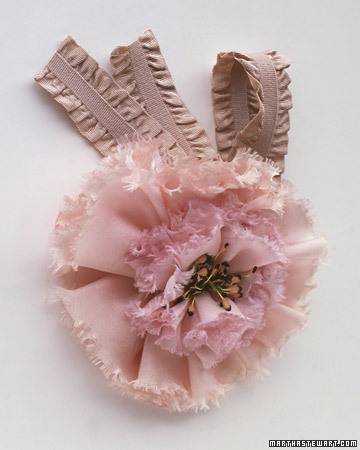 These are so sweet! I think these, in varying shades of the same color, would make a beautiful, everlasting bouquet, corsage, boutonniere, or just about a million other things!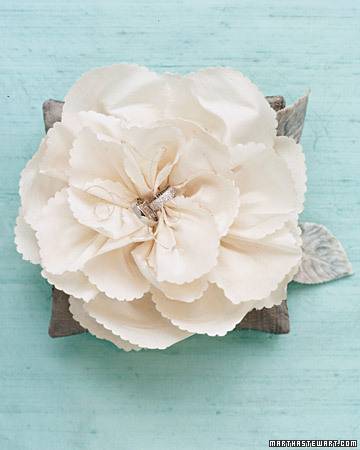 A ring pillow with a big ole' fabric flower, held by your ring bearer, might possibly be one of the sweetest things at your wedding ceremony. Find out how to make this particular pillow here.
Above I mentioned a few things these flowers can be glued or pinned to, but here is a recap with some additional ideas for where fabric flowers can be used.
– hair clips, bobby bins, head bands
– shoes – flats, heels, flip flops
– purses, bags, clutches, totes
– boutonnieres, corsages, bouquets
– ring pillows, baskets
– napkin rings, place card embellishments, centerpiece decorations
The list could go on forever!
If you have more uses for fabric flowers, please do share with us! Leave a comment or send us an email to weddingfanatic[at]gmail[dot]com. We'd love to hear from you and share your great ideas, too!