I'm so excited to share with you a new[er] blog stuffed full of ideas, inspiration, resources, and photos – Engaged & Inspired! The creator of Aspiring Couture, Allison, brings you fresh, modern, chic ideas from the wonderful world of weddings. Recently engaged herself, Allison started the blog to provide fellow brides with "a complete bridal resource offering top inspiration, gorgeous detail ideas, fabulous suggested vendors, and a wedding shop full of hand-picked original designs".
My favorite part of Engaged and Inspired has to be all the great eye candy – tons of fabulous photo inspiration that I simply can't get enough of. I forced myself to pick just one to share with you here…. don't you just ADORE all these great tags!?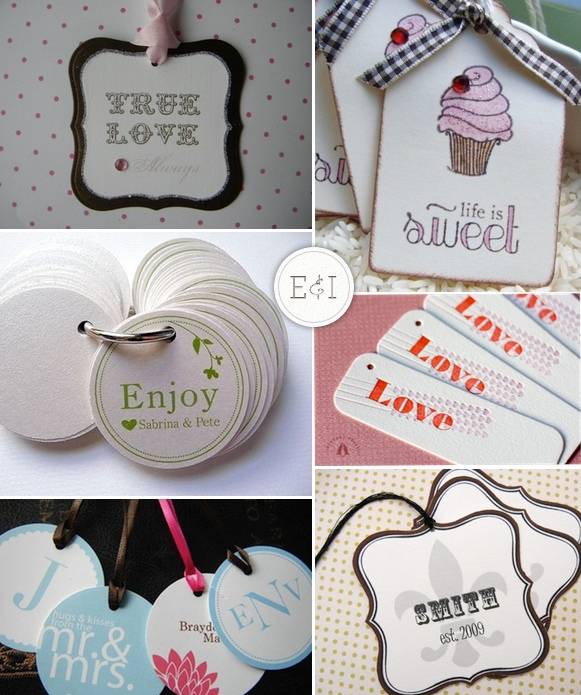 Providing all the pretty pictures ties in perfectly with the services Allison also offers via her blog – custom, made to order inspiration boards (with a bunch of extras). All you have to do is send her a few photos of things that represent your style, venue (if you've already tied it down), color choices, etc., and she'll send you the following:
– A full cohesive plan with plenty of details, to pull your wedding style together.
– "How-to's" and "Where-to's" for purchasing and creating items from the idea board so you can execute wedding plans efficiently
– A suggested list of vendors to work with that fit your style and budget. (Researched by us in advance to ensure quality of service!)
– Suggested design plan for setting up the venue, or how to add in those details that you can't live without.
Such a great idea, especially for the bride that needs a little help getting the creative juices flowing. So, go see all of this fabulousness for yourself, or email Allison directly – [email protected].