Are you in the process of planning a wedding shower for yourself or for someone you know? If you want some great eco-friendly wedding shower favor ideas, we have some suggestions for the eco-conscious bride.
Eco-friendly wedding shower favor ideas couldn't be more appropriate than they are today. As the world struggles with environmental issues such as non-renewable resources, massive consumption, and worldwide wildlife habitat and ecosystem destruction, the small things that you do right in your own backyard add up and have the potential to make a big difference.
You can extend your passion for going green to your own wedding shower celebration. There are more eco-friendly wedding shower favor ideas available today than ever before, so consider going green for not only your actual wedding, but for your shower, too. Here are some eco-friendly wedding shower favor ideas that are great for you, your guests, and the environment:
Rose Design Reusable Nylon Bag Favors—These bags are our favorite eco-friendly wedding favors to recommend because they are just as pretty as they are practical. They are presented in a rose shape complete with a green handle that mimics the look of a rose stem, but when they're unfolded, they provide your guests with a handy nylon tote bag for shopping.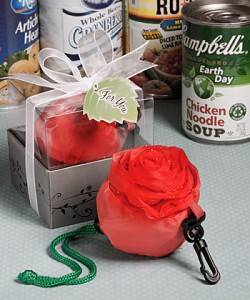 Natural Bamboo Eco-Friendly Coaster Favors—Bamboo favors are great choices for eco-friendly wedding shower favor ideas. Try these natural coaster favors to give your shower guests something useful for the home and to add some Asian flair to your shower decor. They come in sets of four and are presented in cool, refreshing mint-colored boxes with raffia ties and "For You" tags.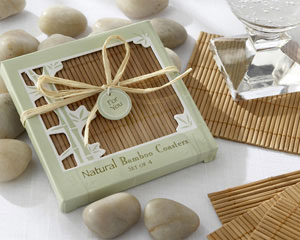 Pure Beeswax Candles—These candles offer another great way to incorporate your eco-conscious lifestyle into a wedding shower. They are white in color and have a pretty, natural honeycomb design pattern that looks even more realistic thanks to the little bee accent that is perched on the top. Any eco-conscious bride-to-be can appreciate this eco-friendly wedding shower favor idea, and so can wedding shower guests who want to be kind to the planet.