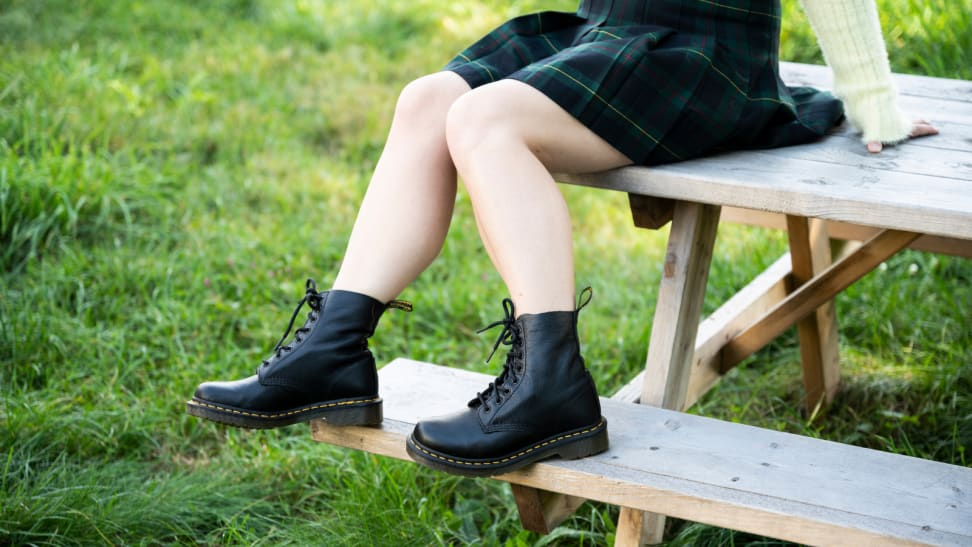 Main Image Courtesy of Reviewed by USA Today, featuring the 1460 Pascal Virginia Boots from Dr. Martens.
Who Owns Dr. Martens + General History
The Dr. Martens boot was born during the 1960s, when the decade was full of revolutionary change. This time period also witnessed an unusual amount of exotic fashion, which was an odd backdrop for the creation of such a functional boot.
The Dr. Martens boot was initially worn by factory workers and postmen. It was initially sold to the working class in Britain for just £2.
After being picked up by a group of multicultural skinheads who were passionate about British working class style, the Dr. Martens boot became a cultural icon. In addition, Pete Townshend, the guitarist of The Who, became the first high-profile individual to wear the boot as a symbol of his rebellious attitude and pride. This led to the brand's evolution, as both Townshend and the first generation of skinheads had changed the course of the company's history.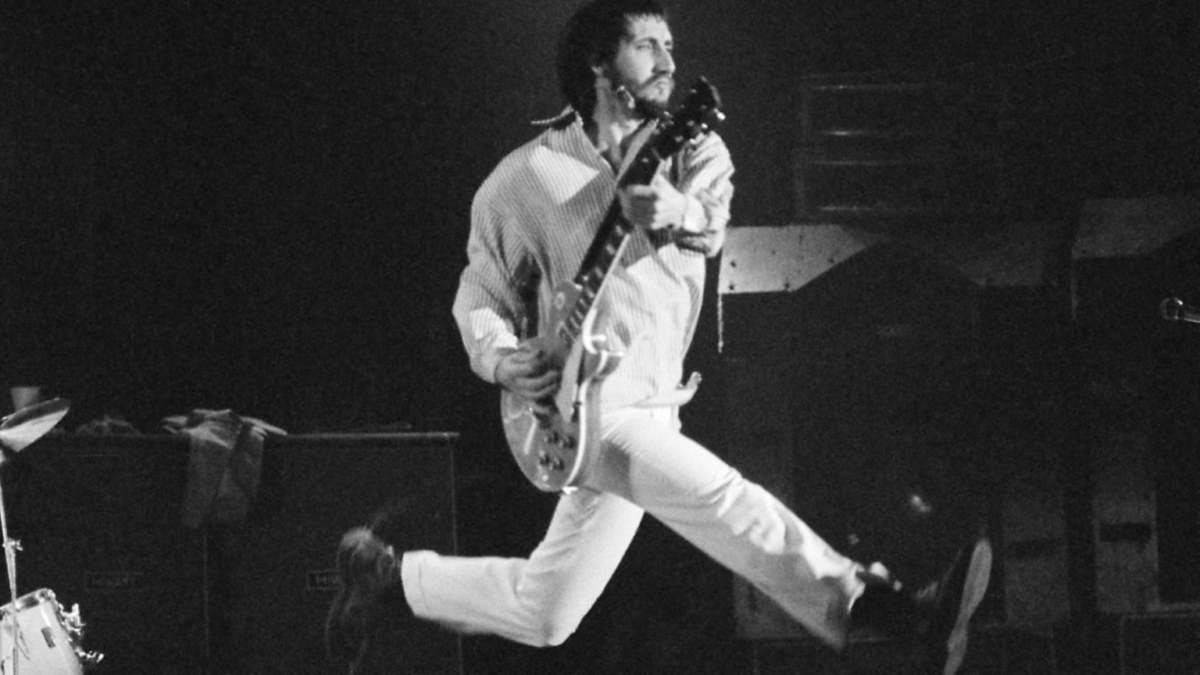 Image Courtesy of The New European, featuring Pete Townshend rocking his Dr. Martens in 1975.
After the company's 40th birthday, sales started to decline. In 2003, the company was able to re-emerge from its financial troubles by working with high-fashion designers from different parts of the world.
In 2007, the company's original factory in Northampton was re-opened, and it started to produce Dr. Martens Originals. Since then, Dr. Martens was bought by Permira, a private equity firm, in 2014.
Where Are Dr. Martens Made?
Although Dr. Martens are known for their British heritage, most of their stock is made in Taiwan instead of England. This explains why the "Made in England" label has vanished from their interior.
However, Dr. Martens have since come out with a Made in England collection, with a range that features some of the most iconic items that were made in the original factory in Wollaston. These shoes were made by experienced cobblers in Northamptonshire, with some of the most notable products in the collection including the 1460 and the 1461 shoe.
The Dr. Martens factory in Northampton, which is attached to the company's development department, produces several styles of shoes. Recently, the company opened a heritage center that features a gallery showcasing their past products, which have been available for over 50 years.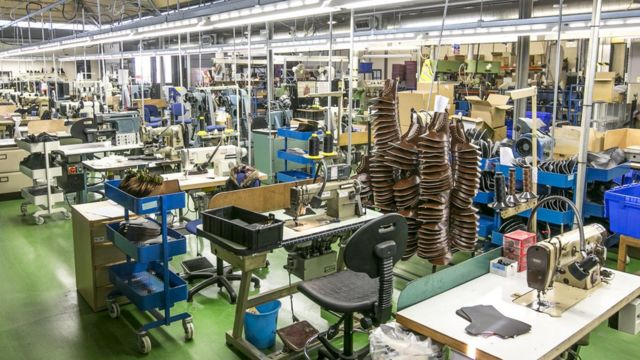 Dr. Martens factory in Northampton, Image Courtesy of BBC.
Dr. Martens make their entire boot or shoe on site, unlike other footwear companies. All of their products start as raw materials and go through several processes, which are then turned into wearable pieces of British heritage.
The various stages of the production process are carried out in four rooms. These include the Shoe Room, the Lasting Track Room, the Clicking Room, and the Closing Room. Approximately 100,000 pairs of shoes and boots are made each year, which is still less than one percent of the company's total production.
How Heavy Are Dr. Martens?
A pair of Dr. Martens typically weigh around two to three pounds, depending on their size. While this is not a heavy shoe, it should be noted that they aren't the lightest available. For example, the Dr. Martens 1460 boots are adult-size and weigh around three pounds. Their weight can vary based on the size, as well as the materials utilized to make them.
The weight of a pair of Dr. Martens boots is also affected by their style and size. For instance, the Jadon Max boot, which features a platform sole, weighs around three pounds.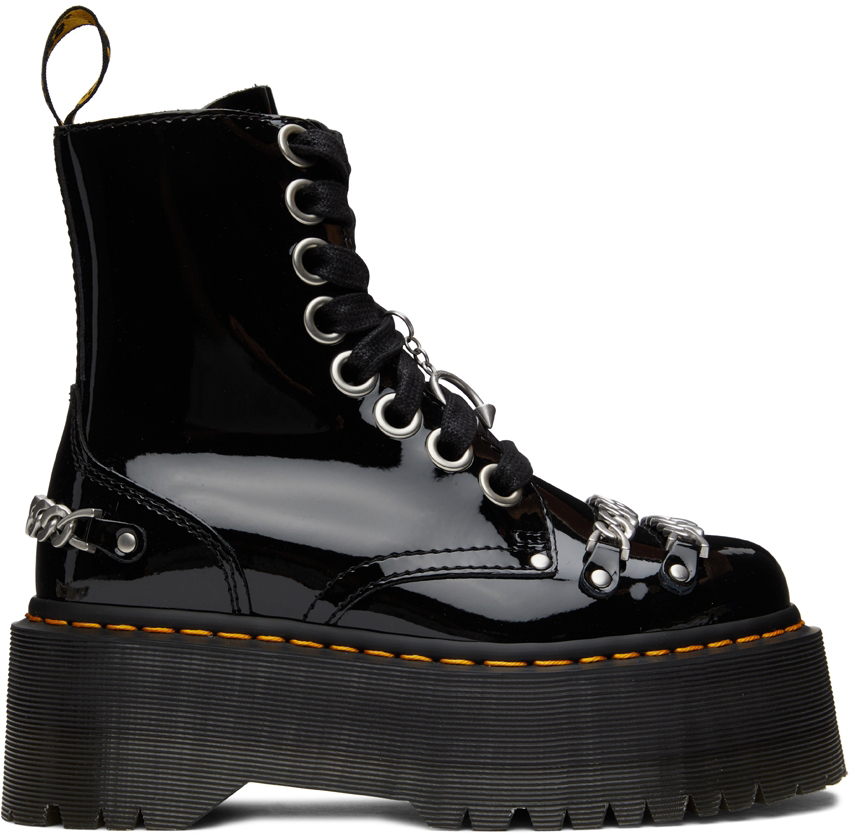 Black Max Chain Jadon Platform Boot by Dr. Martens, Image Courtesy of SSENSE.
The Dr. Martens shoes are made with durable leather that can endure the wear and tear that comes with regular use. Their thick and substantial sole adds to the weight of these boots, but this is because they are built to last.
Those who are worried that their Dr. Martens might cause pain or fatigue while walking should not be concerned. The thick sole of these shoes will provide you with a lot of support and cushioning, and they won't feel like they're getting heavier over time.
How Long Do Dr. Martens Last?
A pair of Dr. Martens is regarded as one of the most durable and long-lasting types of footwear on the market. These shoes can last for up to seven years depending on their wear and tear, as well as their storage conditions. They are made with high-quality leather uppers and cushioned footbeds, which are guaranteed to last.
Similar to other shoes, your Dr. Martens still might eventually wear out. Its longevity is dependent on how well you take them care of, how they are stored, and how long they have been used. Having these three factors in place will keep them looking their best for many years.
Dr. Martens have even been said to hold a lifespan closer to 20 years, as they are made from high-quality full grain leather. Vegan alternatives are also available, and these are subjected to rigorous testing to ensure their durability.
The rubber outer surface of the inner sole of Dr. Martens doesn't lose its flexibility, which also contributes to why they may last so long. In addition, regular use and care will affect how long your shoes will last. If you're constantly exposed to harsh weather conditions, your Doc Martens might eventually wear out. But, by changing your routine and doing the work to take care of them, you can make them last longer.
Properly Take Care of Your Dr. Martens
A great way to extend the life of your Doc Martens is to break them in slowly over a few months. Doing this will help soften them up faster and allow them to last longer.
If your Dr. Martens shoes are starting to look worn, it's time to replace them because doing so can extend their life. You can also try a shoe repair shop that can provide you with a replacement. To keep your Dr. Martens looking its best, you should regularly apply a high-quality conditioner. This will help prevent the leather from cracking and damaging.
You can also keep your Dr. Martens in shape by regularly applying a leather conditioner. This will help prevent it from cracking and damaging. It's important to apply the conditioner every four weeks, especially during cold weather. The side panels of the shoes will be more flexible if they're treated with a high-quality conditioner.
Make sure to clean your Dr. Martens' bottoms when they start to get dirty. Although their rubber soles are very durable and will last for a long time, they will eventually succumb to the effects of exposure to chemicals found in the streets.
One of the most important steps in keeping your Dr. Martens looking its best is to waterproof them, paying closer attention to sealing the seams can help the yellow stitching last longer.
Why Are Dr. Martens So Expensive?
One of the reasons why Dr. Martens has become such a popular brand over the years is due to its bold approach to creating unique shoes. Unfortunately, when the demand for its products exceeds what the company can supply, its prices tend to increase.
Dr. Martens is also known for making eco-friendly or sustainable products, which will be a bit more costly because of how much more expensive they are to make than a lot of other mainstream alternatives.
Unique Punk Appeal
Although the company was initially known for its work boots, the London punk scene began wearing Dr. Martens due to its cool image. This led to the creation of a new countercultural trend for the English brand.
The company's embrace of this newfound punk appeal led to the price of its products becoming more expensive. This was because it was able to reach a different kind of customer who didn't mind paying more for the trendy shoes.
Because the company has been able to garner a lot of international success, it has also become a lot more expensive to manufacture and sell its products, with people all around the world now buying their shoes.
Shop for Dr. Martens the Smart Way with Shopbop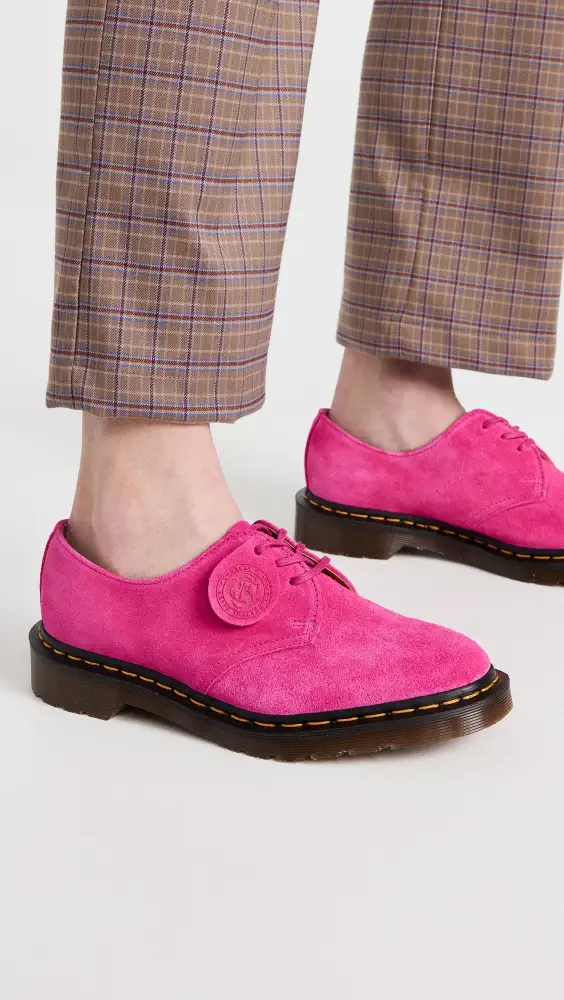 Find these cute and colorful pink shoes by Dr. Martens on sale for just $115 versus the pricier original sale price of $230. Image Courtesy of Shopbop.
You can shop for Dr. Martens directly on their main website, but you can also look through other retailers such as DSW, Dick's Sporting Goods, Nordstrom, and Famous Footwear. But the most important thing is finding those stellar deals, right? You will need to check out Shopbop, where you can find some great sales on styles such as the 2976 YS Chelsea Boots and the 14613 Eye Shoes. Save up to 70% off!