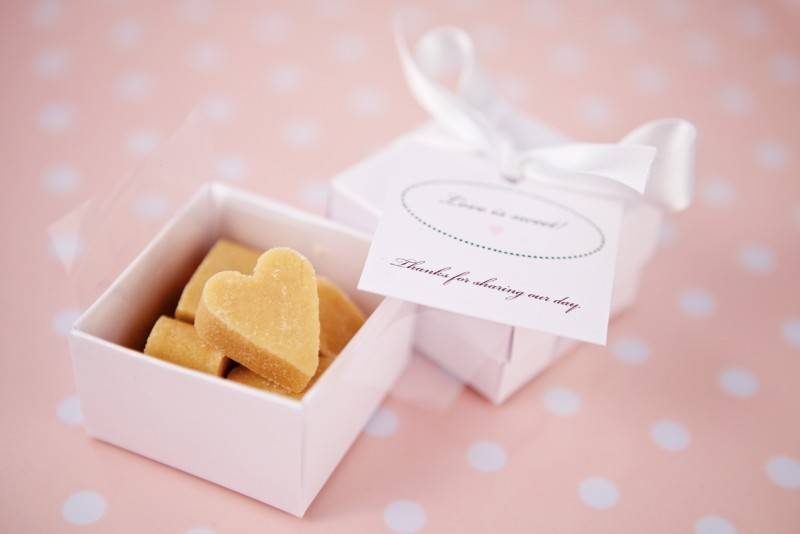 If you want a great edible Valentine's Day wedding favor, heart-shaped fudge is a serious crowd-pleaser! Plus, it's super simple. You can use your favorite fudge recipe, or follow our super easy fudge recipe below. Here's what you'll need to create about 30 pieces of fudge:
1 can (14 ounces) condensed milk
Approx 18 ounces semi-sweet chocolate chips
1 cup chopped pecans or other nuts (optional)
1 ½ Tsp vanilla extract
First, line your 8-inch pan with tin foil to prepare the fudge for setting. Next, with a double boiler or saucepan over low heat, melt the chocolate chips until they are completely liquid. Remove the chocolate from the heat and add the vanilla extract and chopped nuts (if applicable). Mix the ingredients until well blended, and then pour the mixture into the foil-lined pan. You may need to use a spatula to spread the fudge evenly across the pan.
Chill the mixture in the fridge for about an hour and a half, or until the fudge is completely firm. Lift the foil edges and remove the fudge from the pan. Now comes the fun part! Using a heart cookie cutter, simply cut as many hearts as possible from the square. Enjoy the rest as a fun treat while you're working!
To make this fudge even prettier, sprinkle the nuts on top directly after spreading the chocolate into the pan rather than mixing them into the chocolate. You can also melt white chocolate chips and create drizzle designs over the pan of chocolate after it's cooled. Place 1-2 hearts into a favor box and voila – you have delicious and adorable fudge heart wedding favors for your Valentine's Day wedding!
You can make this with peanut butter fudge, strawberry fudge or whatever kind of fudge you love best, and from any recipe. If you don't have the time to cook the fudge, simply purchase heart-shaped fudge or purchase fudge and cut out the heart shapes yourself.