If you're looking for a beautiful and inexpensive place card idea, then this may be the perfect one for you. Plus, everything about it screams fall! All you'll need is some gold spray paint, some fall leaves that you've gathered from the yard, and a little bit of time and patience. Here's how to do it.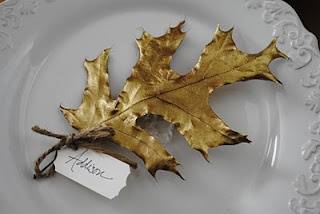 The Supplies
You can purchase gold spray paint at any craft store or home supply store. The leaves will come from your yard or a friend's yard if you don't have any trees that would supply big, beautiful fall leaves. You'll also need raffia, jute or twine with a fall feel and some white card stock.
Preparation
To prepare the leaves, you'll want to make sure they're totally dry and then place them between the pages of a heavy book for a few days. This will flatten them and prepare them for the painting stage. If you prefer the curled look of fall leaves, you don't have to flatten them at all. While you're waiting, though, it's the perfect time to cut squares of cardstock for writing the names. Punch a hole in the corner of each so you can tie them onto the leaves once they are finished. The names written in your own handwriting are perfect, but you can also hire a calligrapher to make them a little fancier if you wish.
The Leaves
Once the leaves have flattened (or if you're going ahead without flattening them), simply spray paint one side and allow it to dry before turning the leaf over and spraying the other side. Make sure all surfaces are covered in the gold paint. Allow the leaves to dry fully before attaching the name tag.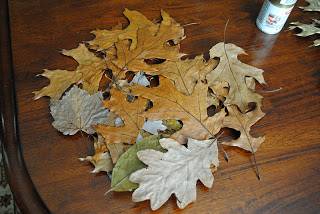 These are so pretty for a fall wedding table and look like expensive, gilded leaves but in truth they're very inexpensive! For the full tutorial, visit Naptime Decorator!