Balloons can be one of the most beautiful types of wedding décor, if done correctly. Today, we're going to tell you how to create a wall of balloons for a wedding backdrop that is simple and beautiful. Here's what you'll need:
Helium-Inflated Balloons on Strings (enough to create a "wall" in your reception area)
Scotch Tape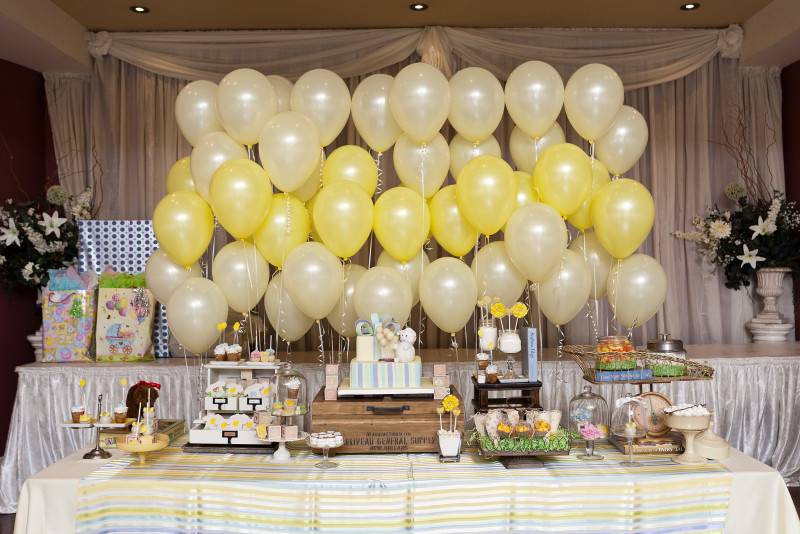 Not a large list, right? Well, this idea is super easy to create. Here's how you do it:
Step One: Start by deciding how tall you want your backdrop to be. If it's to place behind a table, you may want it to go as high as the ceiling. If it's a backdrop for picture taking, it may not need to be that high – it's really a matter of user preference. Next, take one of the balloons and using the scotch tape, tape the string to the floor making sure the balloon is at the height you want it for the top of the backdrop.
Step Two: Tape the next balloon directly beside the first, at the same height. Continue this process until your backdrop is the width you desire.
Step Three: For the second row, measure the first balloon so that it sits directly below the first as far as height goes. Continue the process just like you did in step two, until you have a perfect second row in your balloon backdrop.
http://cdnpix.com/show/imgs/92f7dfc5a2796e84955b69b7ecb2862e.jpg
Step Four: Do the same with the rest of the rows until your balloon backdrop is completed. To create visual interest, use balloons in different sizes and shapes. You can also alternate the height of the balloons to create a "staggered" look that is interesting and attractive.
This is such an easy way to create a pretty backdrop for behind a table or for pictures, and the effect is amazing!