A sweet colorful engagement shoot of Jennifer and Brad (featuring their cute goldendoodle, Zoey). And despite the variety of colors and outfits our couple wore throughout this shoot, they sure do know how to coordinate with each other! They had simple outdoor shots but their natural poses, the palette perfect ensembles, and their adorable black pooch created a noteworthy album. Congratulations to Jennifer and Brad (who's getting married on September this year, yay!)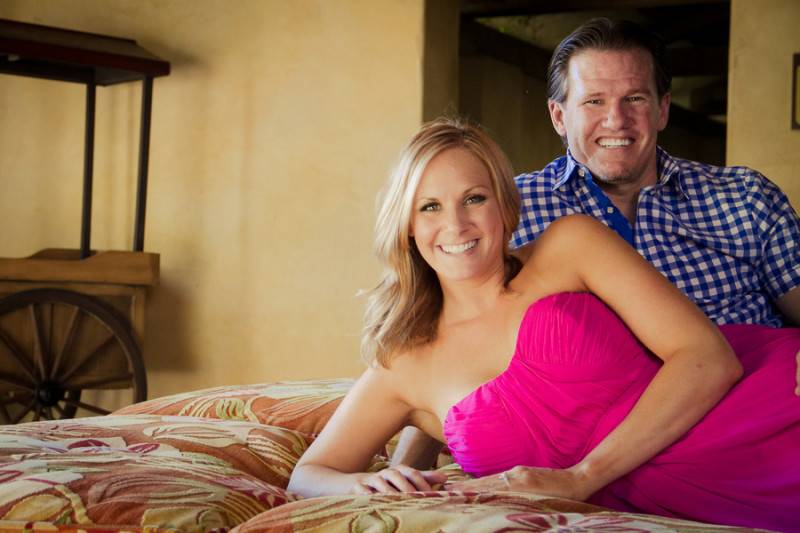 Photographer
Jennifer and Brad met on July 3, 2012 at Salt River Field's annual Independence Day Music Festival. They were both there with friends and randomly ended up sitting right next to each other in the lawn to enjoy the concert. At the beginning of the concert Brad noticed Jennifer, he decided to make his move and strike up conversation with her. They became so intrigued with talking and getting to know each other that they ended up missing the entire concert. Brad asked Jennifer out to dinner the following day for the Fourth of July. They enjoyed the perfect combination of dinner, drinks and fireworks. Two people have never click as fast as these two did on their first date. Not only were there sparks in the skies, but also between the new couple. After that, they were inseparable.
After living together for almost a year, Brad surprised Jennifer with the Christmas present of a lifetime, a little black Goldendoodle puppy named Zoey. In 2014, Brad and Jennifer had a very big year; they started raising their new puppy Zoey, started looking to buy a home together, and even got engaged! Brad proposed while they were on vacation in Lake Havasu, AZ. They had just gotten off a ferryboat ride that docked underneath the London Bridge. They had asked some people walking by to take their picture under the London Bridge when Brad got down on one knee and asked Jennifer to make him the happiest man in the world and marry him. Of course, as overjoyed as Jennifer was, she answered "yes!".
As if 2014 wasn't busy enough, 2015 is going to be even crazier for Brad and Jennifer. They will be getting married on September 12, 2015. This date was chosen with special significance to the couple because both sets of Jennifer's grandparents were ironically married on September 12th and have been together their whole lives. This was with great honor and hope that their marriage will be as long and happy as their grandparent's marriages were. The wedding will be in Austin, TX and will feature a beautiful garden ceremony and an outdoor reception on a terrace overlooking Lake Travis. After the wedding, Brad and Jennifer are planning to take their honeymoon in Kauai, Hawaii to celebrate their new life together as husband and wife.
Ever since the day they met, their love continues to get stronger every day, and they can do nothing but hope for every other couple out there to have as much love and happiness as they do

Vendors
Photographer:  Life & Rain Photography
Other Location:  The Royal Palms Resort and Spa