I'm not much one for smoking…anything, really. But I do, as much as I may not wish to admit it, like the idea of a cigar bar for a wedding reception.
So what exactly IS a cigar bar? Well, you can kind of fit "it" to your needs. Bring in a cigar roller and have him (or her) work throughout the reception making cigars for your guests (usually the males…). Or, bring in a few cigar humidors stocked with different cigars and set them out, almost like you would a dessert table, and allow guests to brows. If you want to go all out, have an attendant there to assist guests in selecting and preparing the cigars.
Here is an image from NGALA showing a roller in action: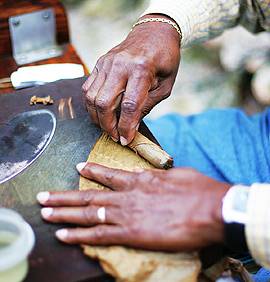 And here is a great example of a very legit cigar bar.  It's almost like a mini cigar shop!! Image from The Puff Lounge.