Wedding fashion is often very traditional… and predictable. You wear white. He wears a tux. You might assume there's little room for unique styling, but your mistake might be focusing all your attention on the dress. To freshen up the fashion on your big day, turn to your bridesmaids' dresses. Channel these two of the fashion world's latest spring trends in their outfits and your girls will look fashion-forward while avoiding the pitfalls of the average heinous bridesmaid ensembles. Plus, they can really wear these dresses again!
YELLOW
Bright and vibrant hues of yellow were a prominent trend on the spring runways. Don't shy away from the color out of fear; in the right silhouette, it's the perfect choice for eye-catching yet sophisticated bridesmaid dresses.
If you're going bright, keep it short. You don't want to select a full-length gown in a bold yellow; that's just too much. If you're set on long dresses, pick a soft, pastel yellow.
Keep the outfit simple if the color is bold. If you select a beautiful yellow that's attention-getting, you should minimize everything else. Select dresses with a simple silhouette and few embellishments (stay away from crystals!). Make sure jewelry and shoes are pared down as well.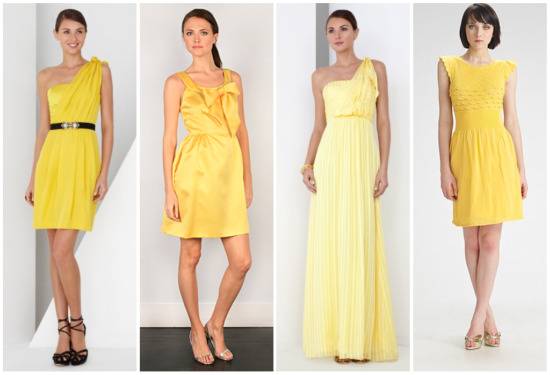 Examples: Red Valentino Smocked Knit Dress ($598) || BCBG.MAXAZRIA One-shoulder silk dress ($298) || BCBG.MAXAZRIA One-shoulder silk gown ($358) || Thread's mini-length Raven dress ($290)
WATERCOLOR PRINTS
Watercolor prints evoke the classic painting technique; the patterns look a bit muddled, a bit more muted, as if an aqua-doused brush of paint has just swiped across the surface. They can be very elegant but also modern and youthful. It's a fresh idea to use prints in your bridesmaid dresses, particularly ones that of the moment in the fashion world. Need inspiration? Look to Rachel McAdam's Oscar look, a beautiful gown that would make your maid of honor feel like a movie star.
Let the print speak for itself. As with yellow, selecting watercolor dresses is a unique and bold choice. Piling on jewelry, funky shoes, or even an elaborate bouquet adds too much to compete with the dress for attention. Let the dress win. Keep accessories and flowers elegant but simple.
Make your maid of honor stand out. If committing all your bridesmaids to trying out these looks is just too much, try dressing your maid of honor in a yellow dress or watercolor print gown while keeping the other ladies neutral. It will make her feel special and add a pop of interest to your altar line-up.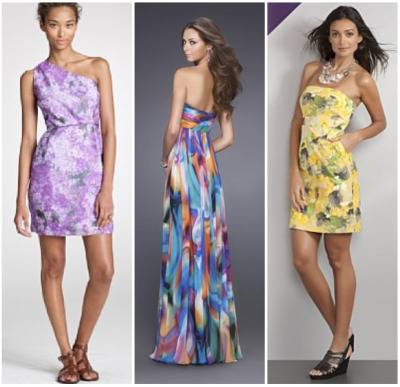 Examples: J.Crew Watercolor garden Bridget dress ($285) || Elegant Mart Strapless Gown ($396) || New York & Company Park Avenue Dress ($57)