There is just something about chandeliers that fascinates me. Today, you can find them out there in almost any style from classic to glamorous, to shabby chic to just plain chic and modern.
So, looking for ways to incorporate chandeliers into your wedding? They don't just need to be hung above the dance floor and tables (though we love that too)! First check out this FABULOUS event by artfool. I love the chic black and white and the event space, exposed pipes and all. The added chandeliers top everything off with a touch of modern elegance.
Or how about on your invitations? Check out this sample from Pomp & Circumstance's Greenvites.
If you've already got your lighting figured out and your list of lights doesn't include chandeliers but still want to work them into your decor, what about using this paper chandeliers as centerpieces or as other decor accents? We found this on Palindrome Press's Esty Shop, but is sadly no longer in stock.

Perhaps they would make a great DIY project; just grab some really heavy, large sheets of card stock and get creative!
And if you want to drape yourself in sparkly things just like a chandelier, you could always go the chandelier earring route. But! I think these are a bit more unique…and well, look more like they are an actual part of a chandelier. I saw this in a inspiration board from Snippit & Ink (which I posted about two posts ago!). The Neiman Marcus earrings come at a pretty high price, but they are oh so lovely! And surely you can find some other similar ones out there, with a much prettier price tag.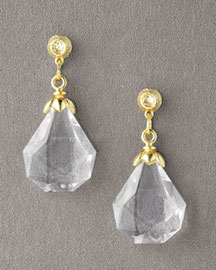 Who says you can't carry the chandelier theme into your new life together?! I adore these pillow cases from modcloth.com. Fabulous! And while your there, check out the chandelier wall art. Why not?!