Carnations totally get a bad rap. Let's admit it, they do! And it's not always fair. True, they may not be the most pleasing to the eye flower, and perhaps they don't smell the best (though I don't think they smell bad in the slightest!). But, they can be used to create some absolutely fabulous arrangements. Check out a few of these ideas.
These simple arrangements add a chic element to a reception space. Group together enough carnations so that the flowers will rest on top of your glass containers. Tie the stems together, cut to desired length. Fill the bottom with stones, marbles, rose petals, etc. and finish off with coordinating ribbons. Image from
Beginning Two End
.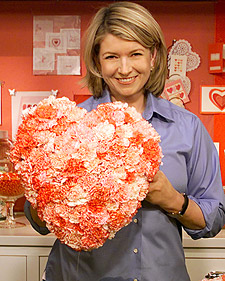 And here we have Martha with a lovely heart arrangement. I love this idea. No, the arrangement doesn't necessarily need to be a heart (a circle, square, cube, and even letters work well too). These can be hung on doors, propped on easels, rested against pews or an alter, or laid flat to hold rings (a much smaller designs, of course) place cards, candles, or anything else your creative brain can dream up! Image from
Martha
!
Here we have a bouquet-turned-centerpiece. It would definitely be something great to send the girls down the aisle with, and can be easily incorporated into the reception decor (I hear money being saved as we speak!). Image from
ProFlowers
.
I adore these "bloom spheres". They look great with a number of different flowers, especially carnations. Construct some of these (or pay someone else to do it for you) and put them everywhere! Okay, not everywhere, but they
can
be placed in a good number of places. For example, atop glass cylinders like the one pictured above. Have just one arrangement or form a group. Line the aisle with them. Hang them from shepherd's hooks with ribbon. Place a few on or under the altar. The possibilities are nearly endless.
Found on
flickr
.
Here is another pretty from
Martha
. A very simple arrangement that can be transformed into something modern, elegant, even "gothic", with the right container.
To end on a delicious note, look at this fabulous cake stand! It ads
so
much to a simple cake and is something different – not your average round, silver tray. Although I didn't find it there, I believe this is also
Martha
!