One of my most wonderful friends recently emailed me a great question. She's attending a wedding that's coming up and wants to fix her own hair, but is a bit worried with the end result. I can relate to that one!
As "budget" is a big theme for both couples and wedding party members, I thought simple, you-can-do-it-too bridesmaid hairstyles would make a fabulous post! Check out some of these lovely do (photos from Brides) with some simple instructions. Keep in mind, just because the models are sporting one type of hair doesn't mean you couldn't try it with another. Just adjust directions accordingly.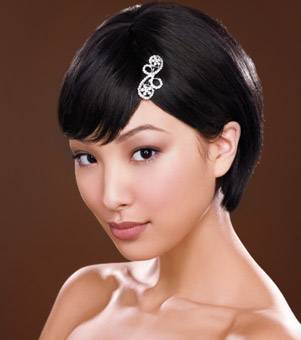 I love this one for all of its simplicity. I think it would look grand with any type of hair – thick, thin, curly, wavy, straight, or anything else. Bangs or no bangs, part your hair on the side and at an angle (towards the middle of your head). Here, a sparkly clip is placed directly on the part, but I think it would also look fab holding up a small-ish section of hair on the opposite side of the part.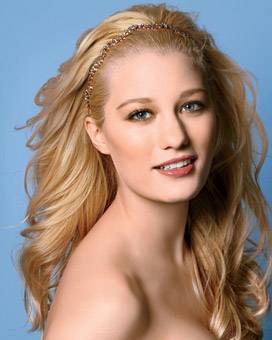 Here is another one that would work well for any type of hair. The magic is all in the headband. If the bride is cool with her girls wearing headbands, I definitely think this is great option! With such a variety to chose from, you can easily find a band that coordinates with your look. Chances are, you could find an inexpensive one, too (and for a 'maid on a budget, how great is that?!) To get this look, fix your hair just as you would on any other day, with or without a part. Then, just put on the headband! Leave a few front strands out to frame your face or tuck everything behind the band.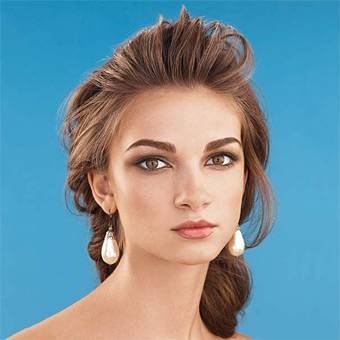 This do can go from runway to aisle to everyday. I like to call it the "messy ponytail", though I'm sure the pros have another name for it. This looks particularly fabulous for hair that's straight or wavy. After you've blown dry your hair, do a little backcombing towards the top of your head, using hairspray before and after (or whatever works best for your hair). Loosely gather all of your hair in a low ponytail, using bobby pins to pin back stray strands. For this look, it's okay to have bumps and a bit of unevenness. If sections of your hair are too close to your scalp, just give it a little tug, hairspray, and work into a better spot. Note: dirty hair usually styles better, at least from my experience. Please shower, but do what you know is best for your hair!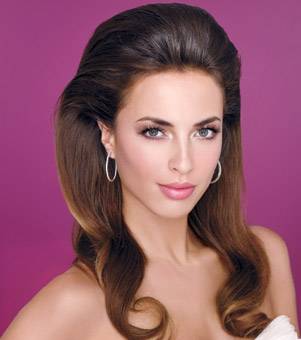 This one is best for straight or wavy again (sorry ladies with gorgeous curly hair – I'm just jealous!). Here again, backcomb and hairspray the hair around your face and towards the top of your head. Comb over the top so it doesn't look like you have a bird's nest on your hair. Once you get the top looking the way you want, curl the ends of your hair with a medium or large barrel curling iron. I don't think I could pull this one off, but if you can – go for it! But please, don't style too high.
Any other great hairstyles you think should be up here? Comment below and share with us!