Whether it's 275 or 60 guests, all that mattered to Kenzie and Mark was to stand before God and their closest loved ones to tie the knot. Luckily, they were able to bring together 12 bridesmaids and 11 groomsmen – the biggest bridal party we've seen! That made their wedding day extra fun and we literally could feel the joy while gazing at their photos. As the couple significantly downsized their guestlist, this made a way for them to increase budget on flowers. Notice how gorgeous and generous each bridesmaid's bouquet was! The men had beautiful boutonnieres too! Red, burgundy, ivory, and white were prominent in the reception. Check out more of the wedding details as Kenzie, the bride, shares the inspiration behind their day in her words below!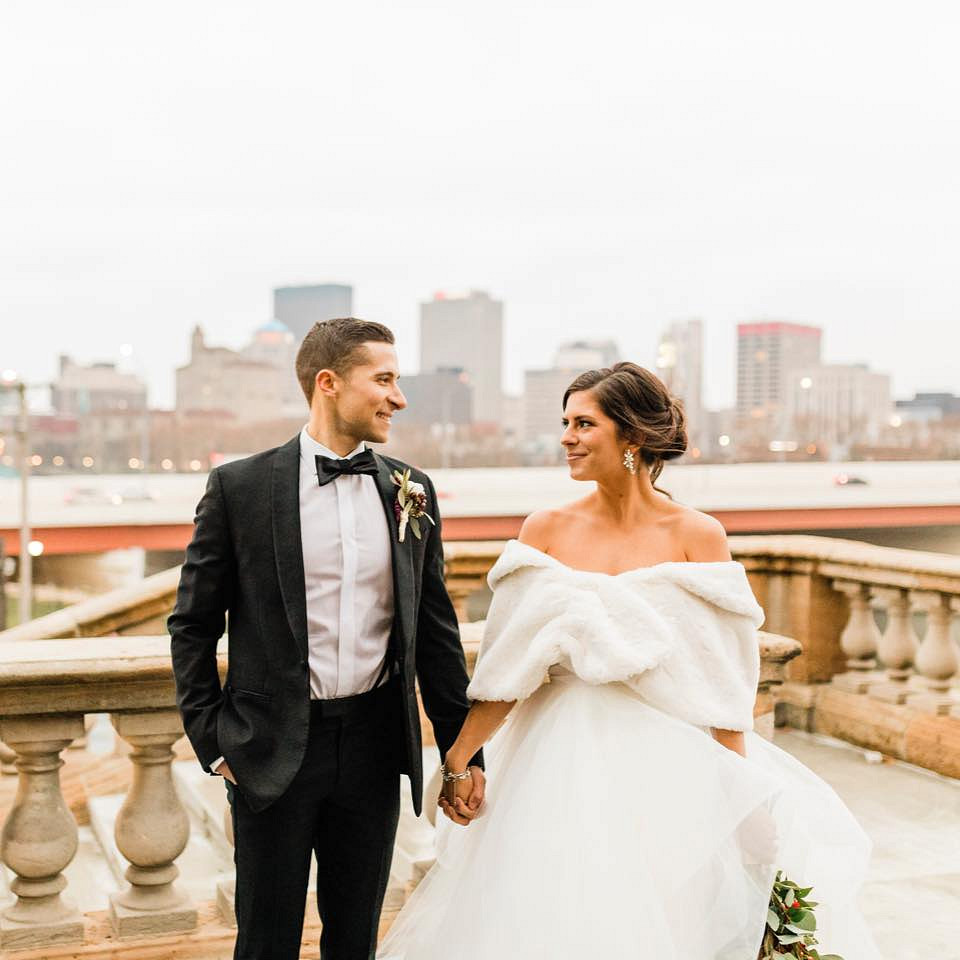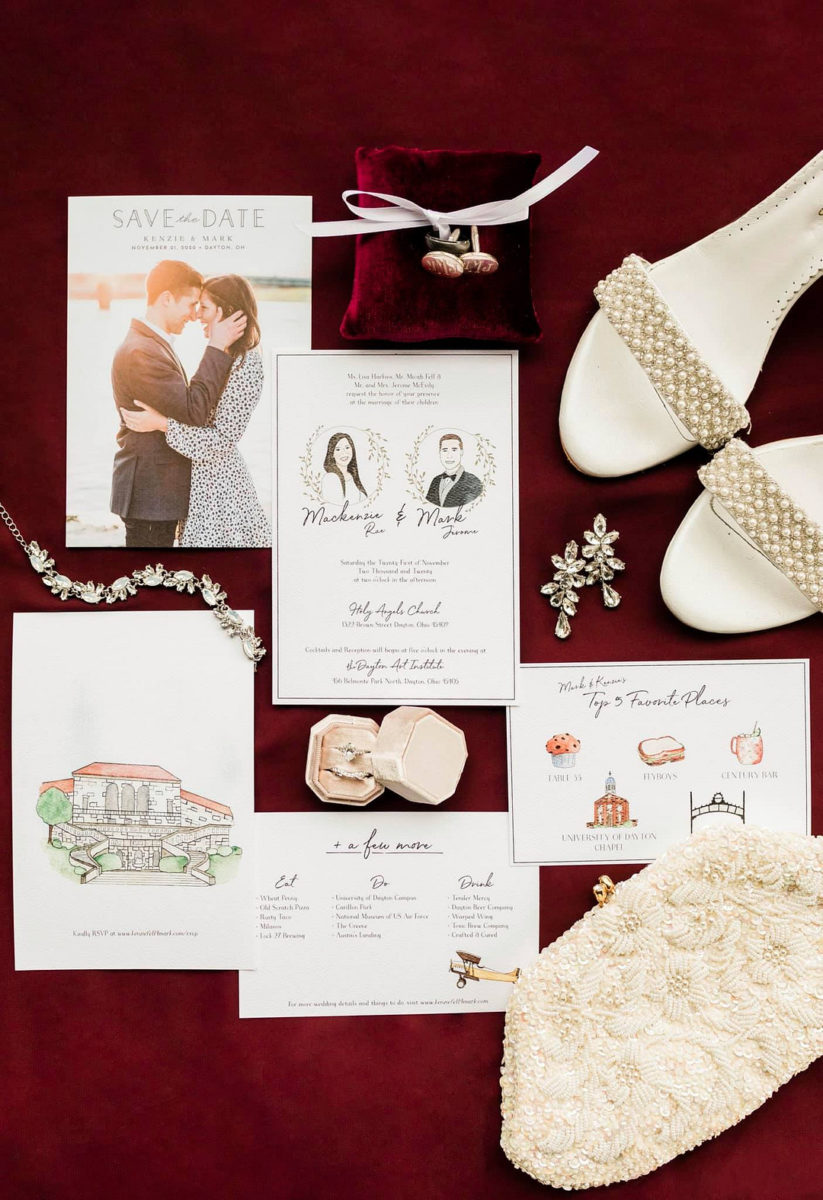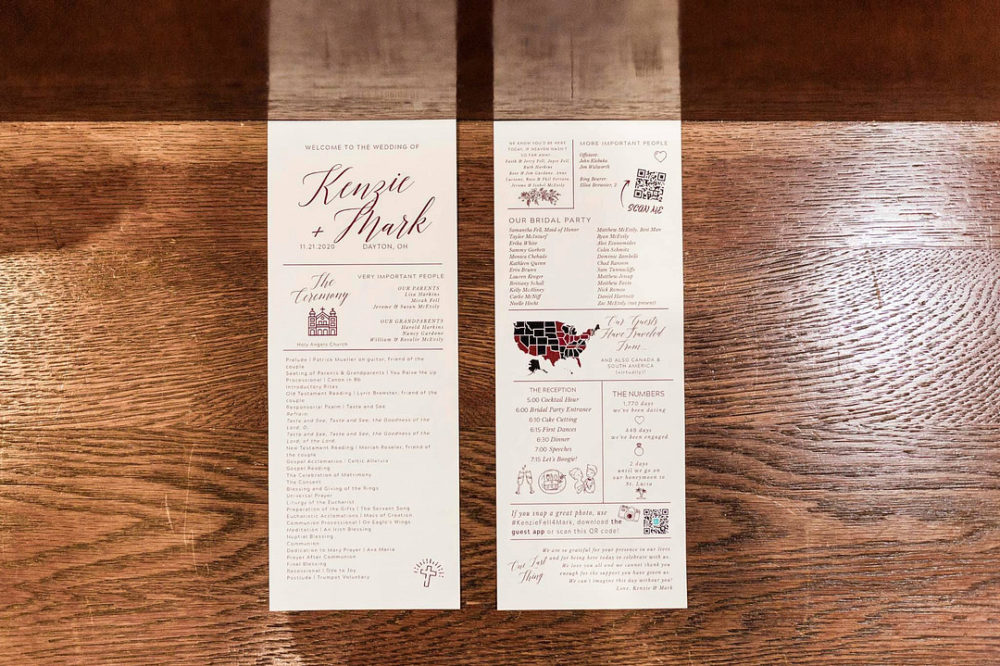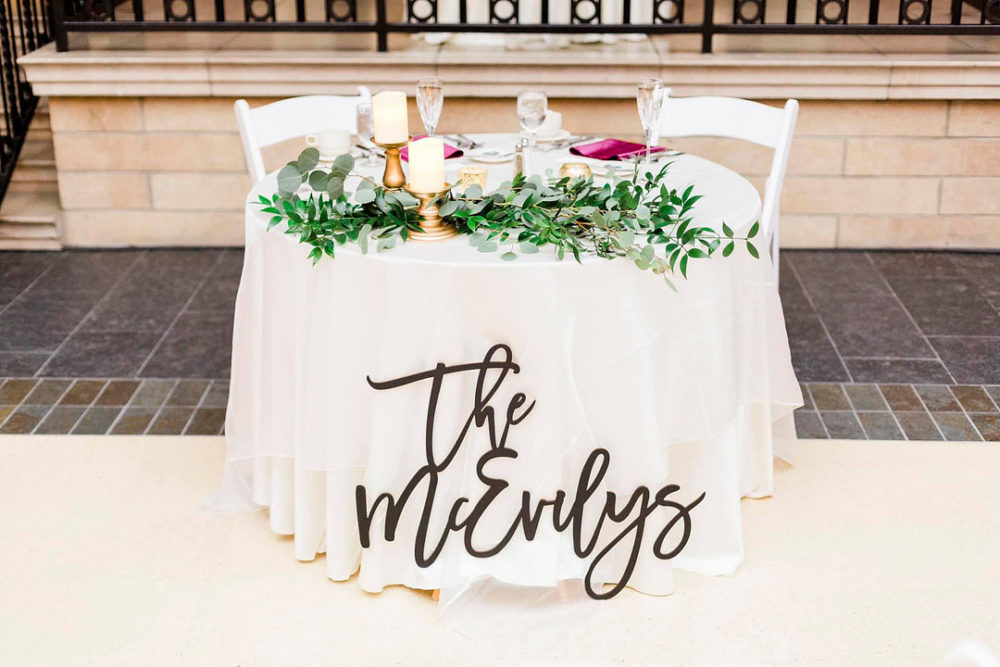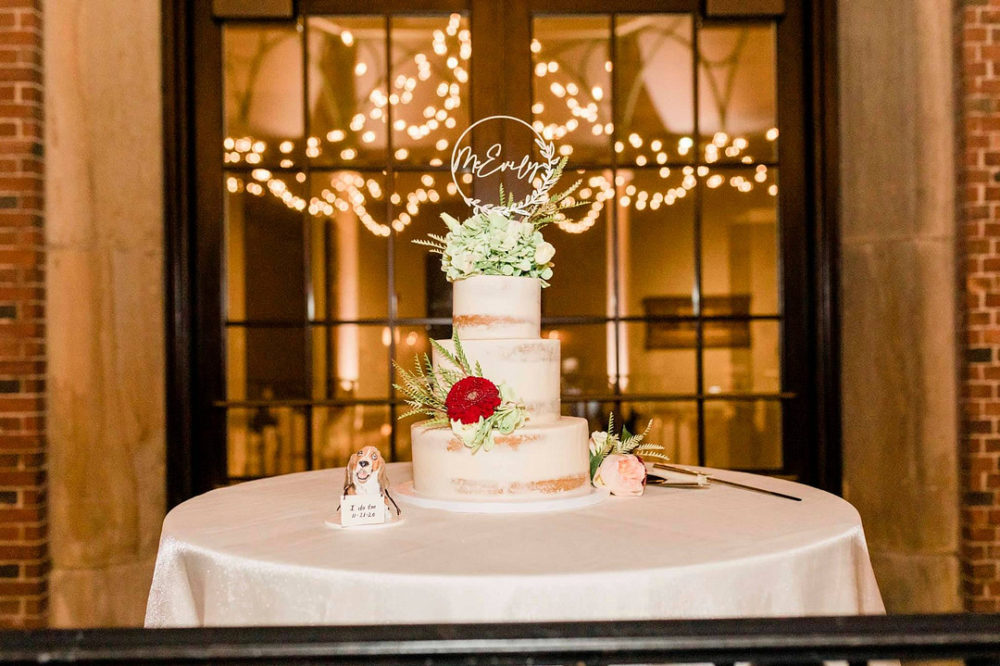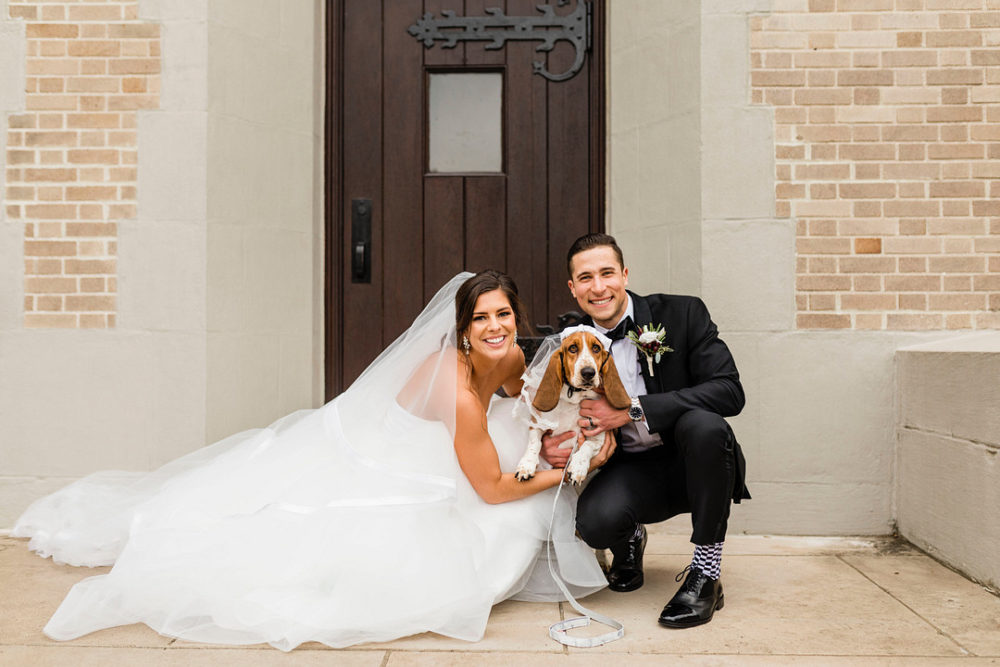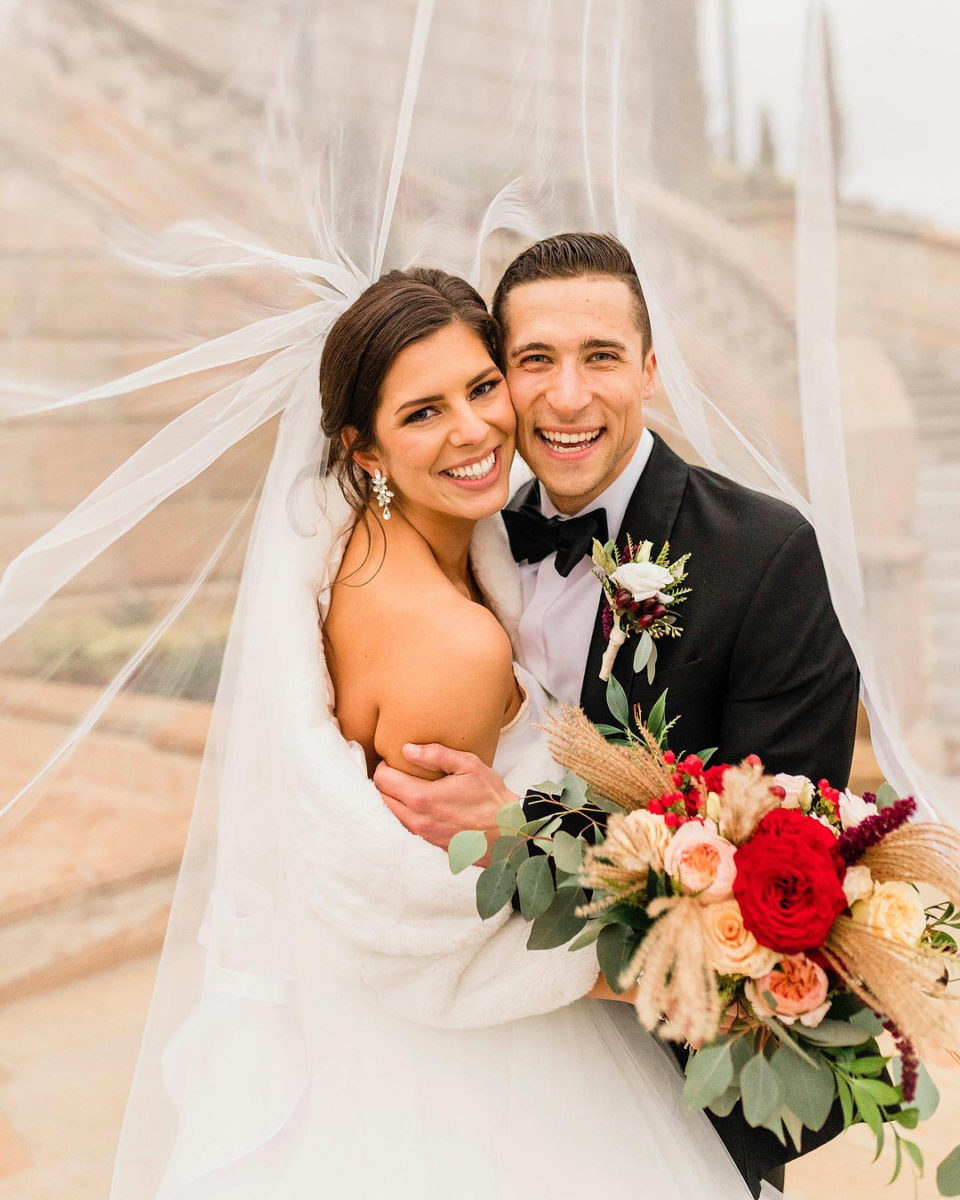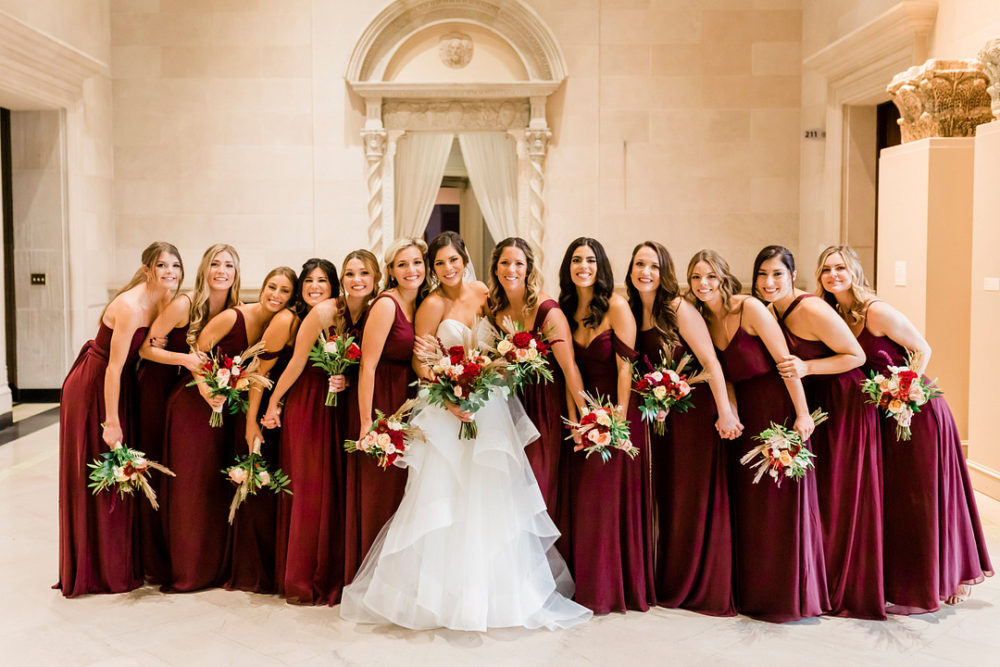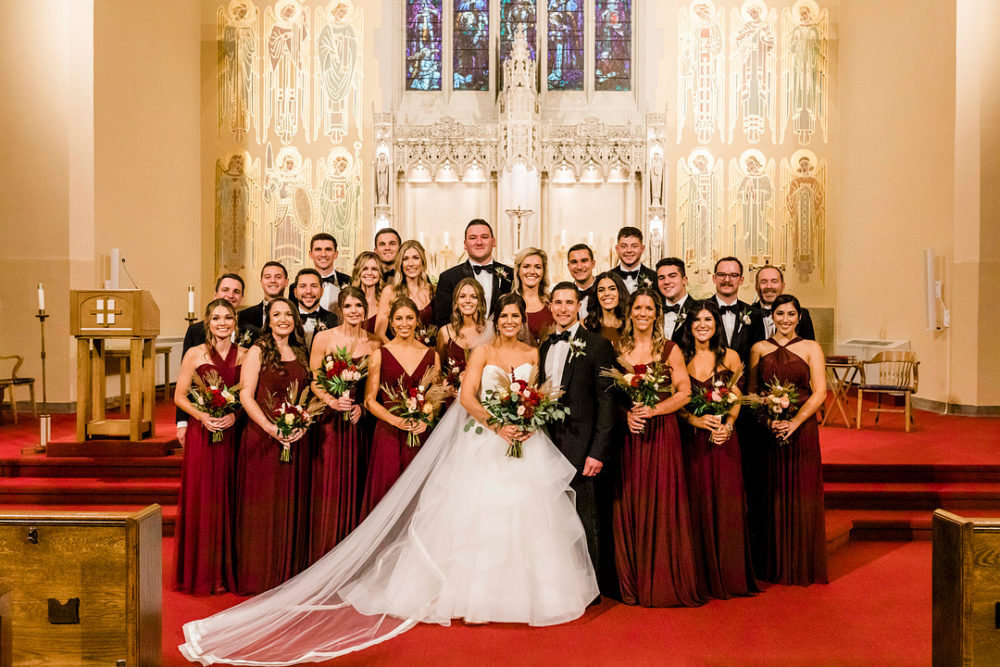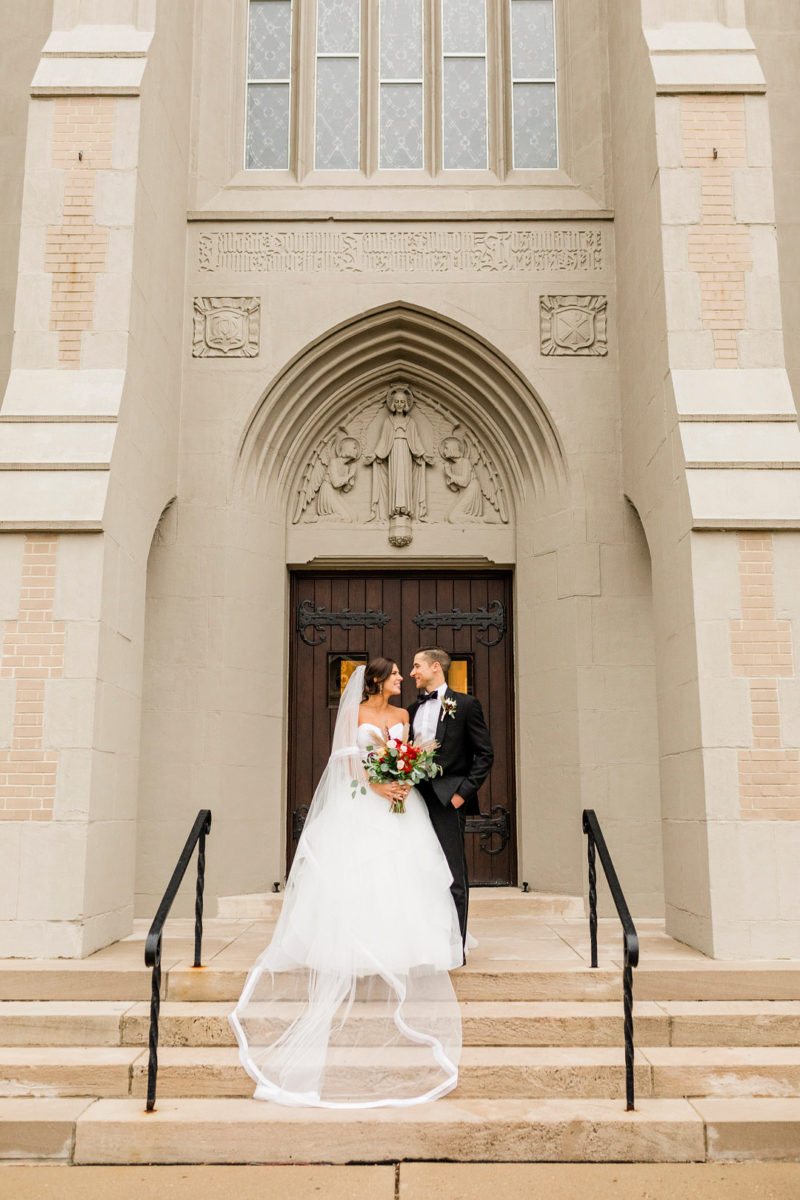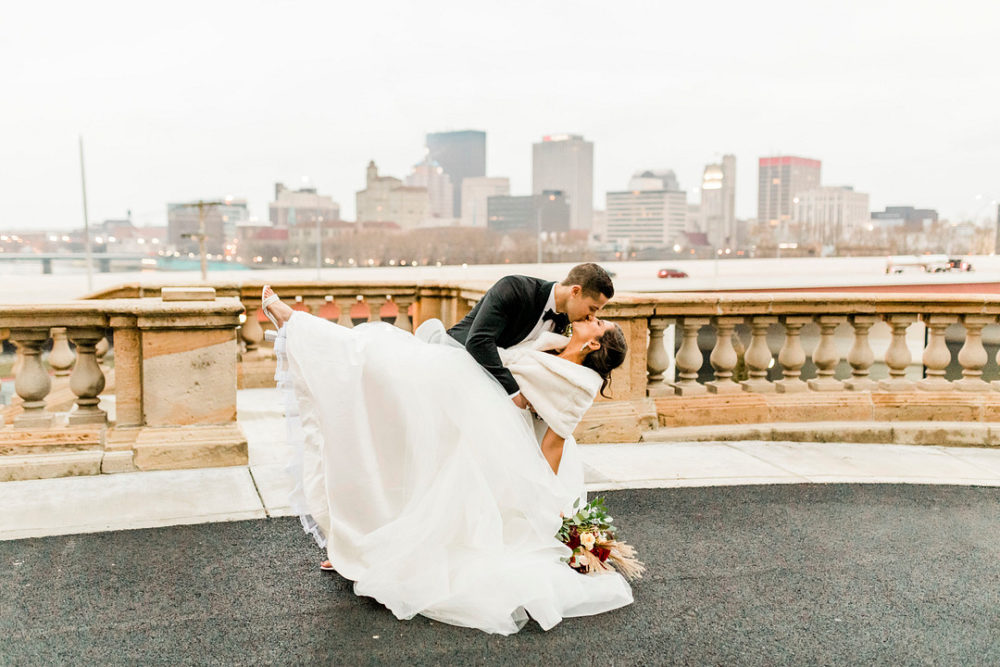 At the end of the day, all that matters is you and your fiancé getting married, you're going to start your life together and commit to forever! A crazy dance floor, dozens of apps and a fancy dress don't make the wedding. The marriage makes the wedding. — Kenzie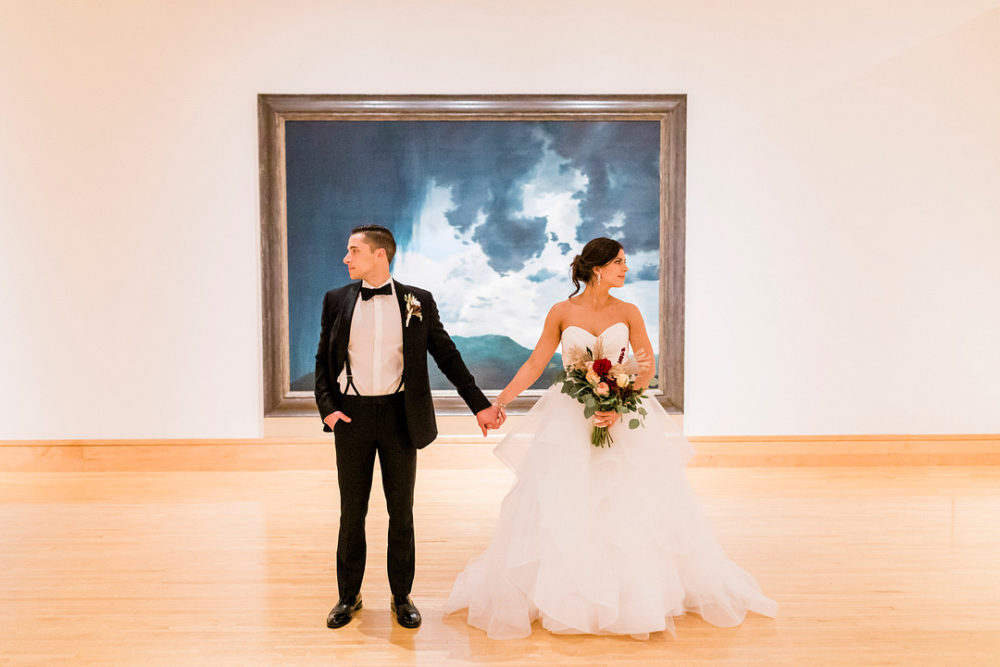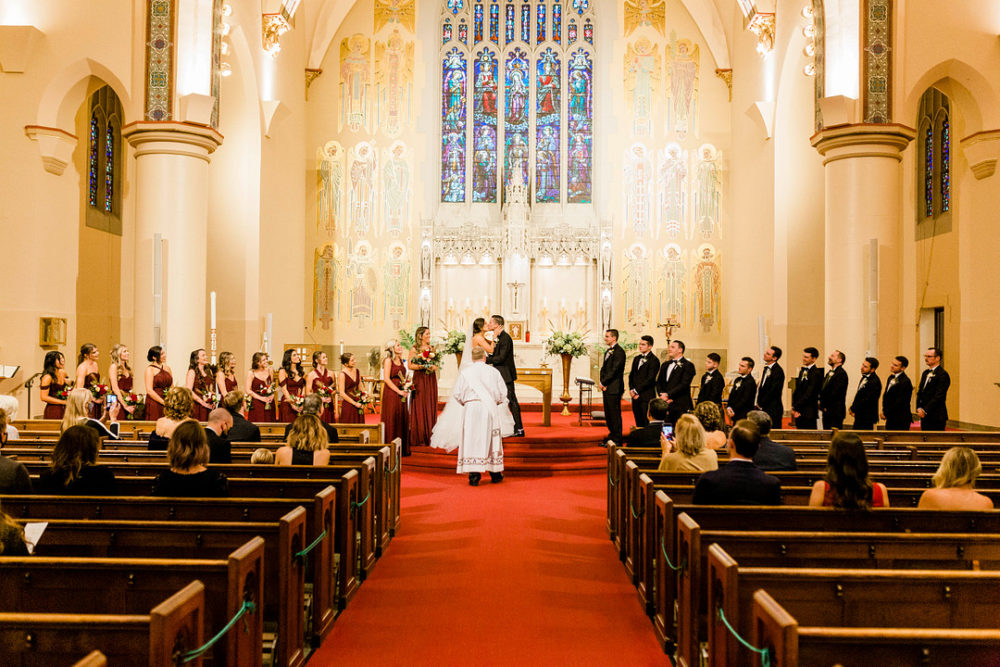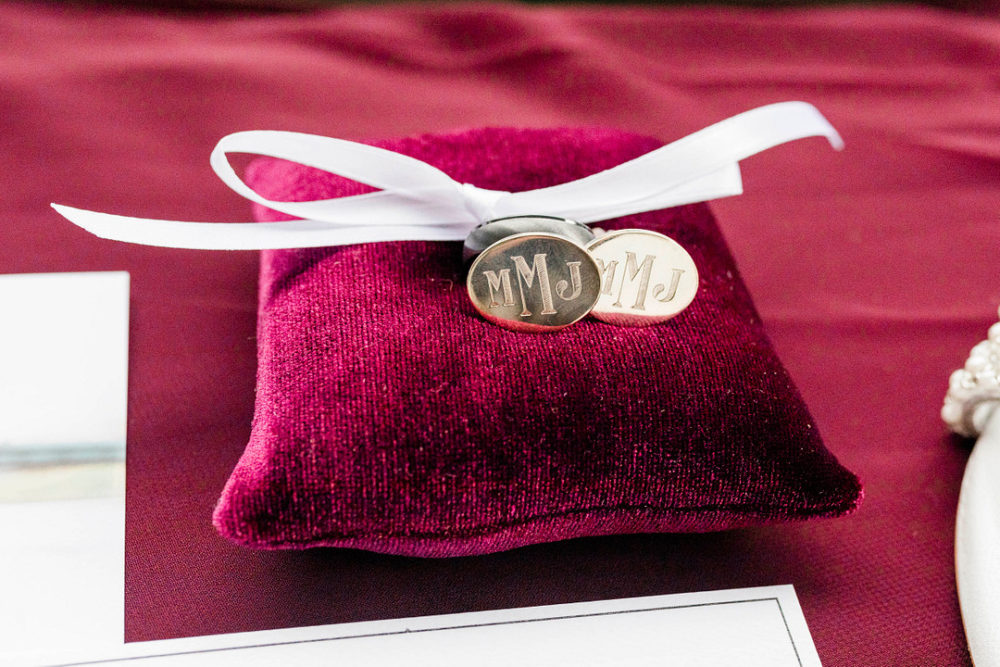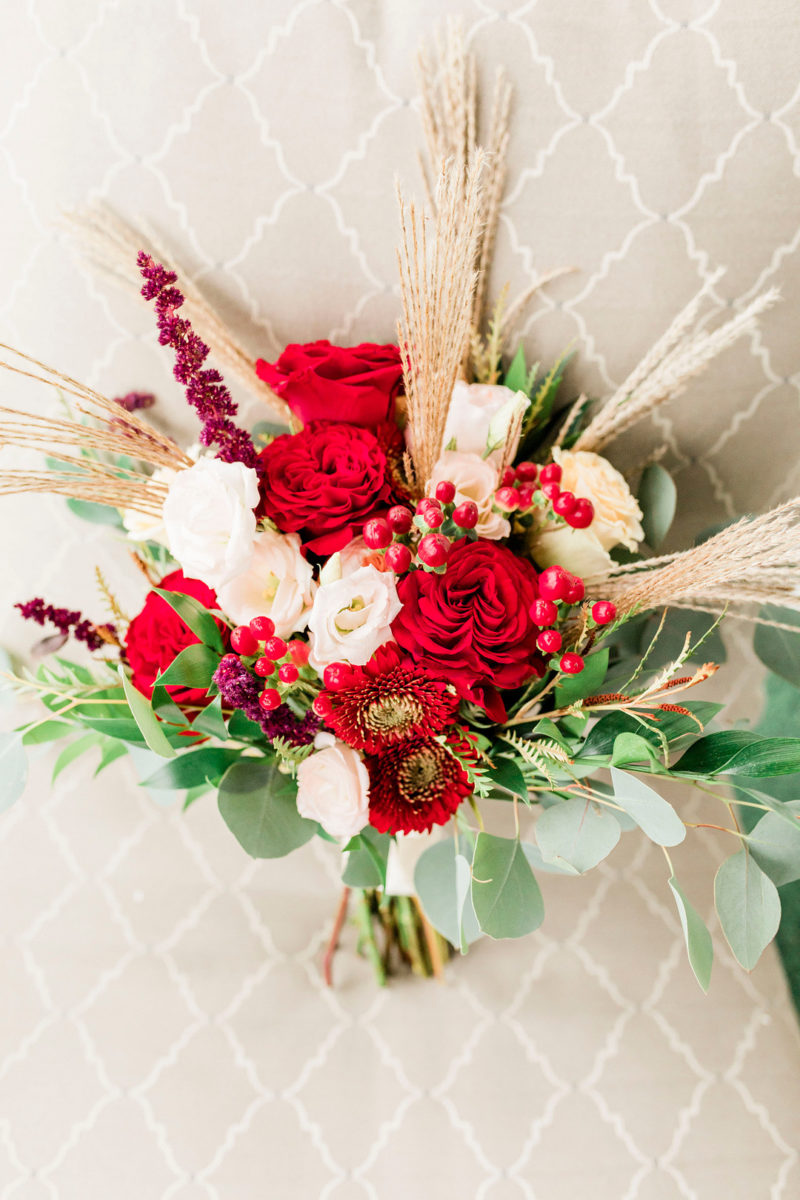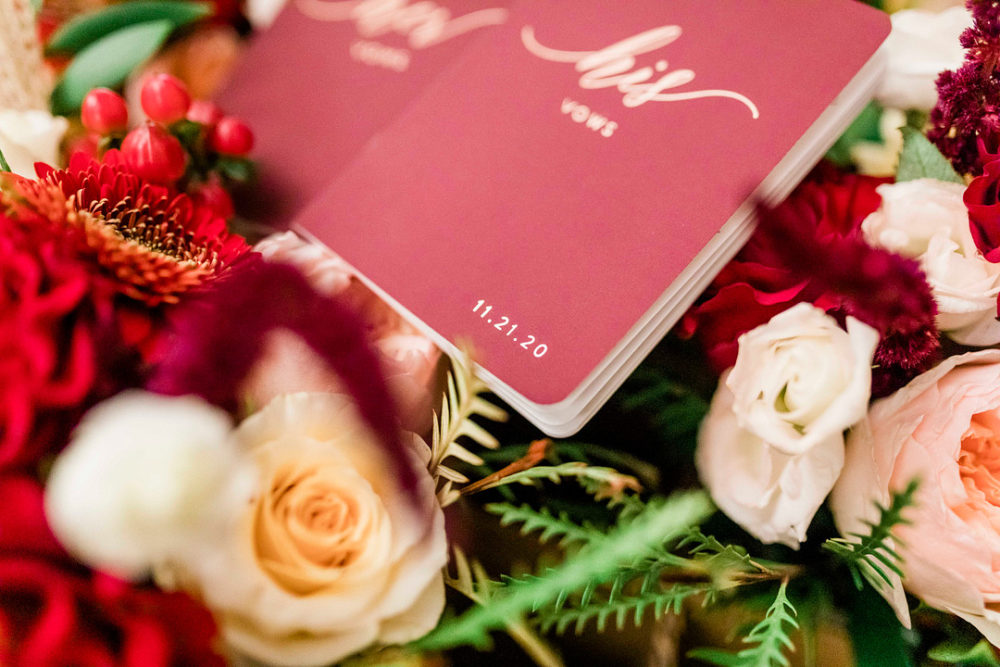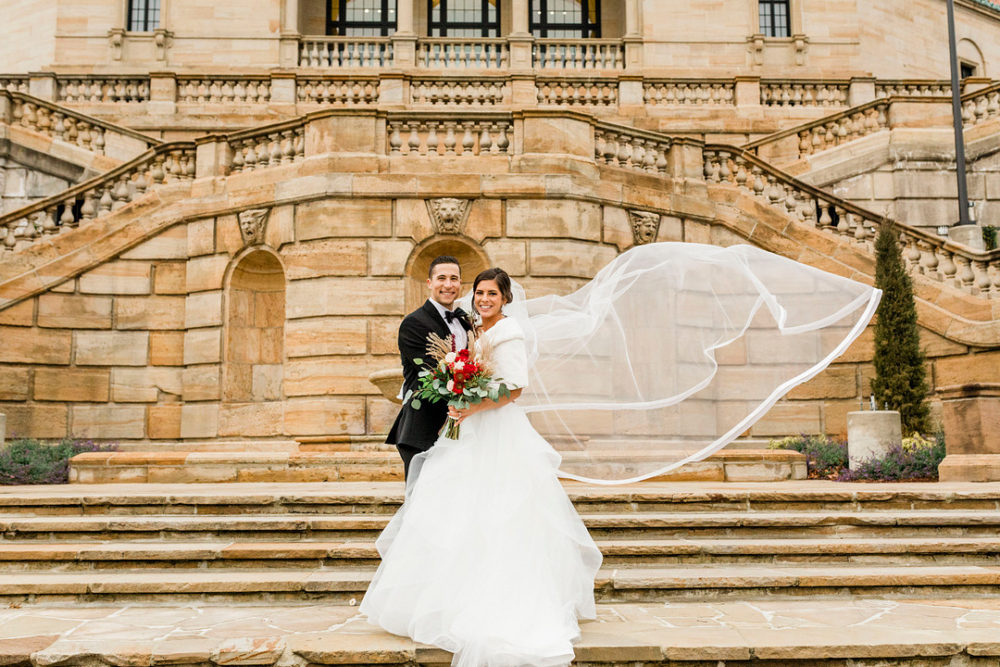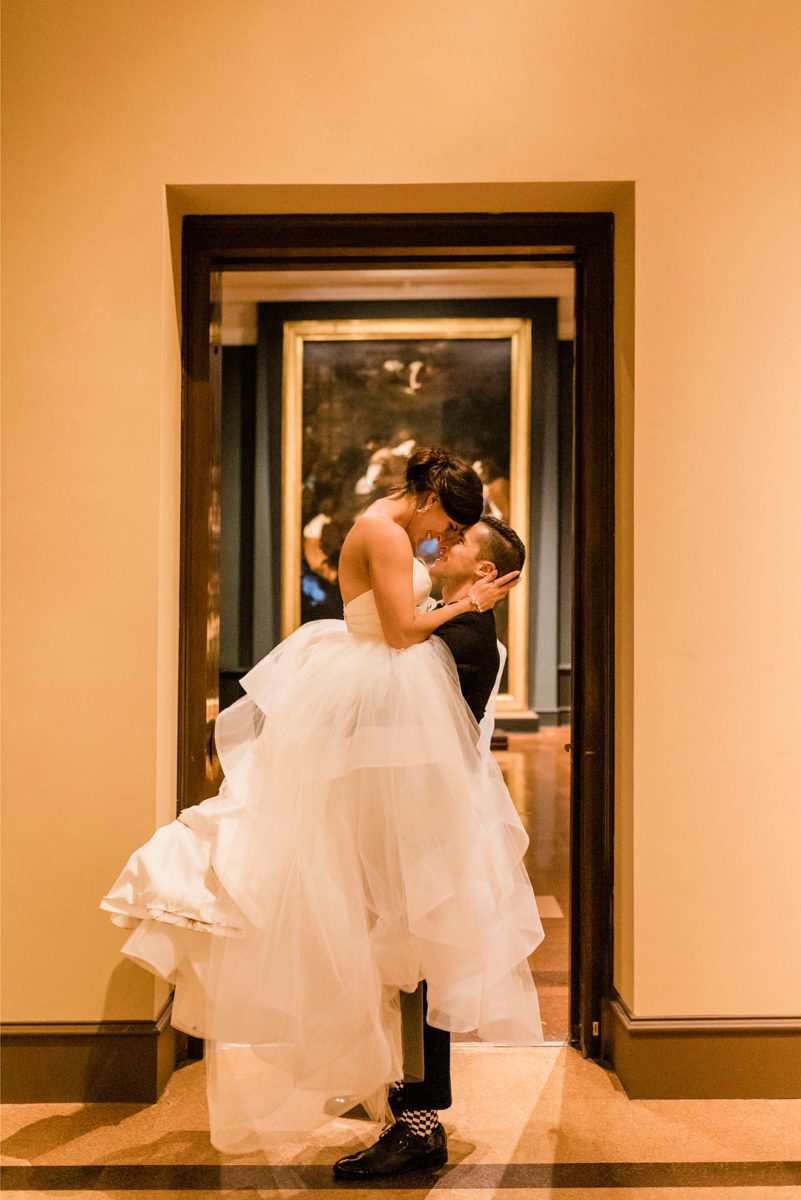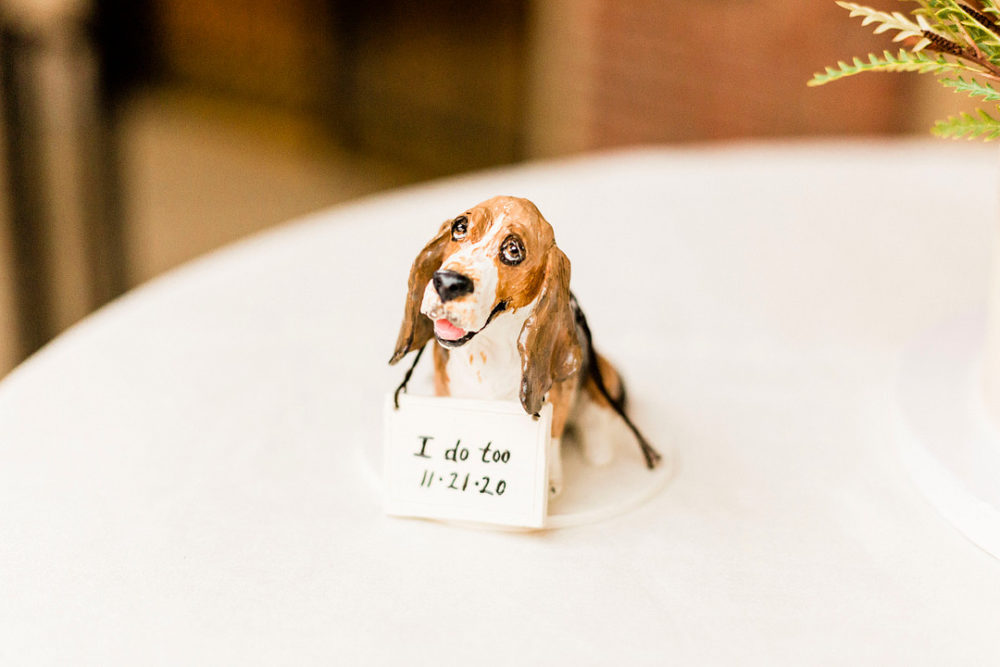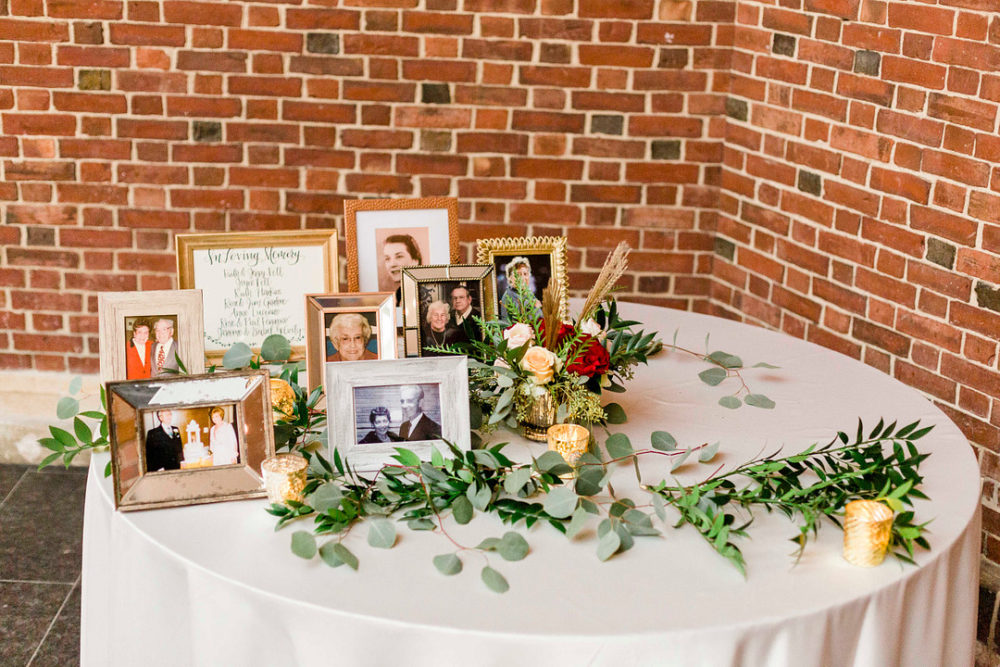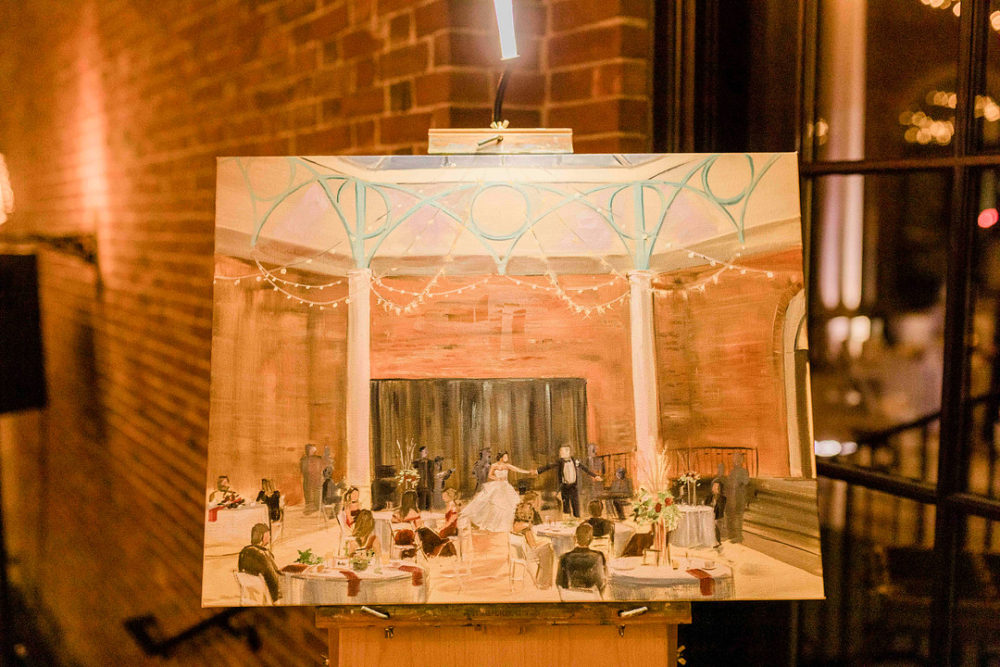 Tell us about your wedding! What was the inspiration behind your day? Did you have a specific theme, style, or color palette? Did you incorporate any cultural or religious traditions in any part of your day?
The inspiration was based on our gorgeous gothic-style art museum venue with brick and burgundy undertones. It would be a modern but classic, black-tie occasion with pops of color from my bouquet and sparkly touches with my wedding heels and jewelry. My bridesmaids would be in burgundy and our mothers were both in gorgeous jewel tone off-the-shoulder dresses that set the tone for our romantic evening. We had our wedding ceremony in the Catholic Church we are members of (which also happens to be the church on the college campus we both attended) and went through the formal Catholic marriage process. Our church just so happened to have a bright red carpet that matched my flowers and bridesmaids (and the winterberry holly trees outside)!
Let's talk wedding decor. How did you decorate your space for the ceremony and the reception? Was any part of the decor DIY?
Our ceremony did not require much decoration because the Catholic Church we were married in was absolutely stunning. The stain-glassed windows sparkled and we had a few bouquets of red flowers at the alter. Our reception space was in the "Gothic Cloister" of the art museum which is a round room with a glass ceiling. It is breath-taking. The walls are brick and there are dozens of gorgeous pillars throughout the room. The double doors are romantic and regal and the only decor we added were string lights throughout the room. Our tables were covered in white tablecloths with burgundy napkins. Our table numbers were actually labeled by our favorite wine names in gold frames. We had gorgeous centerpieces with eucalyptus leaves spread throughout the table with tall and short arrangements. Some tables had gold hoops with candles and flowers hanging from them and others sat in a tall glass vase. Our sweetheart table was covered in flowers and our a black sign with our last name sat in front of the table.
What were the florals like in your wedding? Did you use flowers in any of your design elements like the bridal bouquets, centerpieces or ceremony backdrop? Did they play an important part in the overall style of your wedding?
Due to COVID, our guest list was cut significantly. We went from 275 guests to 60 guests. Sadly, we missed so many special people but we did have more budget to use on other aspects of the wedding! In this case, our floral budget got to increase! I had 12 bridesmaids and each one had a gorgeous bouquet. I had a bouquet, our mothers had corsages, our fathers, the groom and his 11 groomsmen all had boutonnieres. We had flowers at the ceremony, on our Welcome signs, on all 25 tables at our reception, strewn across the sweetheart table and in our cake. My florist was a magician! I requested dahlias, but they were very difficult to get in November in the color I wanted. So my florist created a stunning masterpiece including roses, pampas grass and eucalyptus to make the maroon, rose gold bouquet of my dreams!
Did you personalize the day in any way (food trucks, guest entertainment etc.)? What were some of your favorite parts of your wedding?
Absolutely! This was the most important aspect of the wedding to me. I wanted it to be personal and customized to my husband and I. Our Deacon's entire homily was about my husband and I, our history, how we met, and how intertwined our lives are. While getting ready, my husband and I read our own vow books to each other. We did a first look before the ceremony. I did a first look with my dad. I had a custom cake topper made of our basset hound, Maple. I have a dairy and gluten allergy and every dessert was allergen-free! I had giant cut-out signs of my husband and I for photo-ops. We had a signature drink called the "Maple Mule" in honor of our dog. Maple actually showed up to our ceremony dressed as a mini bride. I had my invitation artist create a special logo that I used in our invitations, thank you cards, hotel goodie bags, napkins, cups and a step and repeat backdrop. My brother-in-law used this logo to build a hand-made card box for us. I created a special, customized program from an Etsy template. We named our tables after our favorite wines. My husband wrote letters to my bridesmaids and I wrote letters to his groomsmen. I created "anniversary cards" for each table and asked guests to write us an anniversary note for the year of the corresponding table number.
Associated Vendors
Shoes: Magosisters | Jewelry:The Gem Lab | Jewelry: Reis Nichols | Lighting: BLC Entertainment | Fashion Designer: BHLDN | Jewelry: olive + piper | Bridesmaid Dresses: Birdy Grey | Dress Designer: Hayley Paige | Apparel: The Black Tux | Reception Venue: Dayton Country Club | Ceremony Location: Holy Angels Church | Floral Designer: The Flower Shoppe | Event Planner: Aspen Jean Planning | Reception Venue: The Dayton Art Institute | Band: Airwave Band | Photographer: Lauren Day Photography