Lately, we've been seeing a lot of solid, muted colors for bridesmaids dresses. They're undeniably beautiful, but if you're looking for something a little more unique, you're going to enjoy today's post. Here are some gorgeous and uncommon ideas for bridesmaids dresses.
Floral Bridesmaids Dresses
Floral patterns can look absolutely stunning, especially when they surround the gorgeous bride in white. Have every bridesmaid wear a different floral dress, or make them match. Either way, this is a truly lovely look.
Patterned Bridesmaids Dresses
Another different look that is absolutely fantastic is patterned bridesmaids dresses. It really breaks up the monotony and is a fantastic way to add pops of color to your wedding ceremony.
Again, have all of your bridesmaids wear the same pattern or go for different patterns and different colors – both can be truly beautiful.
Themed By Color
If you really want your bridesmaids to stand out, choose different dresses for all of them, but make sure they're tied together by color. This can result in a huge variety of dresses but your bridesmaids still look visually appealing for pictures and the ceremony.
You can use the exact same color, or have your bridesmaids wear different shades of the same color, depending upon the look you're going for.
As you can see, your bridesmaids do not all have to wear the muted, solid shades that seem to populate Pinterest these days. Don't be afraid to think outside the box and get the wedding you really want!
Theme by Setting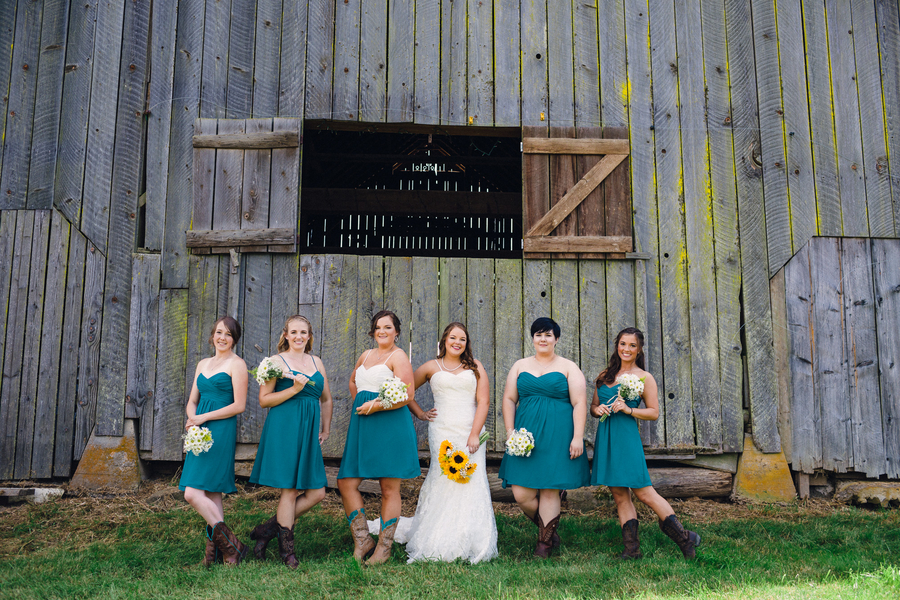 Variety always offers something fresh. You can mix different kinds of dresses and still stay in theme but incorporating the motif with your setting would be amazing. The bridesmaids are wearing a teal themed dress that looks stunning with the white floral wedding gown in a barn setting.