If you're going for an eco-friendly wedding and want to remain environmentally conscious throughout your wedding planning, this is a great project. It's a lot of fun and fairly easy, plus your guests will really love the result. You can create place cards full of seeds that guests plant right into the ground! Before they know it, they'll have lovely flowers that remind them of you.
Here's what you'll need:
A Blender
A Variety of Flower Seeds
Scraps of Good Quality Paper
A Papermaking Screen (instructions below)
The Papermaking Screen
You can purchase a papermaking screen from a variety of supply stores, or you can quickly create your own. You just need an old picture frame with a piece of screen stretched tight across the opening and secured.
How to Create the Place Cards
Start by tearing your paper scraps up into small squares. High quality paper works best, so you'll want to avoid things like newspaper, cheap construction paper, etc. Scrapbook paper or cardstock works well. Next, place the paper in your blender and cover with water. Allow the paper to sit for a few minutes to soak up the water and soften. Next, go ahead and blend the paper into pulp.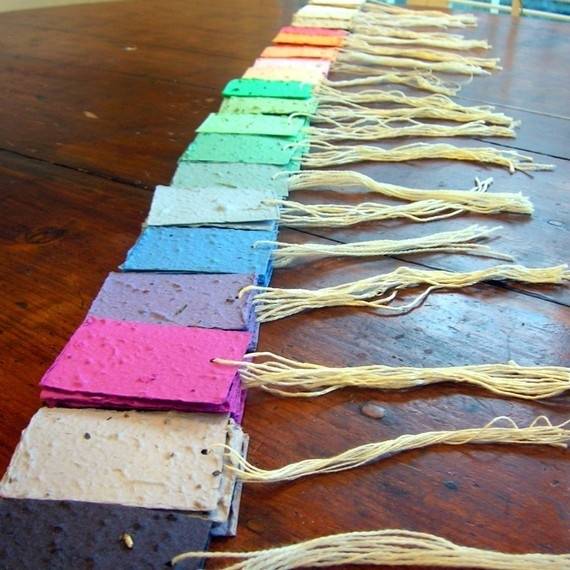 Now toss in your flower seeds and pulse for a second or two to get the seeds evenly distributed. Now you will want to pour the pulp onto the screen and press it out as the water flows through and the paper fibers get stuck. To create the place cards, you'll start with a larger rectangle (or however large your screen is) and cut into smaller pieces. So, after pressing all the pulp evenly, place it in a windowsill or outside to dry. This may take up to 48 hours. Remove the paper and cut into strips!
Featured Photo Source: simplyperfectweddings.blogspot.ca