From the photographer:
I had the pleasure of photographing my first surprise wedding in March this year. Brooke contacted us to say she was surprising her guests with a wedding at her engagement party on March 29th 2014 and the excitement began. From the outset I knew it was going to be a challenge, how was I going to capture all of those special wedding details in not even ¼ of the time I'd usually have? The bride had to make an outfit change in about 15 minutes flat – that alone is a sign of how quick things move for a surprise wedding!
I have to thank Brooke for the challenge, because it was so much fun to capture Brooke and Brenton's surprise wedding, seeing the reaction of the surprised guests who thought they were coming to an engagement party gave me a chuckle. I also loved the bright colors used in the decorations – what a wow factor, and I loved the way they made use of all of the space available for their Port Lincoln Hotel wedding!
All the guests were gathered in the pre foyer function and pool deck area of the Port Lincoln Hotel Ballroom for the 'engagement party', enjoying delicious cocktail food and the great company. While the bride snuck away, the MC made the surprise wedding announcement and the curtains were pulled back to reveal a wedding aisle decorated with bright ribbon and fairy lights in Mortlong/Flinders room of the Port Lincoln Hotel wedding venue. Soon they would see Brooke make her big entrance in a gorgeous vintage inspired lace wedding dress, fitted and with lace sleeves.
We had a group wedding photo on the pool deck and then snuck away for a short time to get wedding photos in front of the beach, under the famous old tree in front of the Port Lincoln Hotel, and other locations close by. We didn't have a lot of time before we had to get back to the party, but I loved the way the colorful wedding flowers popped against the backgrounds and th black bridesmaid dresses.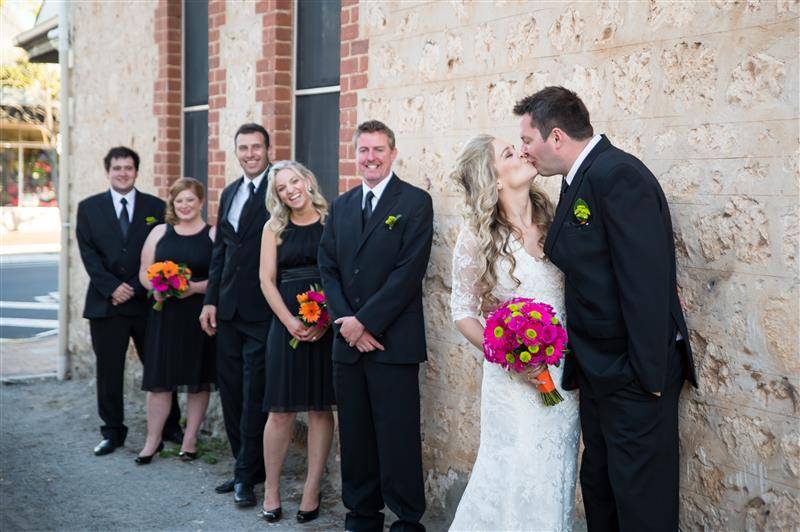 Back to the Port Lincoln Hotel Ballroom for the wedding reception, again decked out in brilliant colouful wedding decorations and fairy lights. I loved how it all looked, even though Brooke thought she had gone over the top. "I have one overboard with the décor in the ballroom," she said "but figured, hey, this is only once so why not make it perfect!" As always, speeches are a highlight at a wedding and a great way to learn about a couple and their relationships with those around them, but I loved hearing the story from Brooke herself.
"Brenton and I met at the Arkaba – I was his manager at the time. We had been working together for 12 months before we got together. It was my birthday night after a couple of drinks when we realised our feelings for each other were mutual. I knew secretly he was the one for me when I very first met him however I needed to keep things professional until I knew he felt the same.??Brenton proposed 2 years later on my birthday. We were halfway through a weeks holiday at Adelaide and we were staying at the Arkaba. He was on blended knee with the perfect diamond ring. I of course cried and said 'yes' we then went out for afternoon drinks with all our friends to celebrate.??We both love each others crazy, fun loving, spontaneous lifestyles.?" The fun loving and spontaneous side of them was obvious – they did hold a surprise wedding after all! So Brooke and Brenton, may there be much more crazy spontaneous fun in your future – congratulations on becoming husband and wife!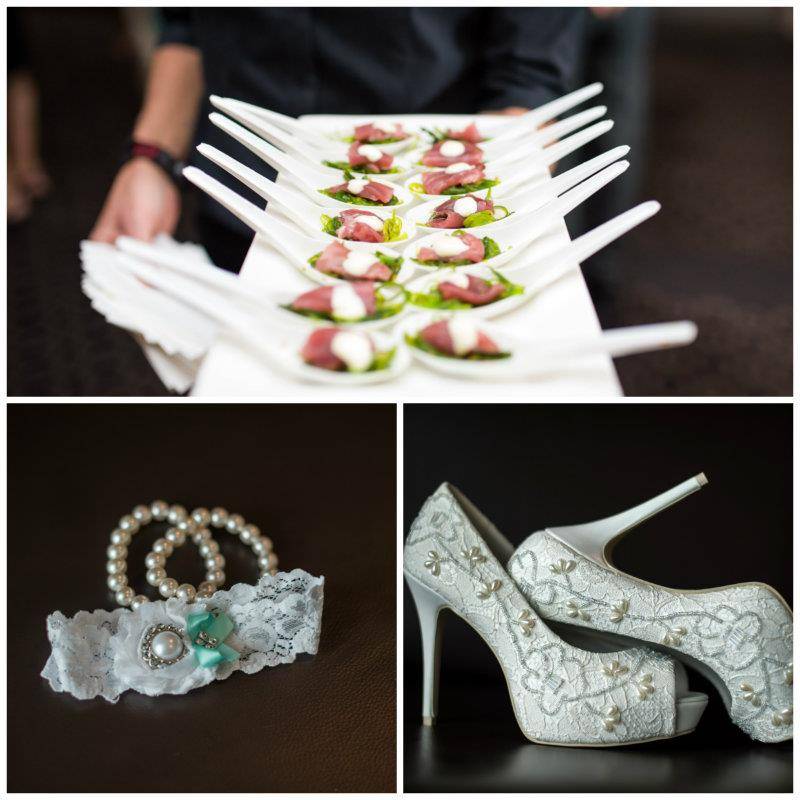 Photographer: Jade Norwood