Having a backyard means you have a certain amount of space available, but it can still be turned into a really nice wedding venue. You can have anything from a luxury wedding to a simple ceremony with friends, right there in your backyard. It all just depends on how much money and time you're willing to spend. But the simple fact that you're using your own land for the wedding can save you a lot of money, which you can either spend on an enhanced ceremony, other wedding-related items, or on improving your home – or in just about any way you choose. So if you like the idea of a backyard wedding, here are some ways to go about it.
1. Space can be crucial.
When you plan a wedding in your backyard, you need to consider how space you have to work with. This doesn't mean that you can't have a dream wedding right in your backyard, it just means you have to keep the space-to-people ratio just right. Don't be afraid to get creative and use your porch, deck, or any other areas in your back yard. You might have more space than you think when you use more than just an open grassy area.
2. Consider how the weather could affect your plans.
Weathermen are traditionally considered untrustworthy, but that's only because the weather can change in a moment. So even if forecasts are 'sunny' for your special day, ensure that your guests and your beautiful arrangements don't get 'all wet' on your wedding day by having a back up plan (or two)!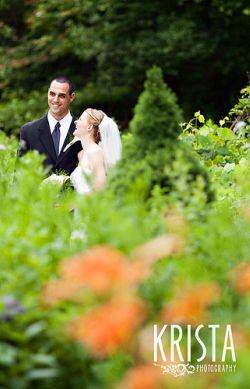 3. Consider introducing a theme.
Thinking of a theme is the easy part – then you need to find all the decorations that will make it a reality. But accomplishing that need not be a dreaded task – instead, it can be lots of fun, especially if you involve your loved ones. With a little touch of romance and togetherness, you'll find that creating a theme for your wedding together makes it even more unique and special. Adding all the details that are uniquely "you" will truly make your wedding your own.
4. Careful planning is key to a successful event.
A lot of people set up the main details for a wedding and lose sight of those little things that can make or break an event. Others become so caught up in settling every little detail in person that they stress themselves out and ruin the beauty of the event. A wedding is a once in a lifetime event – you want to enjoy it, not spend it worrying about relatively minor things. The solution, of course, is to delegate. People love helping with weddings, so give them a chance. One friend can help with guest parking; another friend or family member can help set up the decorations. Someone else can handle the power backups, while another can call up a service in the region to make sure you have enough restrooms for your guests.
5. Allocate a part of your budget to long-term improvements.
When you choose to have your wedding in your backyard, you might end up saving some big bucks (perhaps as much as around a third of your total budget for the wedding). These savings can be used in a number of ways. One great idea is to pour some money back into your house and yard. Some of the things you could invest in include professional landscaping, outdoor furniture, or even some best selling wooden porch swings if your house and yard allow for them. In addition to these, consider giving your lawn some TLC since it will likely be used during the big day!
If your yard is in a state of disrepair, some lawn and yard work is crucial. Lay new sod or plant some grass seed. Mow regularly, and a few days before the event (NOT the morning of) so you don't have bits of grass sticking to peoples' clothes, which can be irritating and unsightly.
6. The right plants can make a big difference.
When you groom your yard for your wedding, don't forget to plant some blooming plants. The lovely colors and fragrance of the right flowers can provide the perfect backdrop to your special day. Try to arrange a mix of flowers that are bright in color and that have a lovely scent. Watch out for any flowers that are known to attract bees or other annoying bugs!
7. Ensure that you have the right music and that your event is well lit.
Music for your wedding calls for a mix of music and music systems. First, you need a well selected play list that can play over speakers all over the yard. This sets up a romantic ambiance for your event. If you're having a tented reception, a live band or DJ can be a nice touch, especially since they usually bring their own equipment!
Keep lighting subtle to create a romantic, yet natural vibe. Use floating candles in a pond (or pool), yard lamps around paths and walkways, and strings of lights over any seating areas to create a warm glow.
8. Save even more money.
How do you save further? You might be surprised at how much you can save with a few financial tips and tricks. For example, pay close attention to items that you can buy before the wedding and give to charities afterwards, and get back the entire price as a tax deduction. Use vases from your own home, or borrow them from another recent bride, to create centerpieces and other arrangements. Consider having h'orderves instead of a sit down dinner – this will save you money on rentals and food, and save you a lot of space.
9. Take precautions against hot weather.
Taking a few simple precautions against hot weather will make your guests love you. You don't want them getting all hot and flustered! Cooling fans are an excellent way to beat the heat, and if you want to go in for something more sophisticated, try for a flash-evaporation system.
10. Remember the day!
There are a lot of things that you can do to help you remember your wedding, and all the little moments that helped to make it special. One of the very best ways, of course, is to have someone take lots of photographs. One thing that you could do, that is both inexpensive and rather well, is to put a good camera (either yours or a friend's) in the hands of a family member who is a good photographer. This can work really well, especially if you have an amateur photographer in your group of friends! If you have the budget, hire a professional instead. Either way, make sure you have someone there to document the whole day!
About The Author
Jay Chua is an Internet Entrepreneur and publisher of PorchSwingSets.com. He lives with his wife Deisy, in Vancouver, Canada, where they have a lovely yard with a Hatteras hammocks patio swing and an island rope hammock. Together they follow the latest in gardening and wedding ideas.
{Image Source: Krista Photography}