So I was thinking, here at WeddingFanatic, we don't do much on trends and style. While we love what's hot here and now, we think there is something to be said for the timeless wedding… Well, I couldn't help myself. I was listening to some music, and on the CD cover was a woman sporting a loose bun on top of her head. Of course, this made me think of wedding hairstyles. Why not do a post about the hair of then and now!
First up: the concrete curls on the tip top of your head with a huge tiara, so no one doubts that you're the bride. While the look is formal, and still works for an ultra upscale wedding, you don't want to waste your time picking bobby pins out of your head all night. It's just not what wedding nights are for.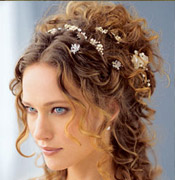 Try a little something like this. You still have the up-do, but it's not as stuffy. And you can forgo the cliché tiara for something a little lighter. You can wear your hair half up and half down in the picture, or all up (or all down). Oh the possibilities…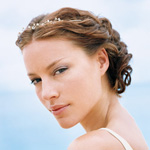 And then you have the low styles. This bride has a more modern look, but her hair still looks too stuck to her head! While we love the lower styles, try something a little more whimsical and romantic. This lovely bride has some bangs sweeping across her forehead, which give her a little formality, but the loose curls in the back say "It's my wedding, I want to have a good time!â€
In the end, pick a 'do that's perfect for you. Afraid you'll look back and think to yourself "And I thought the 80's were bad!!†? If you really want a timeless look, check out brides from different decades. What do they all have in common? Then try building your look off of theirs.
Here's a little tribute to all the brides of yester-year. Does the hair look at all familiar?
Happy Styling!