Hello wonderful world of wedding enthusiasts and brides-to-be! My name is Amanda and I am very proud to be one of your new Wedding Fanatic authors! Katie has been gracious enough to give me the opportunity to write about a subject that I can say I am very passionate, and admittedly slight obsessed with: fashion. There is a reason why the dress is perhaps the most monumental decision during the planning of a wedding and I intend to provide as much insight on the subject for you as my little fashion-filled brain can produce. I will also be writing on other fun wedding-related topics, as we all know there is much more involved in planning a wedding than simply finding the perfect dress; even if it is hard for my fashionista self to understand!
For my first post, I would like to discuss one of my favorite trends, and a classic at that. I am talking about pearls, monograms, Lily Pulitzer florals, and the perfect pair of worn Topsiders. Perhaps it is because I was first given a copy of Lisa Birnbach's iconic Preppy Handbook at the tender age of 8 or the summer visits my family would take to Hilton Head, but I have always been partial to the Prep lifestyle and all it encompasses. This also may be why I find the Spring 2008 Wedding Runway Collection of ultimate prepster retailer J.Crew, to be oh so sophisticated, yet fresh and fun all at the same time.
I had always thought about J.Crew as a prime place to pick up divine cashmere cardigans and bright chinos, but their current collection of Bridal dresses have proven to me that J.Crew is more than an outlet to purchase your pastels, but is a force to be reckoned with in the bridal industry as well.
One of my favorites was this strapless satin empire-waist gown that flows beautifully over the hips. The waist is drawn in by a ribbon belt and bow to show off curves and small, clear sequins are scattered all over the bodice to add an eye-catching element to such a classic looking piece.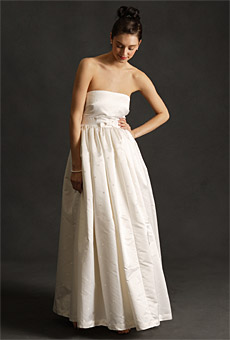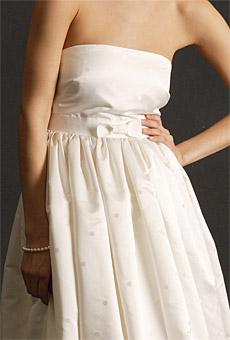 Another element of J.Crew's spring collection that was not to be overlooked was their creative use of chiffon. I seem to have a love/hate relationship with chiffon, as I feel it can either be used really poorly or really well. In J.Crew's case, I believe they fall into the latter with this fantastically simple, yet chic, strapless empire-waist gown, with a beautiful chiffon layered hemline and dotted sheer overlay. The dotted pattern of the overlay gives the simple gown a more textured look and the chiffon hemline is not as distracting a fully chiffon-layered bodice.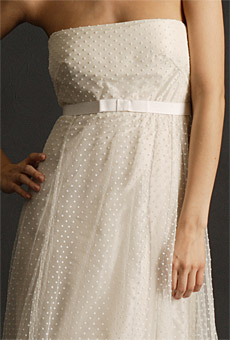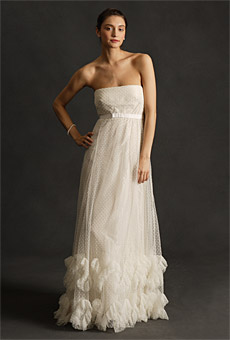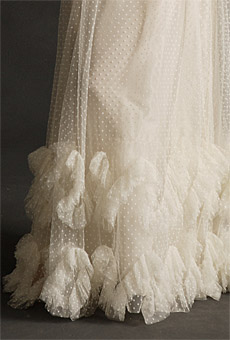 Other looks from the J.Crew Spring 2008 Collection: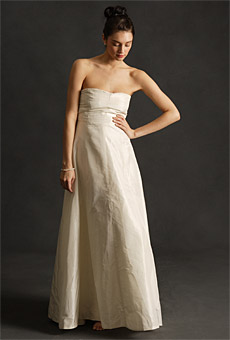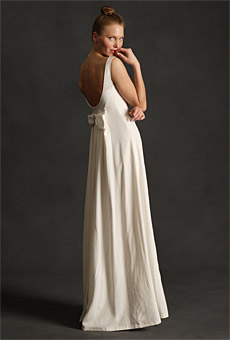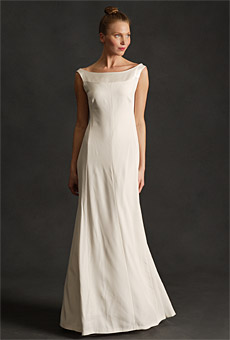 All gowns from the 2008 spring runway show will not be available for purchase until the fall season, as showings are done a season ahead. J.Crew Bridal Attire is not available at J.Crew retailers, but an online order can be returned to any J.Crew retail store. In this case, it would seem best to order a number of sizes and simply return the ones that don't work to your local J.Crew. Hey, who said preppy couldn't be bridal chic?
All J.Crew Runway Photos Courtesy Of: Brides.com